Introduction
We've been talking about Clearwater Sanctuary and how super the golf course is for ages. Magazines lauded it, golfers talk about it, mothers fuss about it. OK, maybe not the last bit but it has gained an impressive reputation of being the best of the best in West Malaysia, synonymous to the most pleasurable golf experience of your life, the most memorable course you will ever play in, indeed you would wish to relocate to sleepy Ipoh just to play this course.
So me and my mates decided to experience it.
Travel (3/5)
Despite our initial fears, Clearwater is actually quite accessible so it gets 3 divots from 5. It's about 1 and a half hours away from KL, depending on how fast you drive. Either turn off at Simpang Pulai or Gopeng Interchange and take the road heading to Batu Gajah passing Kellie's Castle. There are plenty of signs, so you won't miss it.
You probably want to eat breakfast before the interchange, because townspeople here only start work at like 12 noon or something. Not one coffee shop was opened and we ended having breakfast at a malay stall about 300 metres down the road from ClearWater entrance.
Price (5/5)
Drive up to the clubhouse and enter the pro shop to register. We were charged 70 RM for walk in, all inclusive of the buggy and insurance. I had an affiliate with KRPM and ended up paying RM50 for a buggy!! So the 70RM package was a heck of a deal. The greens were being sanded we were told but who cares? We were playing in the second best course in Malaysia! Excellent bargain here!
First thoughts
Right on the first tee, we were staring at a dogleg left tight fairway, the sprinklers still turned on. A maintenance guy slowly rode his scooter to turn the sprinklers off as we waited, and when we were ready, we predictably screwed up our first tee shot.
Double bogey.
2nd tee was a lot more promising, a 5 wood found the fairway. Second shot using a 4w hybrid pushed right. Bye bye. This would eventually be the norm for the day.
Clearwater is extremely unforgiving, especially to weekend hackers like us. Now it's important to understand that this is from the perspective of hackers.
Clearwater isn't that great.
I mean, for a course rated as number 2 in Malayisa, we kinda expected a course that blew us away. Well, actually, it did blow us away – our scores that is. But in terms of scenery, fun, playability and such, we give it a 'so-so' shake of our hands.
We don't mind if the course kills us. I mean, Datai Bay killed us, but we had a lot of fun getting killed. Face it, most courses out there (except for maybe a Mickey Mouse par 3 pitch and putt) will be killing us anyway. But Datai Bay made us go away talking about coming back again. We went to each hole like kids waking up on Christmas to find presents under the tree. Clearwater just got us talking about going away.
Service (2/5)
The service gets 2/5 divots. I liked the fact that they sold sharpies at the counter. Sharpies makes us look like pros, as if we have lots of fans who needs our autograph, or we would mark our ball with a special sign. The fact is, we have 0 fans except for the occasional maintenance guys waiting for us to clear the green, and we definitely don't hold on to a single ball long enough to bother marking it.
What bugged me was the fact that they had the sprinklers turned on for the first tee, as if they did not expect us to tee up at, like what, 9 am??! And they had sprinklers turned on at the 18th, as if they can't wait to get rid of us. I mean what is that about? I proceeded to duff my SW approach on the wet fairway. I would have holed an eagle if not for that sprinkler!!
Fairways (3/5)
This gets 3/5 divots. It's nice and well maintained but had splotchy grass here and there, and uneven on some holes. Of course the random sprinkling also made the fairways a little inconsistent. The fact that it's number 2 in Malaysia goes against it. I expected immaculate fairways, and tiny Oompah-Loompahs running around sprinkling magic seeds to make the grass even.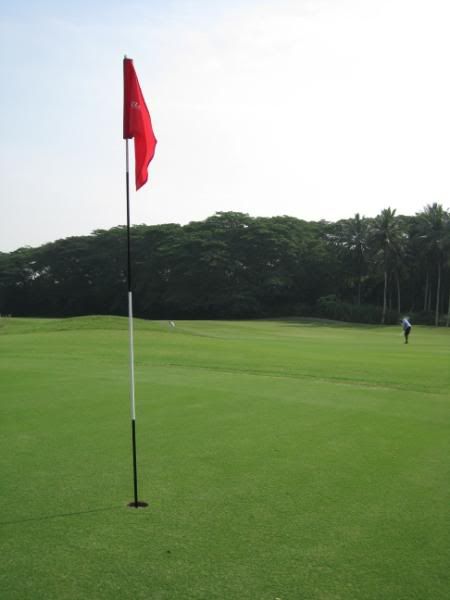 Greens (2/5)
To be fair, we were warned that the greens were being sanded. So it wasn't tip top condition but I am going to blast it anyway. Number 2 in Malaysia, I expect the greens to perform better than Impiana, I expect my shots to spin back, I expect it to be consistent in speed and roll. I expect the greens to be so good I'd want it to be my bed at home.
We played to an extremely SLOW green. I mean, it almost looked as if we were putting a bowling ball or something. We needed a hammer to hit the ball forward. There were some dead patches here and there. I'm not good enough to explain if it affected my roll, but I give it a 2/5 because I three putted like half a dozen holes. Rats!!
Rough (4/5)
The rough does what its supposed to do, it eats up your ball. It just sinks in. There's no way you can ply it out without a shovel. I don't know what kind of grass it is, but I will name it Pitbull grass, because once it gets hold of your balls, it ain't letting go. Of your golfballs, that is.
Aesthetics (3/5)
If there was a signature hole, it's the 18th. It's a hard dogleg left par 5, about 170 m to cut the dogleg and carry the water. There's an annoying tree in the middle to eat your balls. In fact, CW has loads of holes that allow you to cut the doglegs with a good drive. The fact that there's water all over the place, it's a swashbuckling grip and rip it mentality vs wimpy, gutless 5 wood to fairway and long approaches. Guess which approach we took? Just bring loads of golf balls because you're gonna lose them.
The holes in CW are long. You either get better with your driver or be prepared for 170m plus approach shots into the green. And if you miss the greens, you're either in the water, sand trap or a monitor lizard will be chomping on your balls. Golfballs.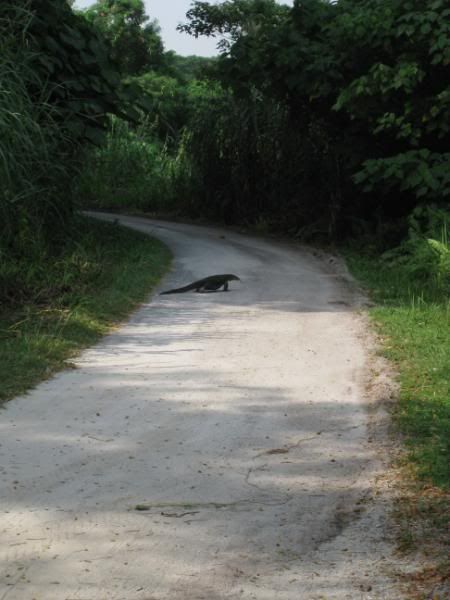 Fun Factor (2/5)
I am really reminded of the time when I went to watch Star Wars Episode 1. You really want to enjoy yourself, and you really want the movie to be good because of the tradition surrounding it. Face it. Star Wars 1,2 and 3 sucked. I hated the movies and signed up on the diejarjarbinks petition. Anything without Han Solo and Donut hair Princess Leia in a golden bikini is not gonna cut it.
Likewise, I really wanted us to have fun in Clearwater. But as we approached the last hole and the sprinklers turned on, I shrugged. We had a bit of fun, but really the whole experience was a little bit of a letdown. 2 of 5 divots.
Conclusion
The purists will like the fact that holes are long, par 5s are not reachable in 2, water is all over the place and there's nobody in the halfway huts to sell drinks. Purists are also known as crazy people who likes to feel pain. I forgot the scientific term to it.
For us hackers who like to enjoy golf, Clearwater is a reasonably good course, but as number 2 in Malaysia and the fact we had to wake up at 5:30 am to drive up north for 2 hours, we expected more. On the 15th hole we were like, we drove all the way for THIS??!?
And another thing that bugged us. The name. Like, why do you call it "clear water" when the water isn't even clear? I see some websites talking about the shimmering lakes like it was a feature of Rivendell in Lord of the Rings. Are they intoxicated with Ipoh white coffee? Have they even been there? We just saw mining pools. Where's the shimmer? Where's Galadriel, Elrond and the gay hobbits?!?
It's like me calling my son Tiger Eldrick Woods and find out he prefers to be professional ballet dancer when he grows up. It's just too much pressure in the name, you know.
The good: Few people, good rewards vs risks, well designed holes, some nice wildlife, Pitbull grass makes you really want to hit the fairway.
The bad: Overrated scenery, Pitbull grass makes you regret you suck at your driver, so-so greens, no Oompah-Loompahs on the fairway, deserted drink huts, holes might be too long for a hacker. And badly behaved sprinkler systems. And no Galadriel.
The skinny: 24 of 40 divots (60%). Number 2 in Malaysia? Don't think so. Disappointing.
Clearwater Scorecard