Well, February has concluded and it's probably a good time to see how things are going in the golf game.
Overall, I've been reasonably OK – my drives has returned, but my iron shots are still crappy (partly due to my inherent retardation and also the change of clubs). But my chipping and pitching has just been AWFUL. If not for my drives, I would probably average around 98 or 99 per game.
Instead here is the overall stats:

It has not been terrible. 92.5 after 6 games with a 93-95-90-97-94-86 needs to be looked at from a more optimistic perspective. The first three games were in tough conditions in KRTU and KRPM, while the 97-94 were quite bad scores even for Seri Selangor and KGNS mickey mouse course. If I wanted to break 90 on average, I better start playing more in friendly courses like Bangi.
In more details, the breakdown as follows: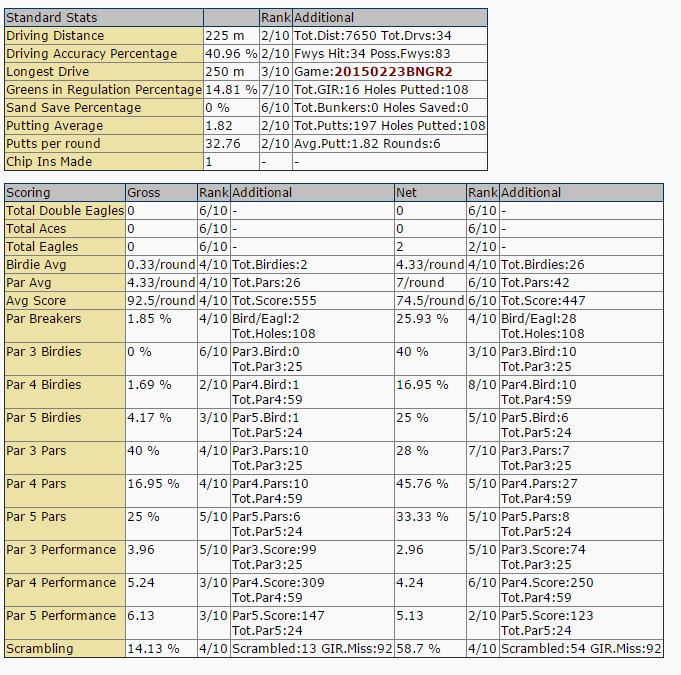 Averaging over 4 pars per round is pretty normal, a bulk of it really coming from the par 3s. Bad performance overall on par 4s really show that I can't hit my approaches properly. I can hit it from the tee well enough, but really struggle from the fairway/rough.  Another weakness is the low GIRs, which obviously puts a whole lot of pressure on my chips and short game which, well, usually comes up short.
Here's hoping for a better March.