The actual golf season begins with Tiger.
Face it, quick trivia:
1) How many PGA tournaments have been played?
2) Who won these tournaments?
3) What is the current PGA tournament being played now, and who is leading at the halfway cut?
If you can't answer any of the above, or wrongly answered Abu Dhabi HSBC championship for 3), chances are you are like 99% of the golf fans out there: NO ONE GIVES A CRAP about the other PGA tournaments outside of the majors, and outside of any tournaments Mr Woods play in.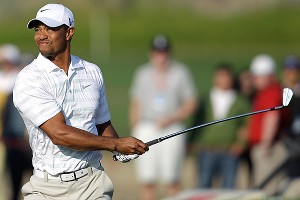 I finally tuned into golf, between flicking channels to watch the tennis Australian Open, and watched the marquee group of Rory, Luke and Woods. Luke sucked. As a world no. 1, you gotta feel extremely castrated in many ways. He doesn't have the charisma of Woods, he doesn't have the don't care attitude of Rory, he doesn't even have a freakin' major that both Rory and Woods at least have! And he's supposed to be the 'best'. It's such a ridiculous burden he's bearing, knowing that he wouldn't be able to beat these two guys, driving shorter than them, less accurate than them, and yet, seeded World No. 1?? As expected, Luke played like a doberman on heat, i.e extremely out of control and crap. And did I mentioned he has the same amount of charisma as the random piece of brick you find at the construction site?
Rory? He's entertaining, but he's no Tiger. He plays like a punk, and his body language is just so hilarious because it reminds us of…well, us. Except that he birdies after bogeys, while we just descent into an eternal spiral of crap golf. His resigned slump when he hits a bad shot, his animated face when he hits the good ones. His penchant to engage Woods in conversation all the time…thankfully, Steve Williams is no longer Tiger's guard dog, else Rory might have his face bashed in for speaking to the mighty Tiger. But Rory was hit with a 2 stroke penalty when Luke said that he couldn't sweep sand from his ball path outside of the green. Which makes sense. As in how hundreds of stupid golf rules makes sense, but play by the book, right? To do him credit, he didn't blame the tell tale World No 1 but penalised himself, but yet carded  an even round to remain at -5, same as Tiger…how does one get 2 double bogeys and some bogeys and yet remain even??
Tiger played like…someone else aside from Tiger. We are so used to seeing this guy flapping his clubs around and screaming FORE!! and go on to do a ridiculous recovery shot and sink an impossibly long putt…that the new Tiger, with the ability to fade the ball just needs getting used to. Tiger will always be Tiger, but we love him so much because he was able to overcome adversity, and come up with crazy shots that we would try on the course, much to the danger of everyone involved.
Now Tiger just plods along, hits great fades with 3 woods into the fairway (with the occasional top that can still skitter 240 yards), doesn't do much fist pumps and resembles a black Luke Donald. Yawn. I hope this doesn't mean Tiger is going to be playing boring golf all the way, or else I'll be switching to watch Junior Masterchef Australia. He's hitting it great though, and it will really be great for him to be in contention in the weekend, hopefully paired with the jabberwocky Rory McIlroy.
By the way, the report was that Tiger Woods was paid a significant sum to play in Abu Dhabi, about 2.x million USD. I think the rumor was that last year, one event organiser wanted to bring Tiger back to Malaysia for one of the tourneys…and was quoted RM5 million, which was before his Chevron victory and at his lowest value. That was his discounted value. I don't think we'll ever see Tiger going for RM5 million ever again, now that he has regained back some of the aura he lost when his car crashed into the tree and he downgraded from the most appealing and marketing person in sports into a not-so-pretty-pornstar lover. What a fall from grace ain't it?
Ah Well, Tiger Mania is back, and let the season FINALLY begin!!