Introduction
After what seemed like an eternity, Gilagolf is back to doing what this blog was set up for ages ago. Reviewing crappy golf courses in Malaysia, sprinkled with some really good ones. But mostly crappy, because the crappy ones are the most fun. Anyways, I've always heard about Carey Island Golf Course long way back. It was always described in no uncertain terms, as a 9 hole stinkbomb that makes cow dung taste like Baskin's Ice Cream. With Oreo topping. So I never really ventured there, unless perhaps if it was the final golf course on earth, and committing suicide was no longer an option.
However, a few months back, I began to hear rumours of another world. Another golf courses, set up like 'the links in old St Andrews', with beautiful lakes and oceans, and the wind caressing your hair as you launch a perfect 8-iron into the air, only to see it whipped around like a mongoose going after a cobra due to the high winds. Where you have to aim to the ocean, so that the wind can blow your ball back into the fairway. Where mastery of the Stinger is key, to  keep the ball under the wind. Most of us have mastered that anyway, except our Stinger is a top ball and our ball is just under the wind, it's also skimming along the ground to only about 20 meters. This place was called Amverton Cove. At first, I thought this was a mistake and this referred to place possibly in England or perhaps a custom golf course created in the Playstation Game Tiger Woods 2013. I mean, aside from the insidious practice of naming it a very western sounding name "Amverton" – in the same way caplang products like Bonia, Giordano, Milano sound Italian — which world does anywhere in Malaysia ever represent a 'Cove'? A cove is like a coastal inlet (according to Wiki). The last cove I experienced was called Lulworth Cove in the Isle of Purbeck when I was doing the Thomas Hardy experience walk with my wife 2 years back. It looks something like this:
This is a cove. It's a beautiful cove.
The Carey Island I search in Google got me this: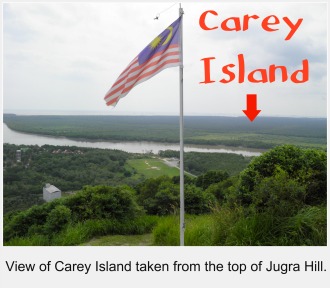 In terms of beauty, it's like a comparison between this:
And This:
I know. They are not even the same species. But you get my point. Anyways. It's a free country to name anything you deem fit. Amverton Cove it is. Armed with these precious rumours, a group of intrepid golfers took the chance on a gloomy morning to head out, where no Gilagolfer (from our group) has gone before.
Travel (3/5)
I heard of Carey Island when I was a kid, and even been there before. However, I've probably not gone there for close to 25 years or so, so getting there itself is an adventure. If you've been to Tasik Puteri before, it's more or less the same philosophy. Create a golf course deep inside and far away from the highway. However, unlike the god-forsaken location of Tasik Puteri, Amverton has really benefited from the SKVE highway at Saujana Putra, which is a direct highway that goes straight into the heart of the forsaken lands of Banting and Carey. I don't know exactly know why google maps doesn't have it, and instead forces you to go through Shah Alam, but the best route is to take the NKVE out of PJ, and exit at Saujana Putra. It's not that far, especially if you're like a friend of mine who lives in Putra Heights, which is next door. Once there, go straight past the roundabout and you immediately end up at the SKVE toll and there, you can access it. Once you're at the SKVE, go till the end at you'll need to turn out into the smaller roads. From there it's pretty straightforward. Amverton turnoff is just about 1 km or so away from the old 9 hole stinkbomb golf course.
Over all, it was a welcomed drive. Just be careful with your speeds, as the SKVE has a lot of dips and bumps and not at all flat. Otherwise, I'd say travel was surprisingly easy.
Price (3/5)
I'd say it's pretty worth the RM120 I paid to play in Amverton. The crux of the matter here is that you need to have 2 flights in order to pay 120, or you end up forking RM138, I think. This hardly makes sense to me, because all I have to do if I had one flight, was to just go to another flight and say, can I join you guys? As in, can my flight just register with you guys? I mean, if they have one flight also, sure, they will be of course ok. Even if they had 2 flights, Malaysians being such cultured and social animals, they'd also generally say yes, so we had 3 flights, and hence ok for the promotion. It obviously is a gimmick from Amverton to get more flights, like bulk purchase or something. It's a pretty stupid idea, and only serves to annoy the crap out of your customers, Amverton. Nobody does this. Stop it.
A good thing is that for senior citizens, you are further reduced to RM108. Yaay! 15 more years for me to go to get this privilege!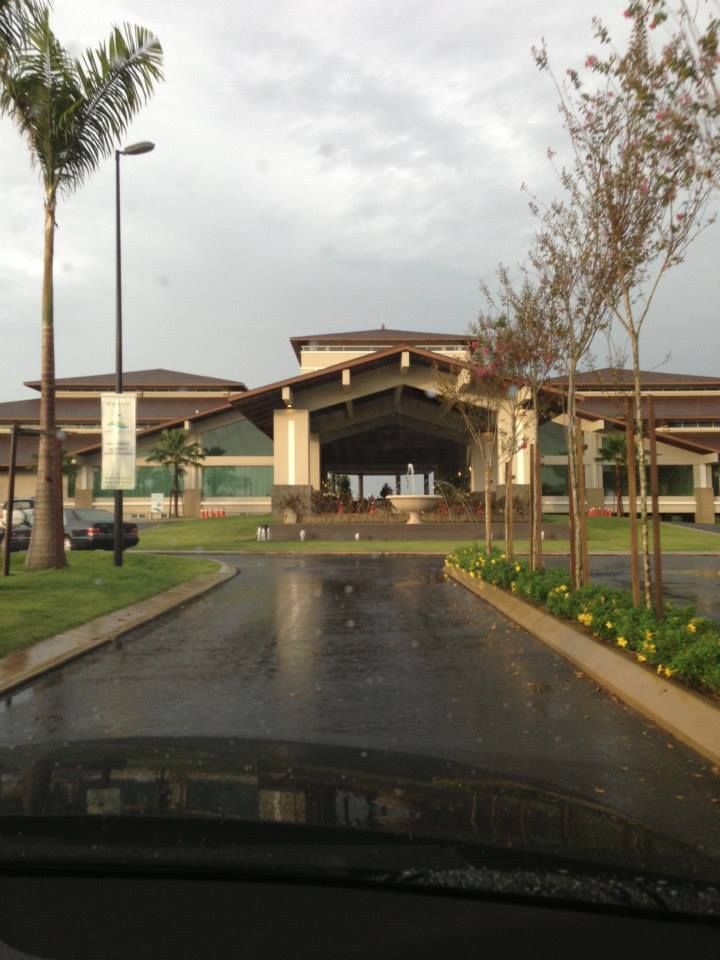 First thoughts
I'll be honest. My first thoughts were: "I'm glad I took the day off." I mean, it was just a welcomed sight. Some golf courses do that to you and Amverton, after the dreary drive through the rain, looked great. It was so strange, to come upon this golf course after driving through a patch of land that looked horribly desolated and boring.
The sign that it was the right thing to do to neglect all other responsibilities in life and just play golf was when we saw a full rainbow over the golf course, and the sun breaking through the morning rain. It was a promise, that although our golf will no doubt suck as usual, it would be the right choice to come to Amverton Cove. Even though it's representation of a cove is the same as my golf skills representation of Tiger Woods.
Service (2/5)
Don't get me wrong. The staff was friendly enough. The same way as someone who is about to take your money and your kid's education fund is friendly about it. I mean, we though of having breakfast at Amverton Cove first before heading out to play. Amverton not only uses English names and English landscape to describe the golf course, it also uses pricing from England to describe its menu.
RM13 for fried rice? RM17 for breakfast?RM5 for a toast??!?  And the toast was basically toasted Gardenia bread with a cheap butter and no knive. I had to spread with my spoon. And it sucked. The kopi-o was also about 5. Our breakfast for 3 ended up to be RM40. And this was with two guys eating the RM5 toast and another guy eating an RM15 nasi lemak. Is this crazy, Amverton? Like your two flight promotion, this crosses the line between mildly annoying to brain-numbingly stupid. I guess they have to travel pretty far to get the bread in and all prices are jacked up like in Genting.
Skip the club food and go straight for golf.
Fairways ( 3/5)
Amverton has Bermuda grass for fairways. Which is generally good, except that maintenance is not going to be easy. As this is a new course, the conditions were still good, if not mildly runned over because of the rain and because they allowed buggies on the fairway. There were a number of spots where the Bermuda was completely balded out and sand has replaced the grass, but I will take it as a new course trying to mature itself, which would probably take some time. So, let's give it the benefit of doubt. It's not easy trying to maintain these fairways in a palm oil estate. Plus, with the rain, drainage was pretty darn good as we didn't have any casual water anyway (but plenty of water otherwise!).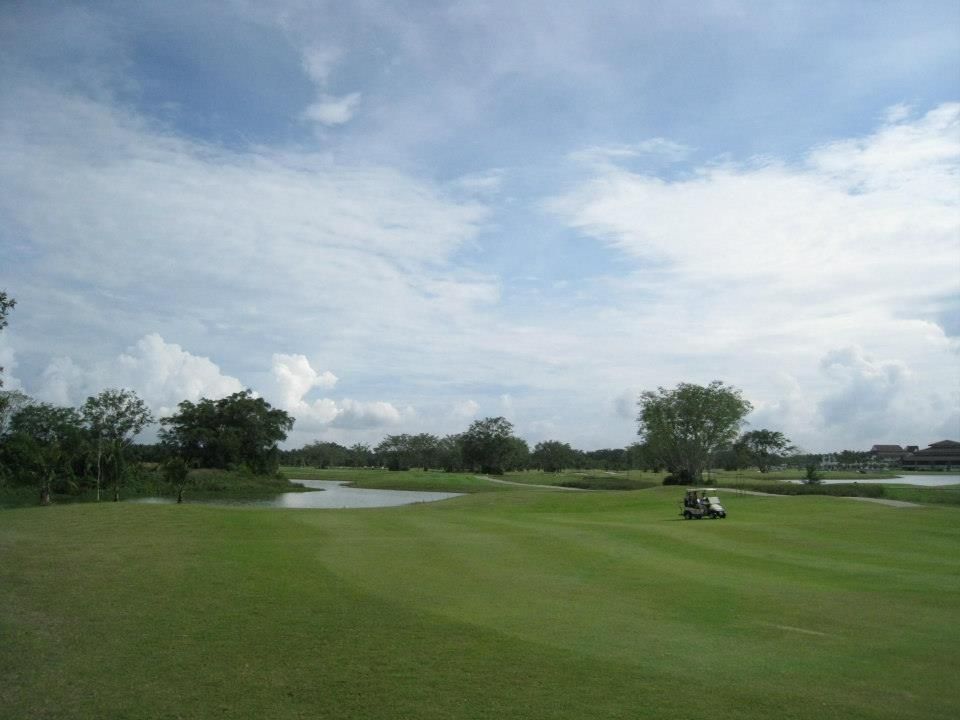 Greens (3/5)
We enjoyed the greens…but it narrowly misses out because a number of these greens, on 11th or 12th, was being sanded. Again, we take it as a new course, and maintenance is still ongoing, but from what we see, the greens are going to be in very good condition soon. It's fast, and enough undulation to give us the yips—generally, anything with 1 cm of undulation or break gives us the yips, but you get what I'm saying. I think Amverton got this right.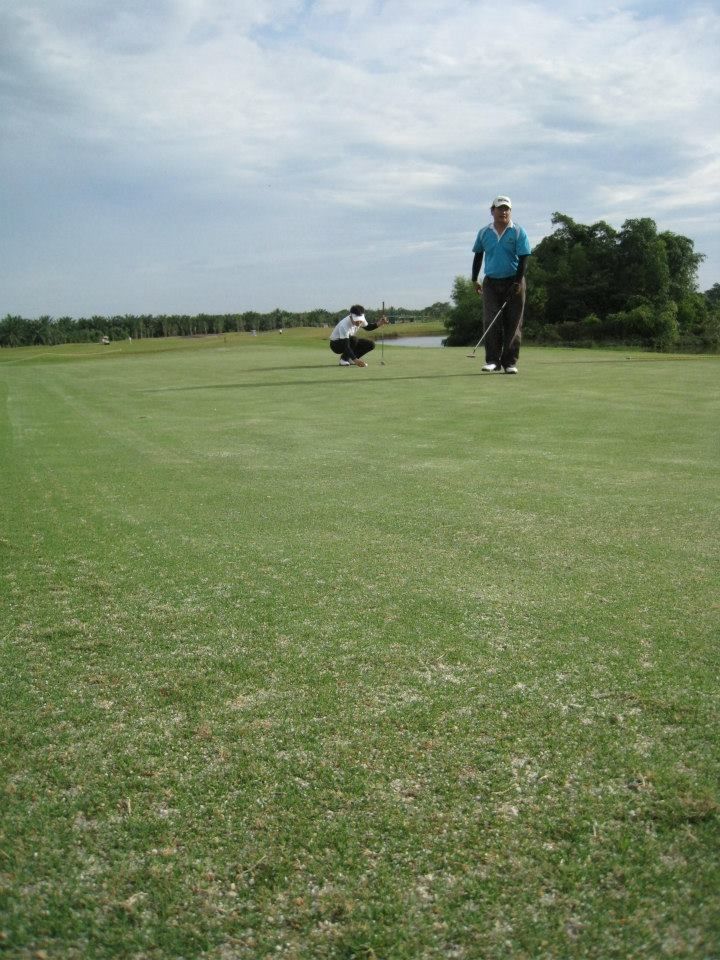 Rough (4/5)
There was not much rough to contend with. Basically if you're spraying your tee shots like morning piss like me, miss it on the side of the rough instead of water. I know it sounds like a stupid advice, but say, you know your miss is a hook. Instead of aiming it on the fairway, where a hook will bounce off to the left water, aim it way to the rough, so even if you flush it, you end up in the rough with plenty of recovery options. The grass isn't thick, and the bunkers are very well maintained, even after a solid splashing from the rain. Actually, the bunkers are great. But of course, not while you're in it, but if you saw the rainfall, you'd think other courses like that stupid Beruntung course, the bunkers would have become swimming pools.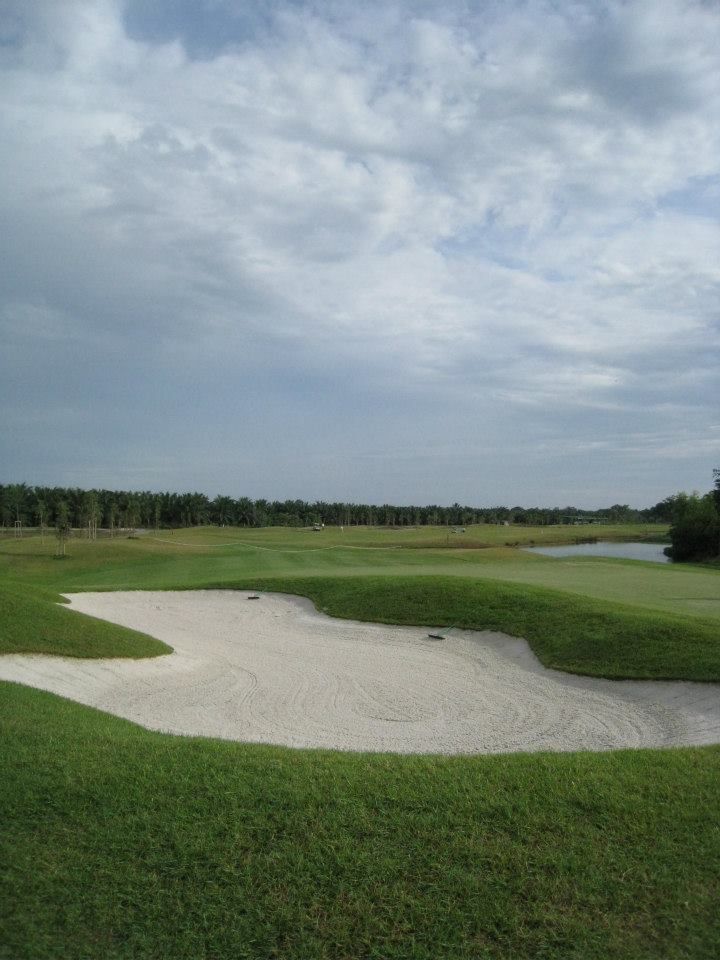 Aesthetics (3/5)

OK. Amverton Cove is nicer than we thought. I liked it, but it depends on your type of course. Calling it a links course shows how little people know about links. It's NOT links. It's just a flat course that is immature, hence you have little shade and trees, and not much wind and it's flat as Kate Moss. In fact, the advantage here is that it gives a feel like RSGC, where you can just see the course and everyone playing on it. It's like a big playing field, where you can shout "Hi!" to your pal on the 1st tee while playing on the 15th tee. Unlike 'sandboxed holes' in courses like Ayer Keroh, where each hole feels like you're completely isolated from the other hole, there is a relatable sense in Amverton, where flights can interact with each other easily. I think having a tournament here is going to be F-U-N. On the other hand however, because there is literally NO elevation, the aesthetics, after a while becomes somewhat of a downer. Every hole plays almost similar with dogleg here and there, water on the left or right, some hidden lake in the middle of nowhere, and basically no sense of awe that you get like if you played in Johor's Legends course or Saujana Cobra. Elevation makes the course more beautiful, and in Amverton's case, this is a minus. Overall, it depends on the type of golfer you are. I personally like the hilly types of terrains you find in Rahman Putra, but it still doesn't detract the fact that Amverton is a nice looking golf course.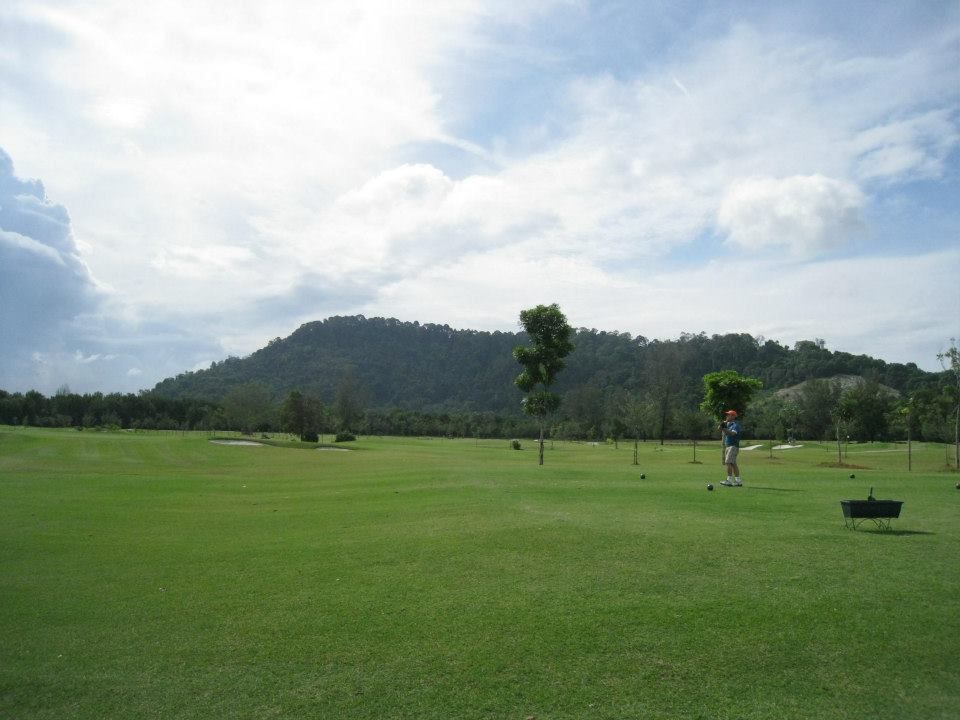 The surrounding environment isn't so good looking however, but these are all being constructed, so it's not so fair to make a judgement until the resort gets fully operational. I might be able to trick my wife to come here for a 'family outing' with a couple of Gilagolfers and their similarly tricked family….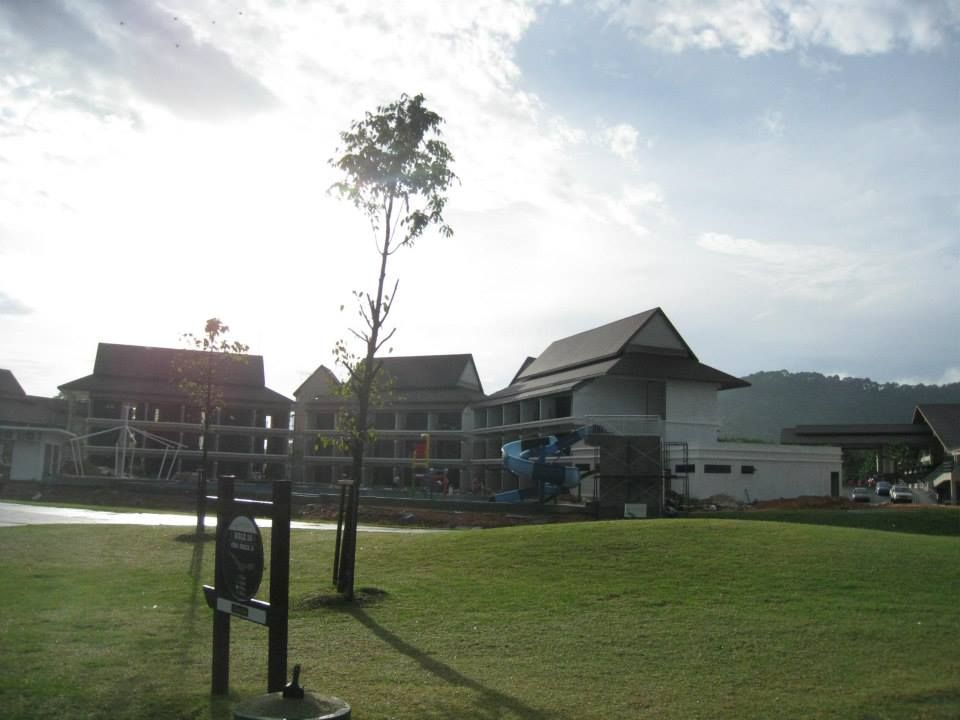 Fun Factor ( 3/5)
We really enjoyed Amverton. It's been a while since we had a lot of fun, but basically, we had two of the noisiest flights on the course. Because it was so flat, our yells and laughter was heard all over, which makes it, I guess, quite unethical but ah well. I didn't have my best game, but I didn't think I messed up so bad. We teed off at 10. The par 5s here are delectable. You can reach both in 2 on the back nine. But they punish wayward shots. On hole 10, I had only 180 left after a long drive. I sliced it, and boom, it goes into the river on the right. I didn't even know there was a river because the course was so darn flat. Double.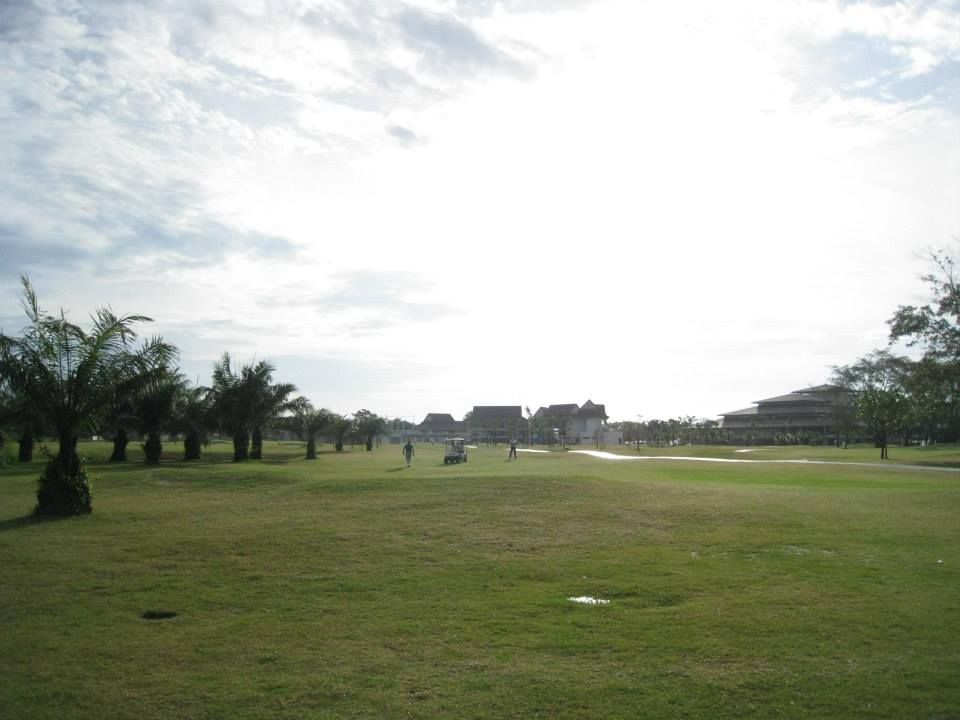 The 11th was bad for me because of water on the left. I topped my drive and with another 180 to go, I proceeded to pull my 3 wood into water. Stupid 3 wood now has cost me two holes. Triple. Hole 12, par 3, what can go wrong right? Over-drew my 8 iron and it bounced on the fairway and trickled to the left. I didn't even realize the water ate into the fairway near the green…and you will get this a lot because you can't see crap at the tee box due to the flatness—if you can get a caddy, well go for it maybe they can help. So my first three holes, I was +8. After that, I played much better, including the par 5 14th, where even if I OB-ed my 3 wood from the fairway second shot, I still put my next 3 wood shot onto the green from 190 out and two putted for bogey. I like the par 5s.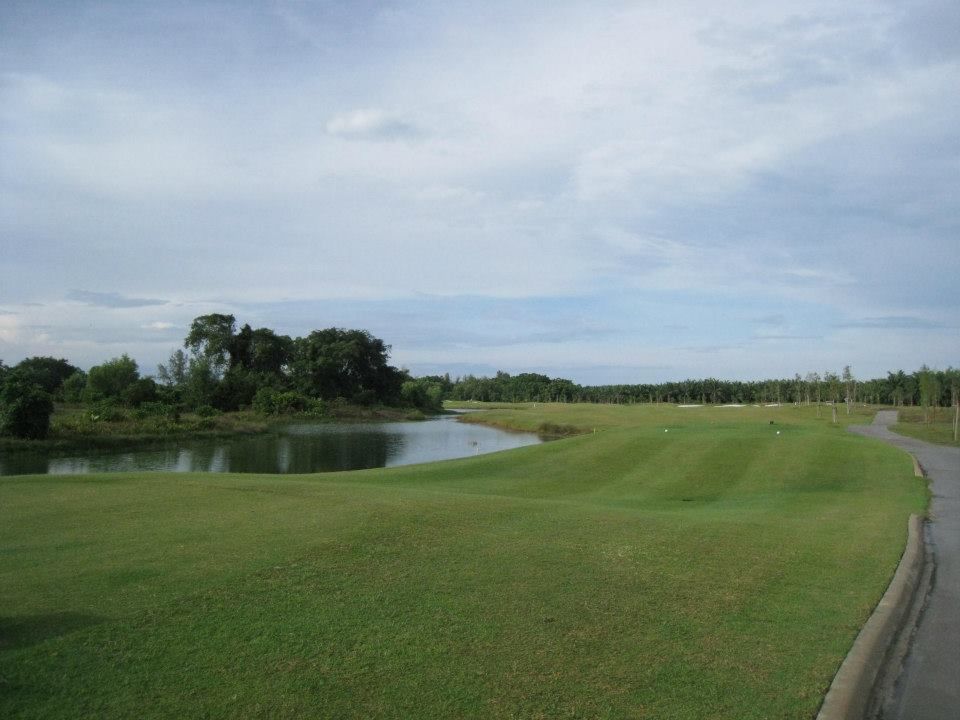 The signature hole is the par 4 18th, where you can challenge the lake to carry about 220 – 230 to cross. We played safe, but all attempted mulligans to see if we could cross and all failed miserably. From the fairway I don't know how I messed up so badly to double bogey it but ah well.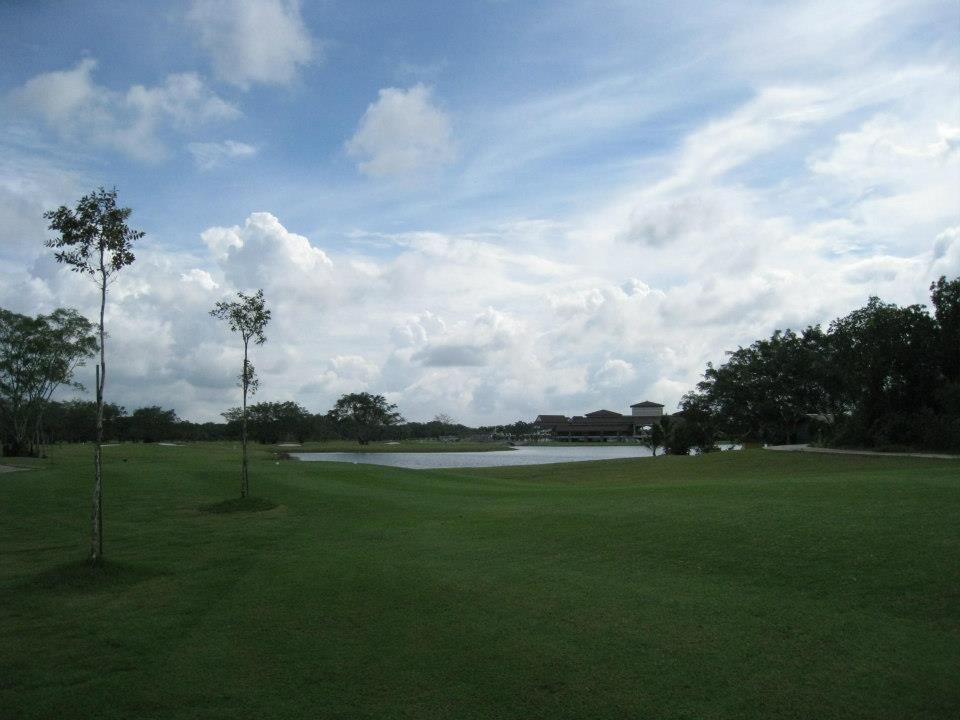 The second nine was way better. The only letdown was the index 1 hole, which is a 289meter par 4 6th. The only problem was right water, but landing space on the left was plenty so 3 out of 4 guys from our flight parred that easily. I think they need to change that index 1 a little, it's too easy.
Every hole has water. But unlike Rahman where you need to cross them, most of these are not fronting the teebox but lay to the left and right, treacherously eating up your wayward shots. There's even a hole where you have to go onto a wooden walkway to walk across a swamp to the teebox, I think hole 6.
Out of 18 holes, 12 holes have water to the left, and potentially terrible for hookers like me. In fact hole 10 – 18 features 7 of 9 holes with bad news for hookers. Ironically, the only two times I ever sliced my tee shot all day ended up in the lake, when water was on the right. It. Was. Retarded.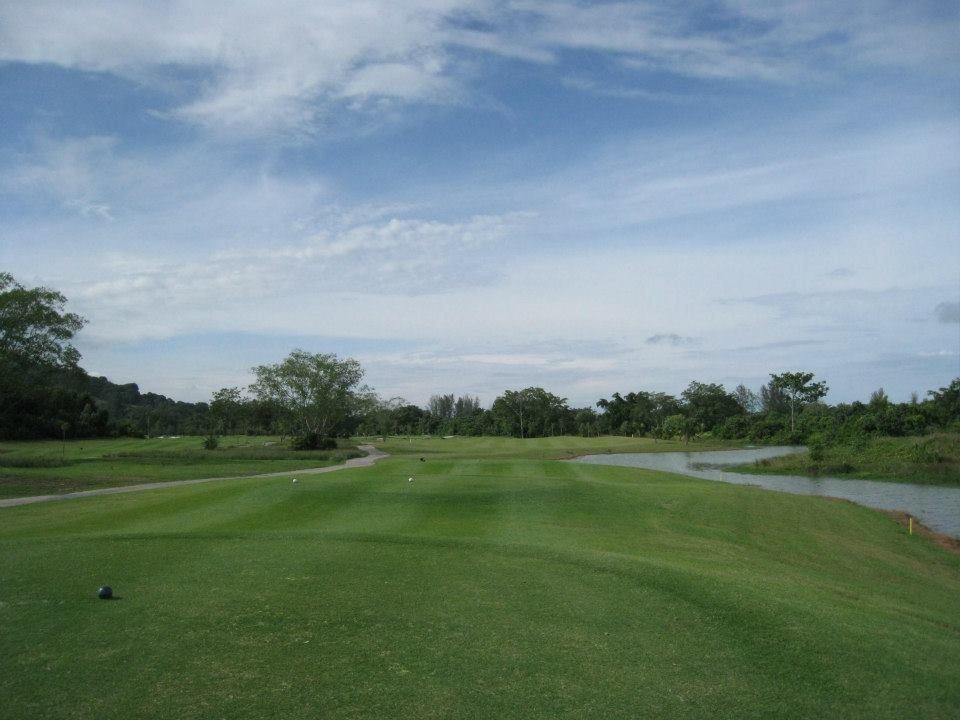 Conclusion
We'll definitely make another trip here. The travel wasn't half as bad as we thought. And the course itself was worth the trip and the fun we had. It's one of those courses where you just know that the second time you play here, you'll play better because you know the courses slightly better. You know where to miss, whether to go for it or not. And of course, who doesn't want to come back to a course with a rainbow over it?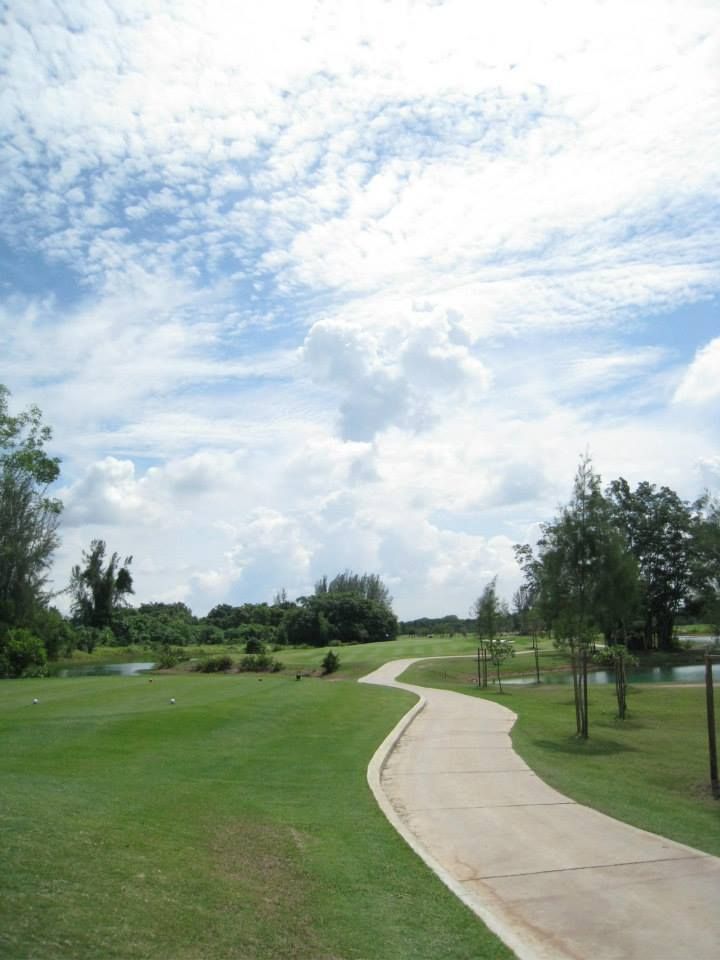 The good:
Huge potential for Amverton Cove. Of course, if I could, I'd change the name because it ain't a cove. But let's give it a break. It's a good course in Carey Island and recommended to go. The greens are well maintain, the fairways hold up to rain, the rough is also good and if you like water, hey, this is as watery as it gets. Every hole has water!
The bad:
The pricing is still a little steep for a course that is not elite. It's in the middling range like tasik puteri, just above dog crap courses like Kinrara and Holy-Crap-This-Is-Awful-Sh*t courses like Beruntung, but at RM120 on a weekday? It's high. And why is the food pricing like eating in Ben's in Bangsar? Also, aesthetics is a hit and miss…the lack of elevation, immature trees, flat features is a minus. It's like a girl who will be considered pretty but never beautiful.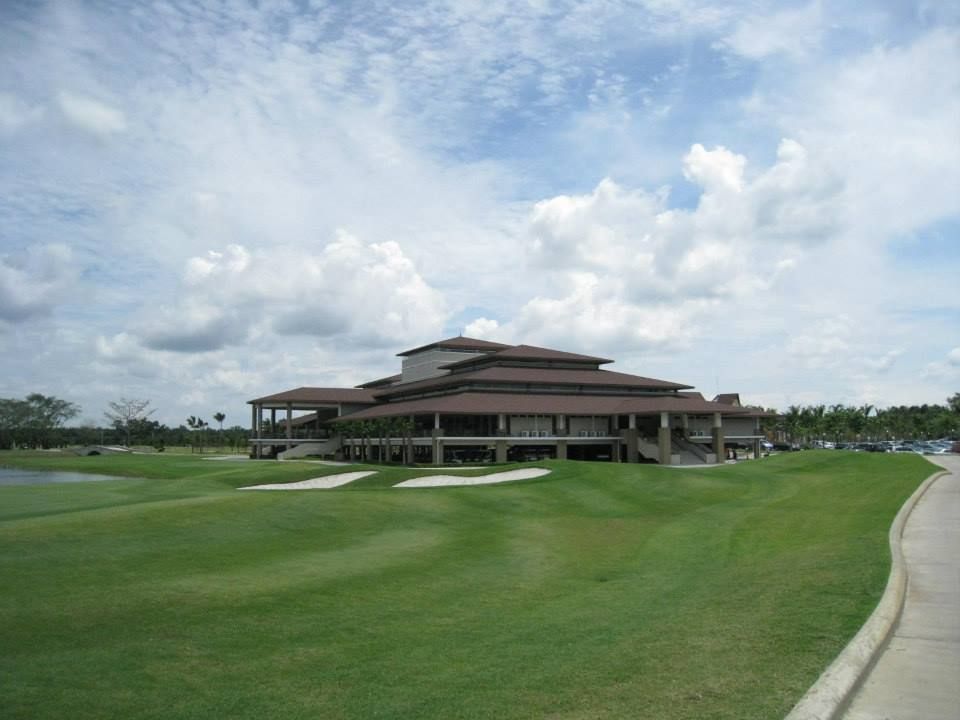 The skinny: 24 of 40 divots (60%).
Of course, recommended to give it a try. Most of you will probably enjoy this course like we did, and once it starts maturing, it will get better. Give the food here a miss though. Down the road, there is a very good seafood restaurant (halal) called Kang Guan (I think)..it seems to be very popular. Play golf only and don't stay a minute longer than you need to.
Amverton Cove Score Card
Amverton Cove Information