Introduction
Melaka has always been somewhat of a hidden gem for Malaysia Golf Courses. For such a small state, it boasts of 4 well known courses in Ayer Keroh, A Famosa, Tiara Melaka and Orna Golf Club. There's also one more obscure one called Golden Valley course which is along the highway, which we don't really know anything about.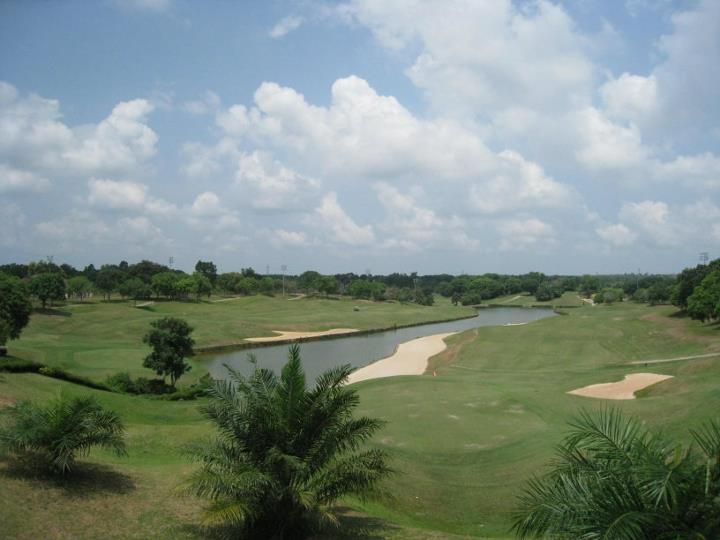 And of course, the great thing about Melaka is that the courses are all located within Bubba Watson Drive from each other (meaning within 300 – 400 meters, give and take. We obviously failed our maths, but it sounds nice: Bubba Drive). With each courses so close, organizing a 36 hole blitz is a piece of cake. Orna – Tiara Melaka – Ayer Keroh are options. A Famosa is a little out of the way though.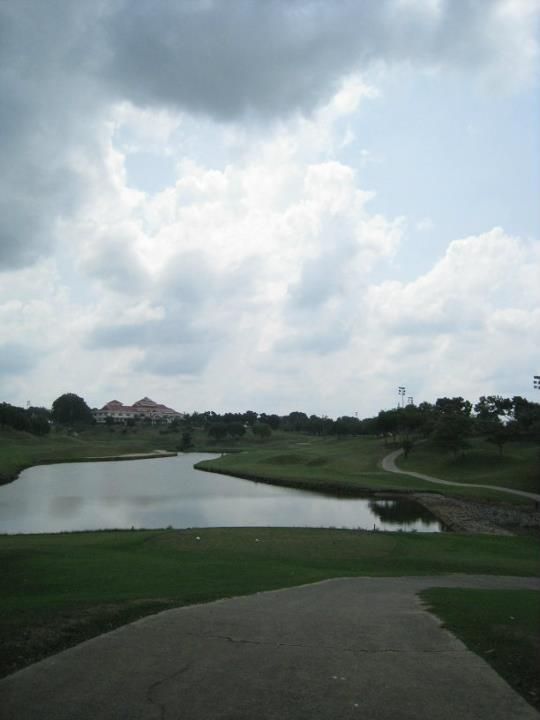 We decided on Orna simply because many of us have not played there before, and from the website (again, we say with some caution, having experience the inordinate amount of BS encountered in these so-called websites), they seem to be a little full of themselves, having served as the Davidoff qualifying school venue for 2001 – 2003, which until now, I can only relate to Davidoff as the deodorant I put in my armpits every morning. At least, it isn't as full of crap as some of the information on some golf club sites; this actually served to be quite informational. I won't repeat it here, but the designer is Andy Dye, the brother, I believe of Pete Dye. Now if you haven't heard of Pete Dye, you probably heard of the famous course he designed: The TPC Sawgrass. If you haven't heard of it, you probably know about the famous 17th on the Stadium Course. If you haven't, you should just give up golf, wear a tutu and take up ballet instead, because you'll be very good at it.
While Andy ain't Pete, we still were pretty excited nonetheless to try out this so-called 'championship quality' course.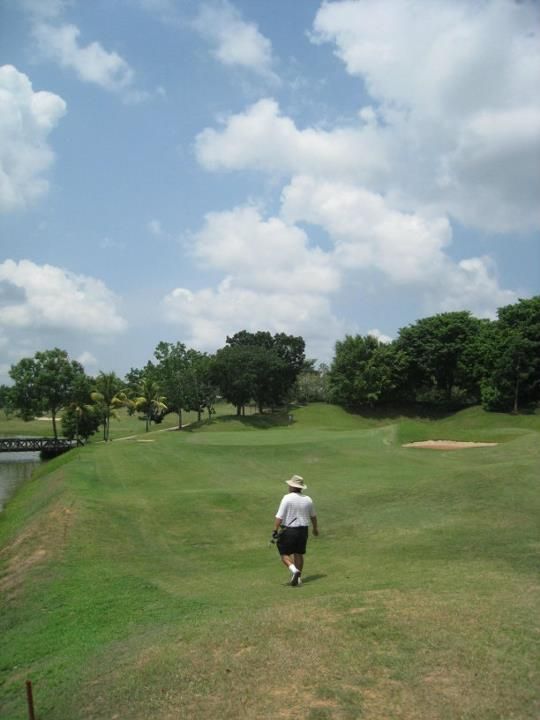 Travel (2/5)
Like the notorious Tiara Melaka, signs leading to the golf course is as scarce as blue spotted jackals.  For some reason, perhaps due to it being a national heritage, Melaka refuses to put signs up to direct tired golfers coming from KL to Tiara or Orna, or perhaps those cheapskate clubs refuse to pay the Melaka town board to put these signs up. So you need to trust your instinct, or now, in this time and age, the good old GPS.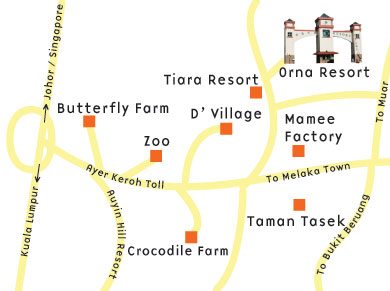 Turn off the Ayer Keroh exit, if you're coming down from KL. Please tell me that you know how to get to the North South Highway bound for JB and Singapore. If you don't, perhaps you should ask your mother's permission for reading stuff on the internet, and go back to studying for your Std 3 tests. I'm kidding. This is a family friendly blog. But I am still not gonna direct you to the North south since it's obvious you don't know how to drive.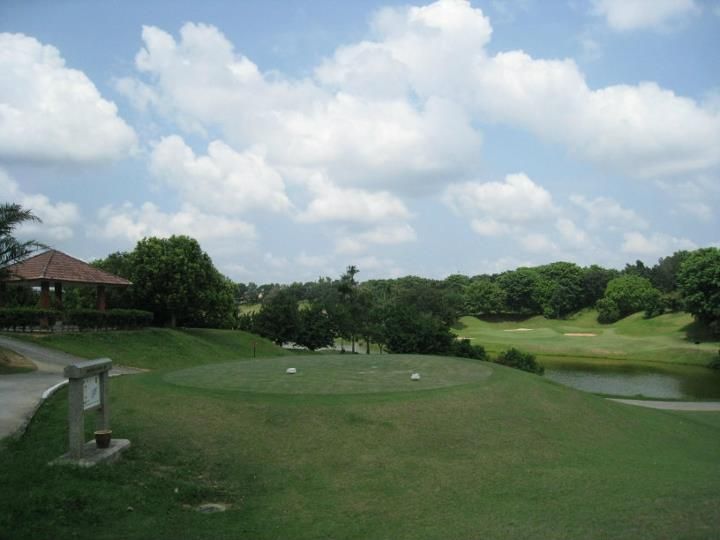 Anyways, once you're off, go past the toll and head straight on, until you see the zoo and the Ayer Keroh golf course on your left. Then stay left, and at the main interchange, turn left, go straight all the way, past Tiara Melaka Golf Course on your left, and about 2 km later, Orna is there for you!
Price (4/5)
RM59 per person. Yep. There's a promotion and yet again, our stupid Top premier voucher booklet is useless, since it's more expensive with the voucher. Although it's a dumb pricing strategy, it's still a ridiculously low price to pay for a round of golf (later, we found from Tiara Melaka, with the voucher is only RM44!! Man, I love MELAKA!). This is good pricing, but then again, RM59 for a piece of cowdung in the middle of nowhere, like TUDM or Frasers might make you wish you invested that RM59 into buying discarded bottle caps instead. As we found out later, thankfully, Orna does not resemble a piece of dung, so it's definitely worth the price.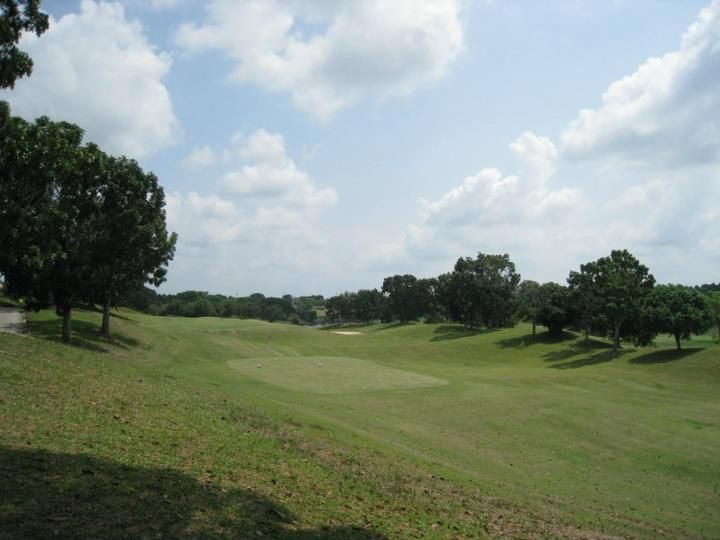 First thoughts
I don't really know what ORNA means, but I suppose it's supposed to be some Greek sounding name for beauty or something. In my opinion, it's probably derived from the desperate shouts of golfers who are trying to clear water, bunkers, wastelands in this course to put it on the green: "ON! ON –AH!!" with the 'ah' colloquially used by chinamen uncles who think they can clear 230 m of water to put 2-on to the par 5 greens, and failing miserably for the 4,567th time.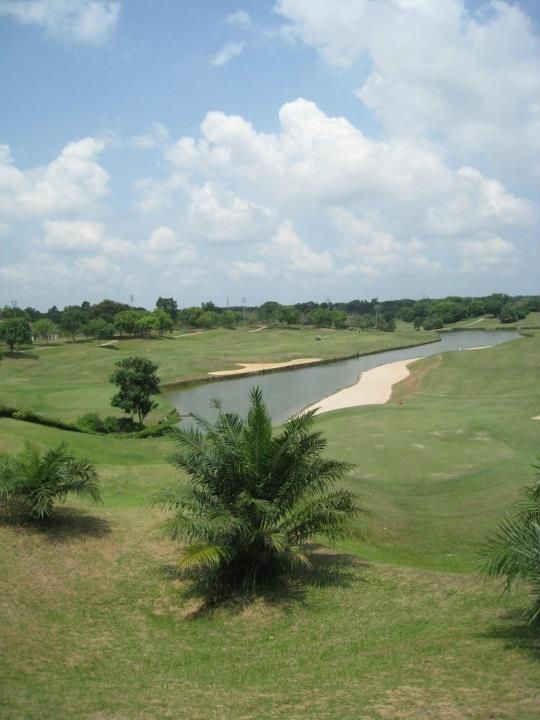 Anyways, we teed it up on the back nine (West Course). We avoided the mickey mouse North Course (as was told to us) and decided the championship combination of East and West course was where the bang for the buck was.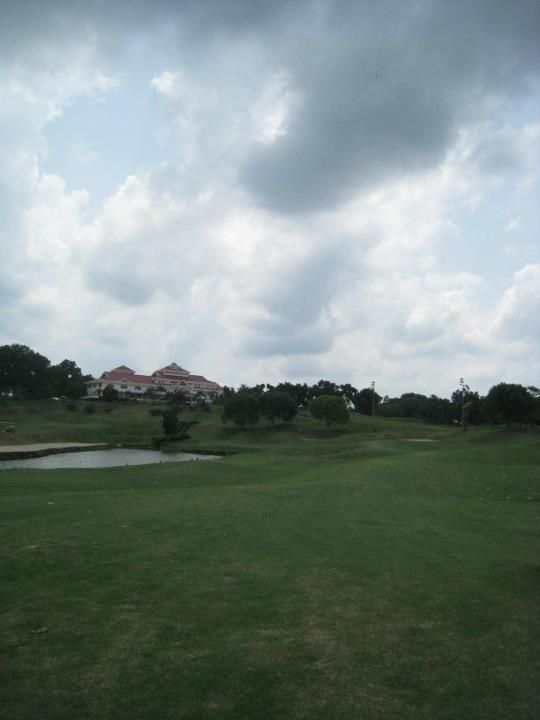 Standing on the first tee, it was a short par 4 that had a slight dogleg right. Immediately, you can see the undulations on the fairway, and know that this is NOT a Ginnifer Course, and it's probably going to eat you up the way KRPM eats up golfers, gargles their blood and spits out the carcass later.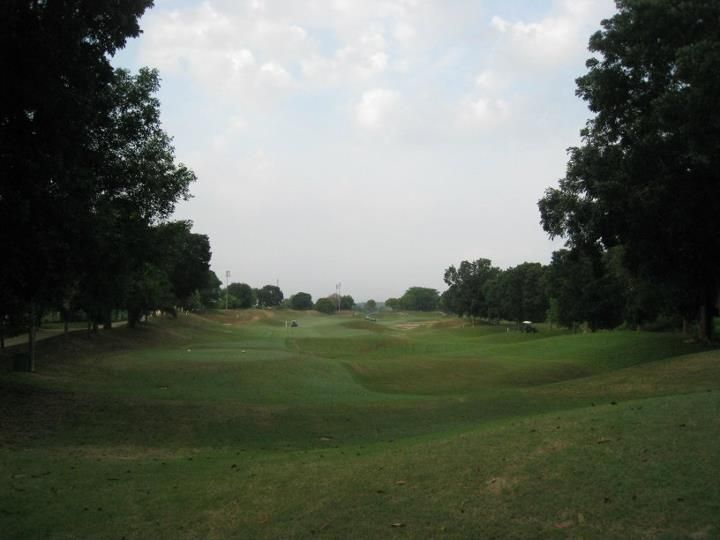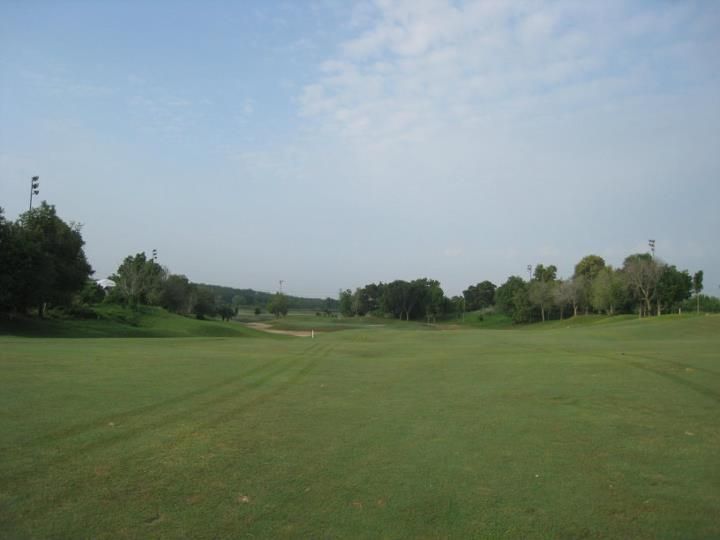 Service (3/5)
Not much experience with the service, except our buggy was awful and we needed to 'Flintstoned' our way (using our legs to help move the vehicle) in the last couple of holes. As there were no living souls in the course except for our flight and probably one or two more, we didn't have any congestion as well, except for the first few holes when this couple took their own sweet time, and played as if they were just waiting for rapture to come. We'll give a middle score for this one.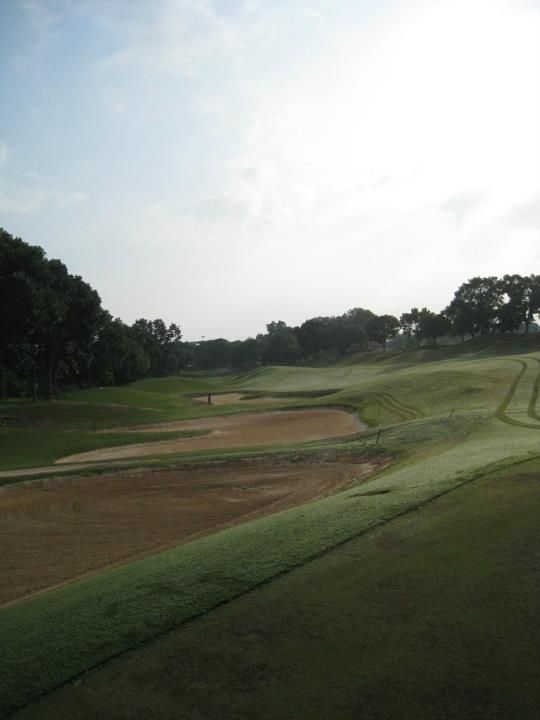 Fairways (2/5)
From a far the fairway looks to be in a pretty shape. But on closer inspection, you'll find it in a below average state, mostly evidenced by the infamous bald spots. Sparsely growing, the Bermuda fairway was mostly pockmarked by sandy spots here and there. On the regular turf without the bald mark, the Bermuda grass was just HARD. As in, for habitual diggers like myself, I end up bouncing back up the grass and turn my ball right to left with a closed face. At least that is what I think. It usually happens in a blink of an eye, and before I know it, my poor golf ball is skittering away to the left into the drink. And ORNA punishes a lot of right to left misses, due to some ridiculous undulation. You will probably never get a flat stance in Orna, so your iron game better come prepared.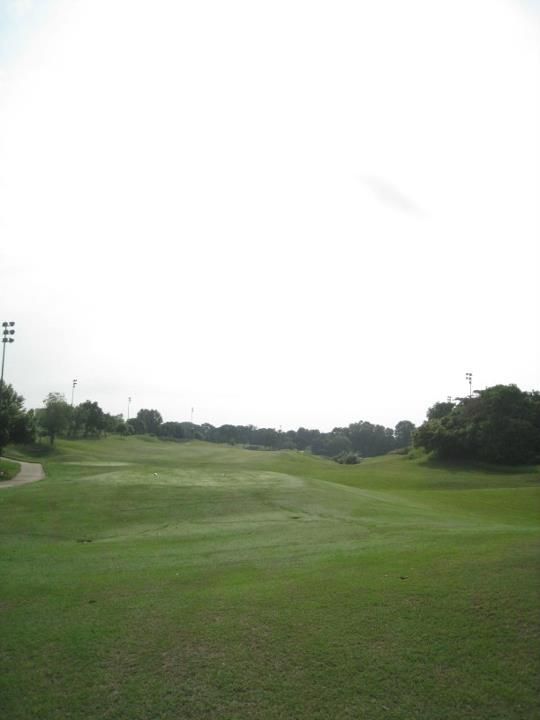 Greens (2/5)
Like the fairways, it wasn't that the greens started out bad, but simply because of the lack of maintenance. Bald spots littered almost all the greens, speed was inconsistent, sometimes slow, sometimes faster (but still slow!), and while the undulation and breaks were fun; still, the lack of maintenance really annoyed us. Another thing, and this has nothing to do with the ratings; don't even think about putting off the green. I usually practice that, if there's about a meter of grass to clear before the green, I'd putt it. I've done that in other courses, in Rahman Putra cow grass even, and it works. Not in Saujana. And now, definitely not in Orna. The grass around the green literally catches the ball and chokes the spin out of it and spins the ball away from the targeted line. Again, this is more of a characteristic than a feature, but the greens themselves offer an underwhelming experience for us hackers.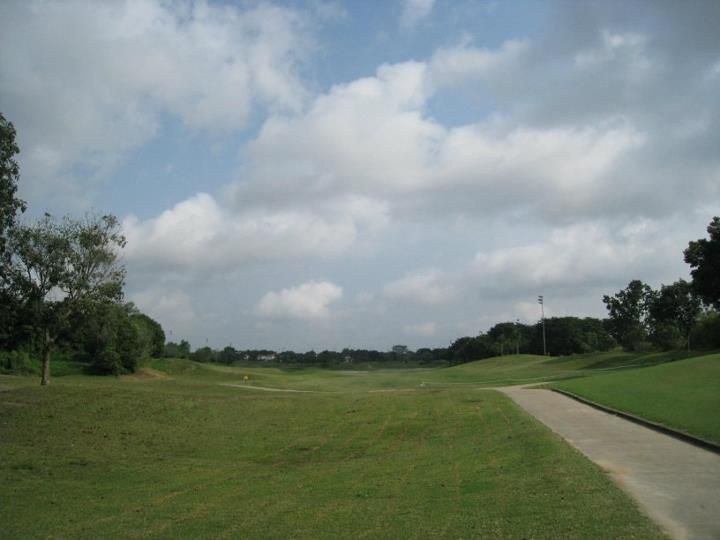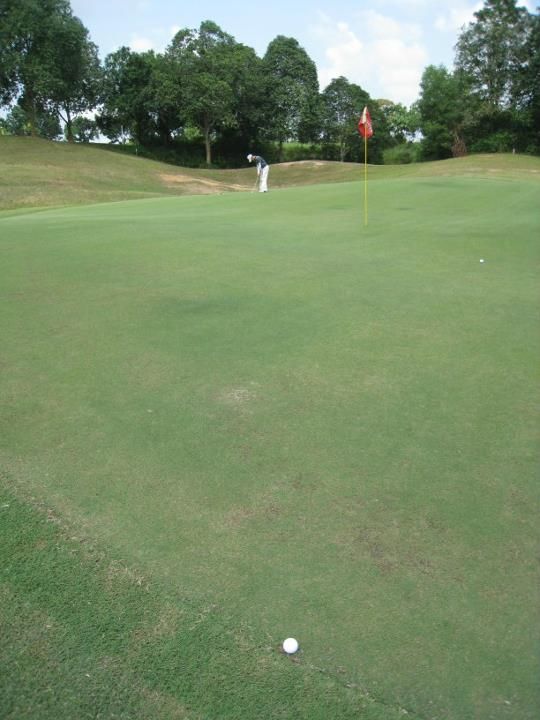 Rough ( 3/5)
We spent an inordinate amount of time in the rough. This is primarily due to the undulating fairways, and as well as the gigantic bunkers sprinkled liberally over the course. The rough was generally ok, it wasn't very difficult to escape from it, but Orna's bunkers are really a feature itself, and offered some very interesting challenges. Starting from hole 10th, you need to navigate across twin bunkers on the fairways and fronting the green. Even on the par 5 11th, a sandy stretch of bunkers await the wayward hooker on their approach to the green. The index 2 14th is a monstrous par 4 at almost 400 meters, but with a Sarlac sized bunker smack in the middle of the fairway, which one of our unfortunate hacker managed to find enroute to a triple bogey. This is an extremely testing par 4, with a driver and 3 wood to barely find the front of the green.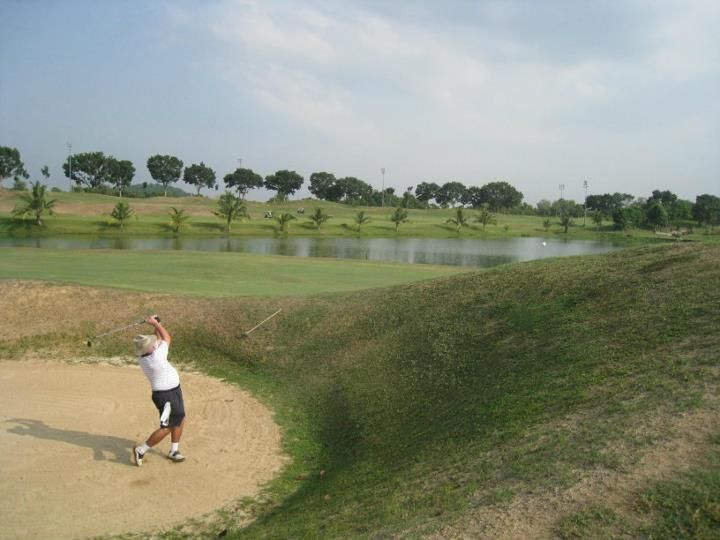 Again the par 4 15th also has a gigantic greenside bunker which took our guys 2 – 3 shots to extricate.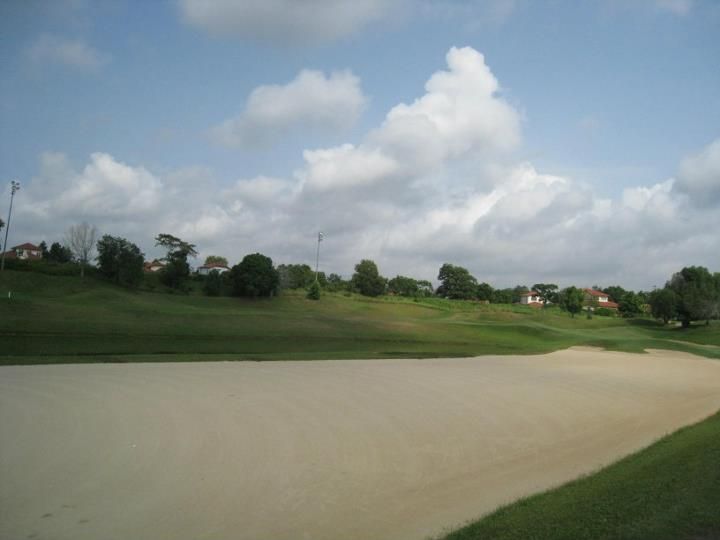 By now, we had the grim feeling that while water was more or less a feature for Orna, the bunkers were the real culprit to high scores. And nothing is more distinct that the GARGANTUAN strip of bunker found in the par 5 16th, at the side of the water. It's almost 100 meters long and I had the misfortune of slamming into it with my second shot hybrid, and could only get out in 3 to six on and two putt for a triple. Yikes. The ending holes are memorable, with each having strips of bunker hugging the water, and as you will see later, has an impressionable aesthetic.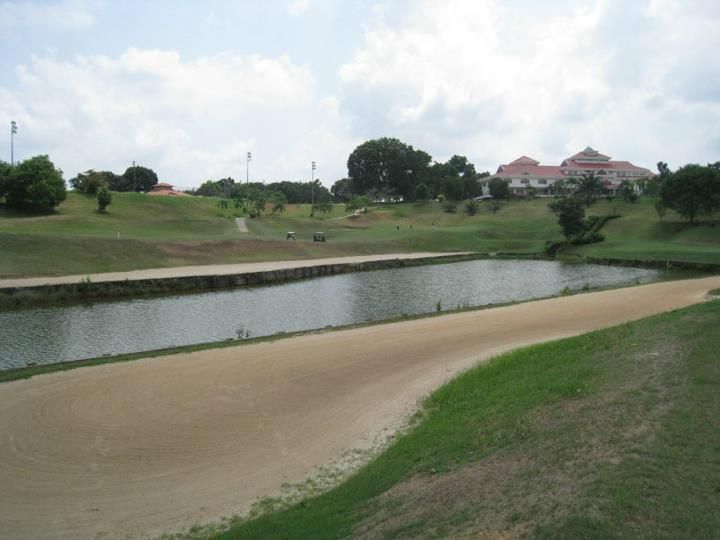 The issue is that the bunkers are not very well maintained. In fact, playing into the 8th par 3 and landing into the bunker, my second shot skulled the ball due to the HARD mud under the sand. My third dug too shallow and popped the ball into the water on the par 5 preceeding hole. Drop for fifth, two putted for a quadruple bogey and lost the game. This wasn't a one-off…lots of the bunkers were in need of proper maintenance. If you're hitting from Orna's bunkers, be careful of the hard mud underneath, it's death to most hackers.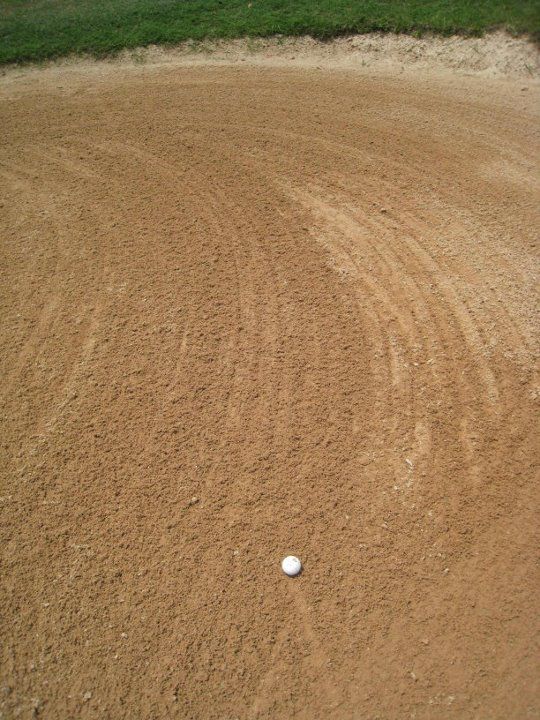 Aesthetics ( 3/5)
Orna is one of those courses where you hate it or love it. The one thing good about the aesthetics is that it really offers an open course for you to view. And we're very partial to such a view, with the undulating fairways, undulating greens, and bunkers spread around the course, you can really look and say the design is quite nice, given what they had to work with. Especially nice (as long as you avoid it) are the bunker strips around the lakes, and from some good elevated tee boxes, it was an enjoyable view.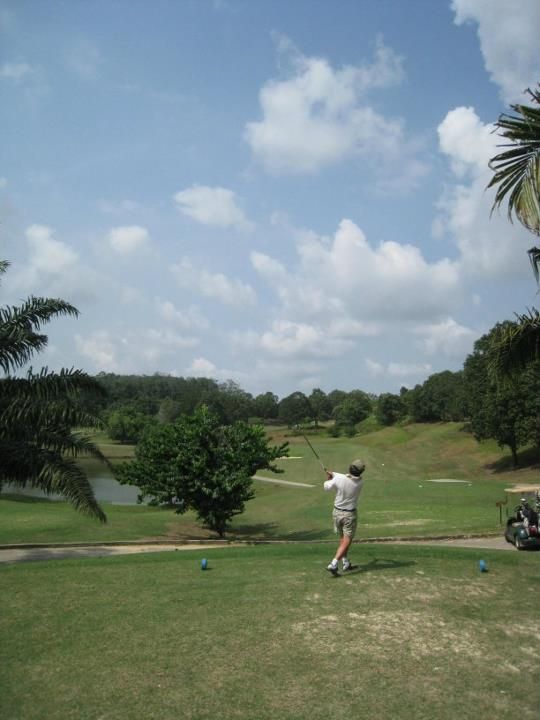 And of course, the signature hole 12th on the West Course, a'la the 17th at Sawgrass, Andy Dye copies his brother and gives us the closest resemblance. This is the island green very similar to the one in Sawgrass, a 157 m shot from the blue tee to green. Standing on the tee shot, the whole conversation will surround on the key question: "Eh, what iron you use ah?". In fact, we like this hole so much, we're gonna give an aerial shot from the recently launched Gilagolf satellite camera.
So aesthetic wise, there's much to enjoy…until the weather gets the better of you. The advantage becomes a disadvantage when you hit the 10 am – 12 noon stretch because Orna is HOT. Barely any mature trees surrounding the course, it becomes a killer at the final holes, when you play that stretch of index 7,9,3, 11 and 5 on the east course. And mind you, that index 11 is a elevated 170 m tee shot to a small green with water fronting and that Sarlac bunker waiting to chomp your (golf) balls. So that stretch is really a tough one. If only Orna had managed to keep some trees before chopping all of them down, it would actually be quite a beautiful looking course, especially the design itself is worth mentioning. I don't know why there are so many mature trees in Tiara Melaka next door or Ayer keroh golf course down the road, but Orna has almost none.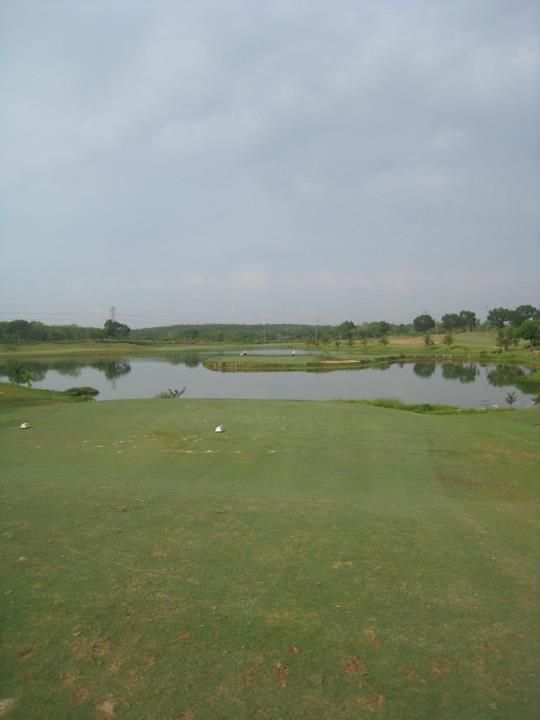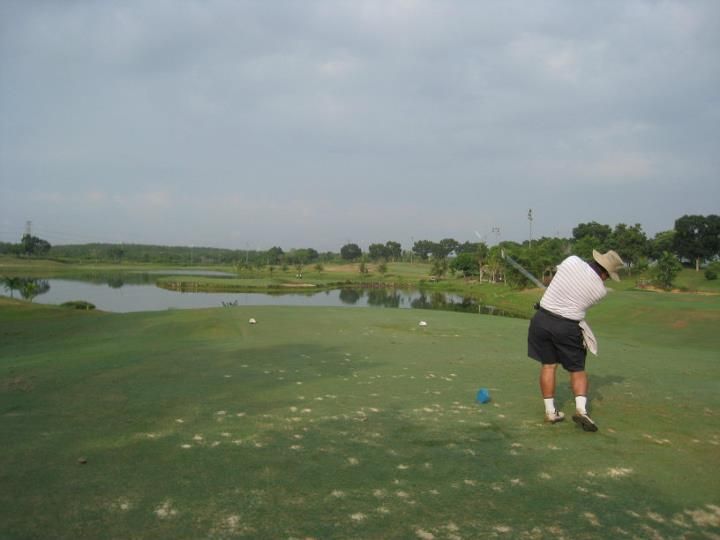 So bring LOTs of water, because you're going to a fried duck by the time you are done with Orna.
Fun Factor ( 3/5)
The start of the game was quite fun. We hit the west course, and getting past hole 10 and 11, we reached the famed 12th, the copycat of TPC Sawgrass and played good shots in. An eight iron should actually suffice, but it's just that the water really psychos you.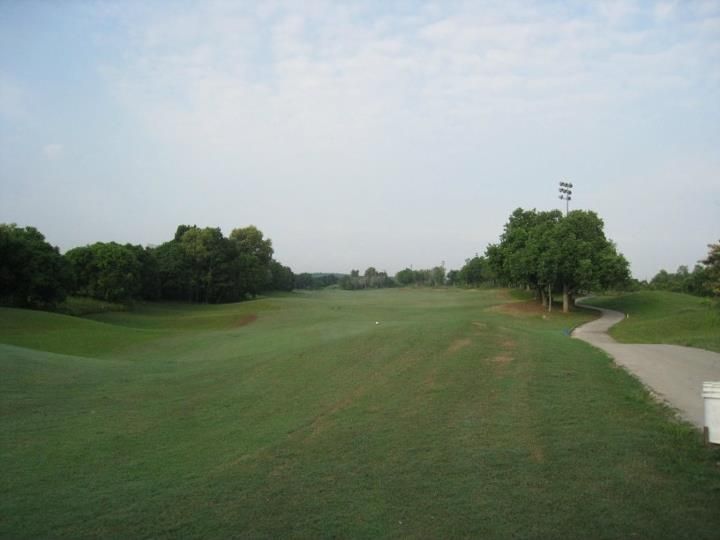 The fairways are reasonably generous, but slicers do beware, many of the holes have OB right, so take a healthy aim to the left…except that the undulation often bounces your ball into the water or Sarlac bunkers.  The undulating fairways are also another feature to deal with. Depending on where your ball lands, you can either get another 30-40 m roll or a -5 meter roll, as you watch in anger as it hits the upslope of the undulation and rolls pathetically back. And also, the undulation slopes towards the hazards, and in more than one occasion, notably the par 4 10th, where slight draw of the ball lands on the wrong side of the slope and it will bound merrily into the waiting water.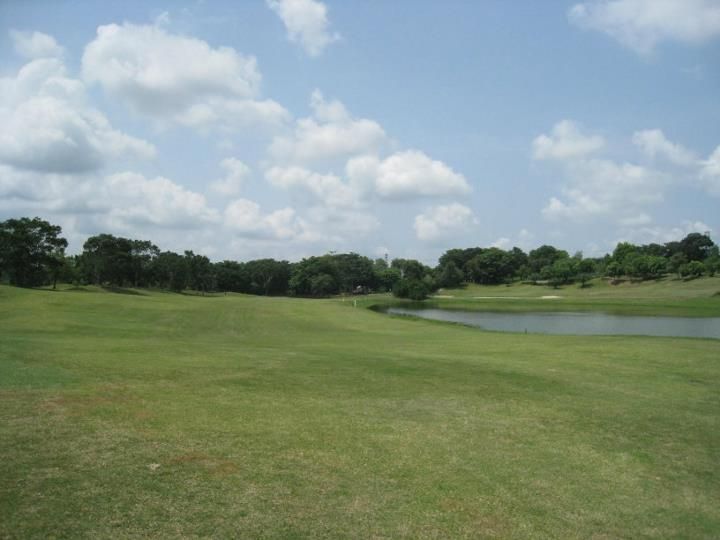 In fact, there's probably not one spot in the course where you'll find an even lie, so it truly will test your skill, patience and resistance to start chopping your 7-iron into the fairway and howl in anguish.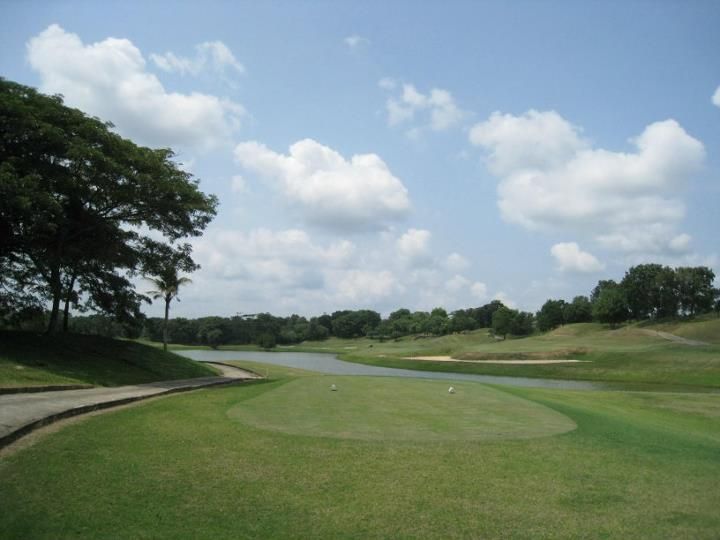 The East Course plays shadier, but by then the heat had really gotten to us so much so that we've had mirages of Oompaloompahs serving us ice cold Coke and ice-cream chocolate cakes on each green. A notable hole is the horrendous par 5 7th, which demands a good tee shot, and another to the landing area before an accurate to the elevated green.
The course does have character in each of the holes, but I swear as I was chopping out of the largest bunker in the world on the par 5 16th, I'd think some golfers probably didn't make it out of the bunker alive and had been buried there for posterity's warning.
Was Orna fun? In part due to the design and undulation. But the lack of shade, trees and the exposure to the sun feels like we've just landed in the Sahara and by the last few holes, just couldn't wait to get our sun-baked bodies into the clubhouse.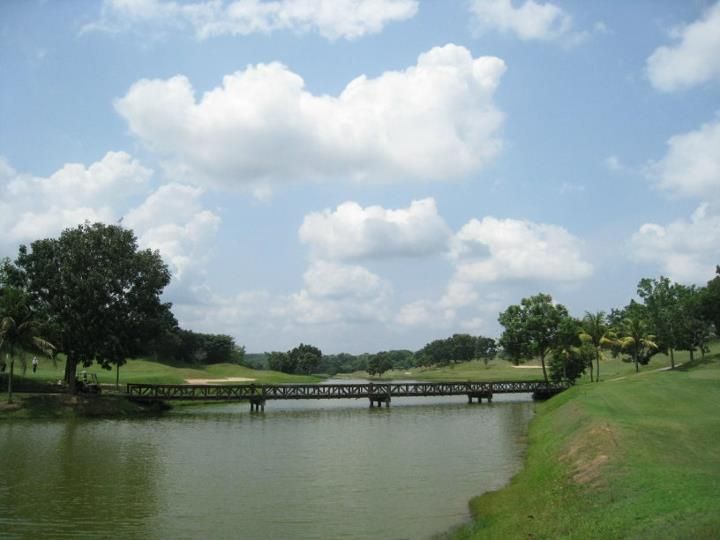 Conclusion
As mentioned, there is a love it or hate it feeling for Orna. Some liked the challenge and the undulation and the bunkers, while others probably would want to avoid such torture and sadistic course in the future. For me, the driving was doing fine, as I hit 10 fairways. But with only 2 GIRs, it really brings to pressure the approach shots,  and putting (both my GIRs, I three putted for bogeys). Undulation and bunkers really do play a huge part in Orna, and it's definitely not an easy course to play in, unlike the neighbouring, friendly Tiara Melaka. It suffers from the lack of maintenance, but it's a course I wouldn't mind playing on again.
The good: Pricing is a big advantage, with RM59, it's worth the travel; undulating greens, fairways add to the challenge of gigantic, Sarlac bunkers; the island green 12th is worth playing for the closest resemblance of TPC Sawgrass 17th; interesting "Mr Dye" design worthy of it's boast as a championship looking course.
The bad: Maintenance is lacking, causing the fairway to be as hard as tarred road; bunkers will be unavoidable, but it's densely packed with mud under the sand; without trees, after a while, those Oompaloompahs with coke will hopefully get to you before you collapse in dehydration and carted away to the Melaka hospital.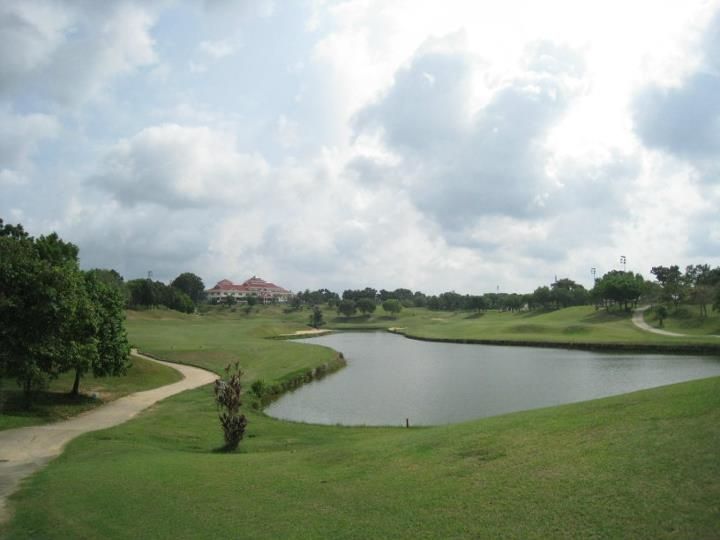 The skinny: 22 of 40 divots (55%). Orna faces the challenge of the nearby Ayer Keroh and Tiara Melaka, but it stands on its own. It doesn't force idiotic caddies on you the way Ayer Keroh does, and the character of the course is definitely different from the much friendlier Tiara Melaka. And of course, the bunkers and undulation gives it a distinct feel and personality. If only it wasn't so dang hot, it would have been a great recommendation. As it is, we're a little on the fence; love it or hate it, there are some holes you definitely will have fun in, so it's a recommendation if you haven't tried it yet. After that, it's up to you whether to return or not!
Orna GCC  East + West Course
Orna GCC Information
Address: Batu 16, Jalan Gapam,
Ladang Gapam, Bemban 77200 Jasin,
Melaka, Malaysia.
Contact: +606-5210333
Fax: +606-5210222
Email: ogcc@ornaresort.com.my
Website: http://www.ornaresort.com.my