Introduction
While this isn't the first foreign golf course played on – The Football Golf at Koh Sa Mui takes it, as well as we hacked 3 courses 2 years back in Chiang Mai during our golf tour there, but I was too darn lazy to review those after having such bad games. Yes, I am an absolutely sore loser.
Anyways, if you google map Gold Coast (the real one in Australia, not the one in Morib) and do a "search nearby" for golf courses, you'll see literally almost 50 golf courses available to be played on in the Gold Coast vicinity. Australia is blessed with great weather, especially during this time, in the August-September spring months when the cold biting winter is giving way to spring. I loved my time in Australia when I was studying then, but stupidly I only picked up golf after my time there. I was too busy chasing girls I believe, and playing computer games. Aah, those acne filled uni years of loser-hood.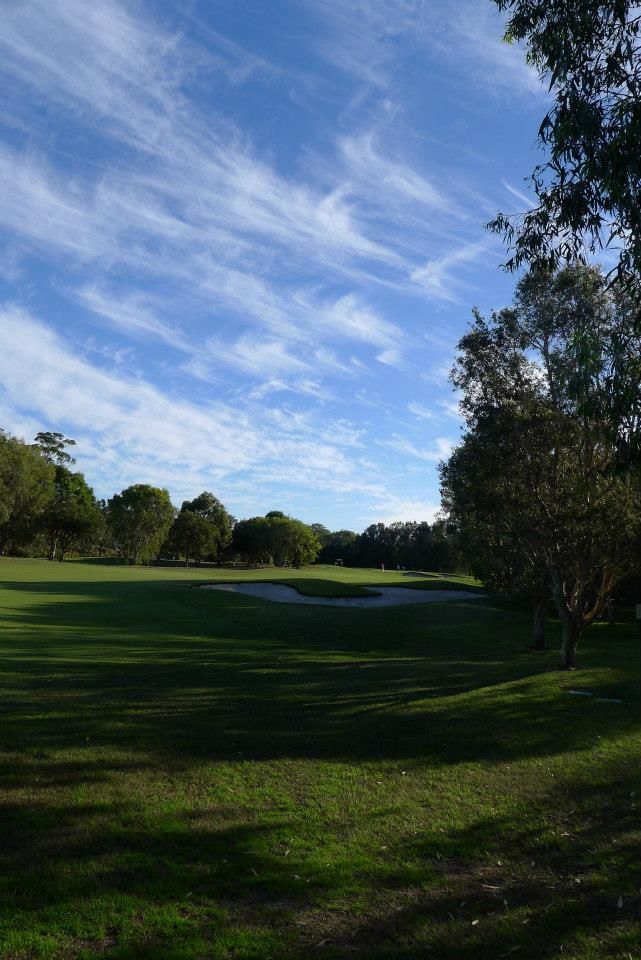 So I found myself here, on a semi-holiday with the family, clocking in some time at the Gold Coast office for some work, and doing whale watching and stuff that my 1 year kid would hopefully not sleep through or scream through. It's either or. Anyway, I managed to negotiate a 2 – 3 hour downtime away from the family while they shop, and I get to choose the course to play. There were a few courses with special flyers available at where we stayed in Gold Coast. For instance, if you give the flyer to these courses, they will give you a discount on the green fee, free golf clubs hire, free buggy, and at some courses, even free 10 used balls. It's really a good deal, I guess because there were so many golf courses in Gold Coast.
My tip: go to the nearest hotel, or a service apartment like Ocean Pacific down at Broadbeach, pretend you are a resident and insidiously take as many flyers as you want since all of these flyers are gleefully hanging in the open. Yes, it sounds awful, but have you seen the darn Aussie Dollar against our toilet paper Ringgit??!? Anyway, the golf course won't mind.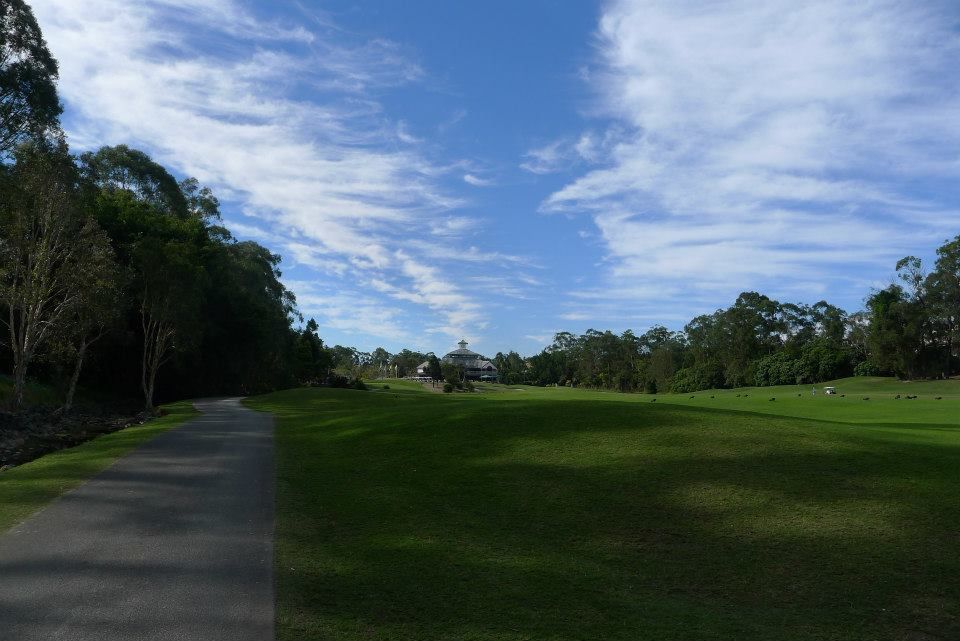 I had to choose my course with the nearest vicinity to a shopping mall. This was either Pacific Fair + Palm Meadows or Robina Square Mall + Robina Woods. Unfortunately Pacific Fair was not open due to renovation, so we had to settle for the latter combo.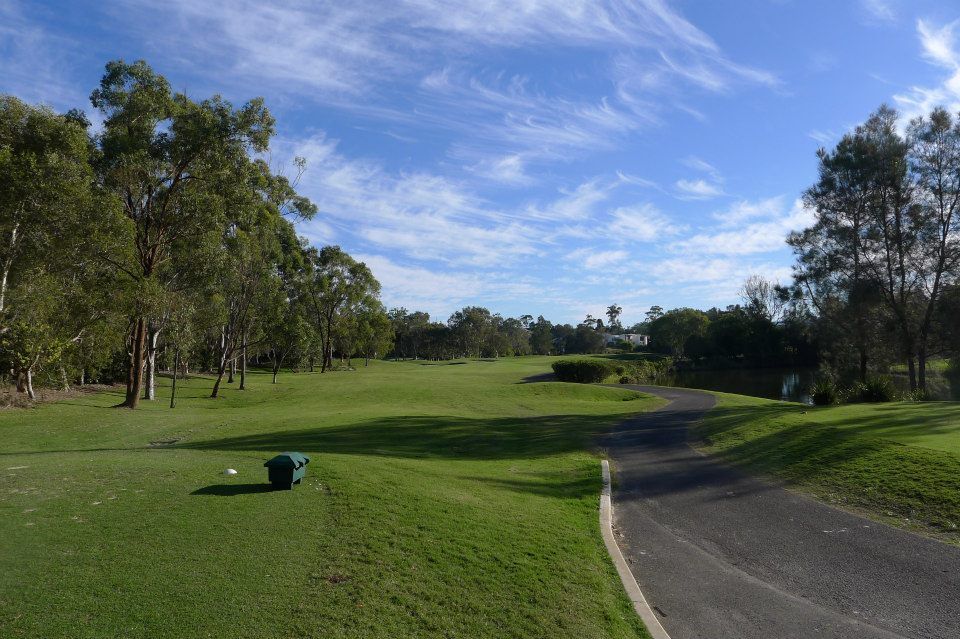 Travel (3/5)
I honestly cannot complain about the travel. I am assuming that you have your own rented car to get around Gold Coast. Robina Woods is located at another township, at around 10 – 15 km from Gold coast main area (Surfer's Paradise). It's a reasonable distance, a lot nearer than those theme parks we go to. The mall is about 3 – 4 km away from the golf course, which is located smack in the middle of a suburban neighbourhood. It's like a municipal golf course, easy to accessed, and doesn't really take itself too seriously in terms of being a golf club (like most Malaysian golf course do, but yet represent a huge pile of guano.) So do note golfers, drop off the wife and kid and zoom out again for a quick round of 18.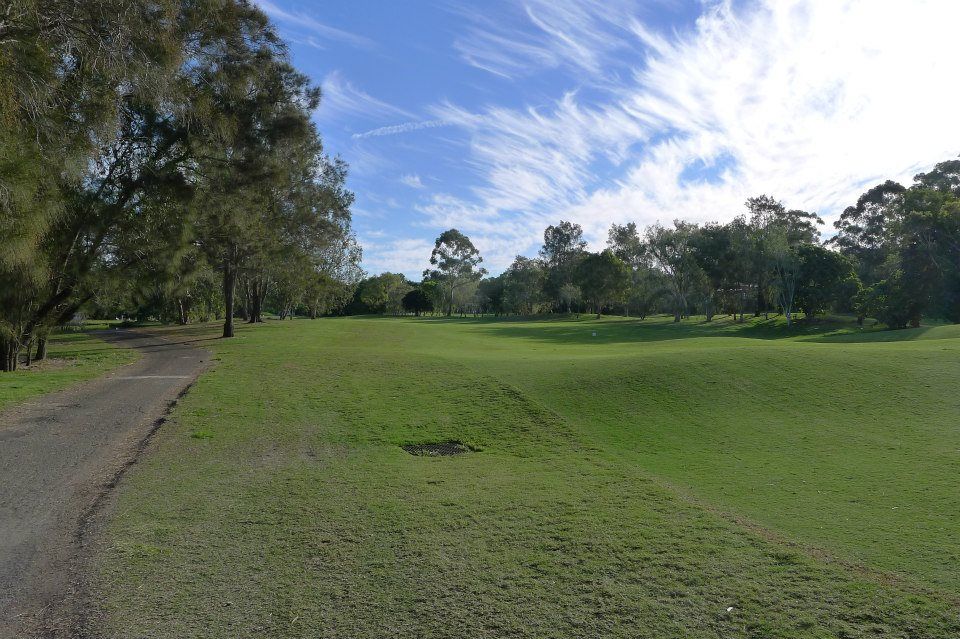 Price (3/5)
The price I paid was AUD65, which is a weekday rate, with a flyer…green fee + buggy + golf club hire. They don't have bullshit like golf insurance that stupid Malaysian clubs do. In fact after 1 pm, Robina Woods had what they term as twilight promotion, meaning you pay 65AUD and you can play as long as you have light. I think this applies only in winter months maybe. I don't know, I forgot to ask. No harm asking them yourself.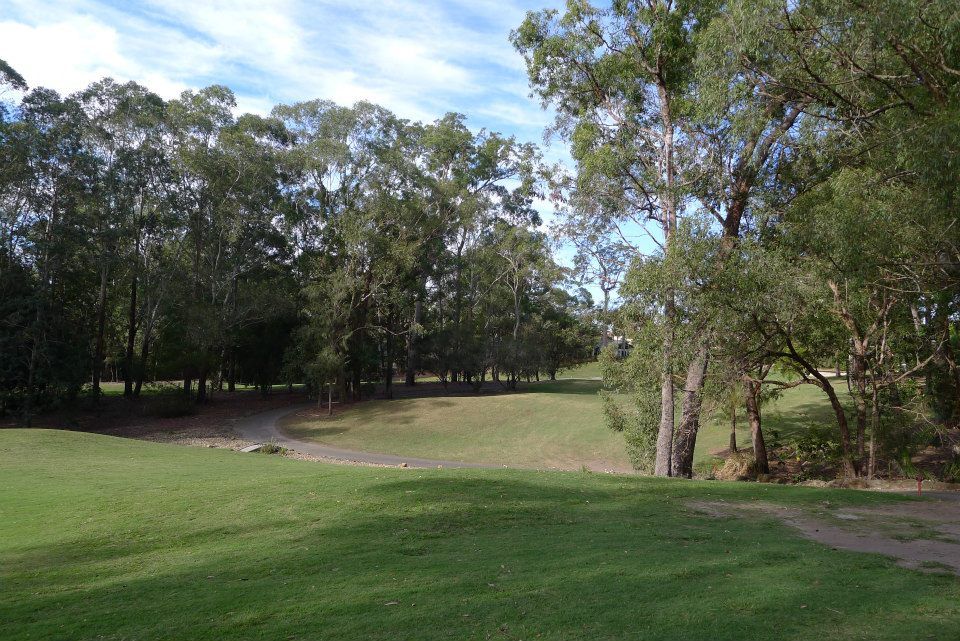 Unfortunately for me I didn't bring ANYTHING. So I had to buy gloves for AUD20, and the most expensive Srixon balls ever, the new batch of 12 balls for AUD30. So overall, I ended up paying AUD115! Which is around RM350!! It's a good thing they don't care about shoes, because I used my jogging shoes, and the aussie bloke said, "Sure, no worries, mate, as long as it's a closed shoe (meaning no toes showing). So, do yourself a favour, bring along your glove and a few balls. Some clubs gave free used balls, but Robina Woods doesn't.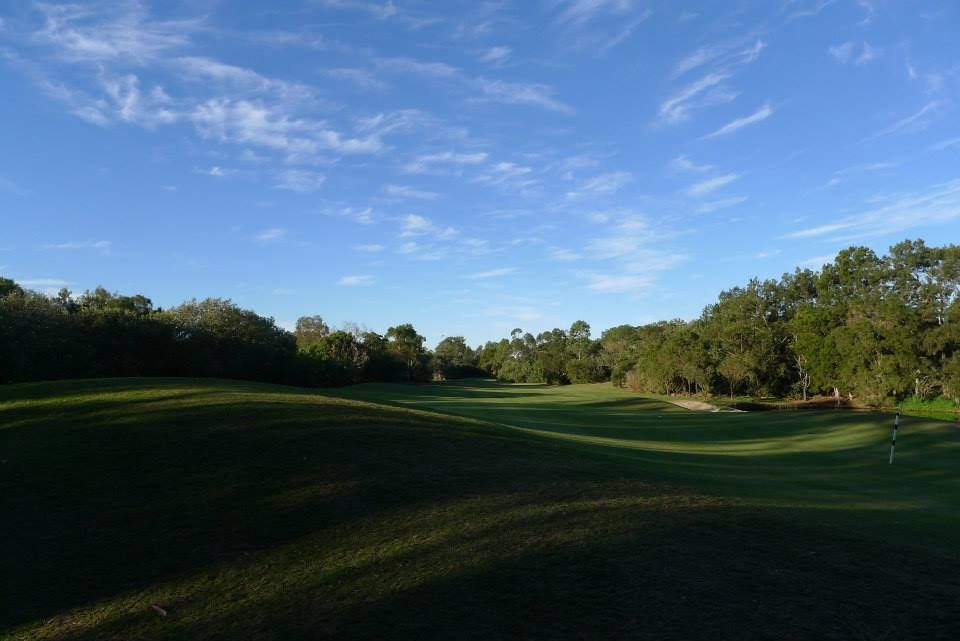 At AUD 65, it's still steep if you convert it to Malaysian Ringgit. But it's not the club's fault. It's our stupid economy's fault, for rendering our Ringgit as useful as a piece of maggot-ridden wood, festering for 20 hours in a crap of a tapir.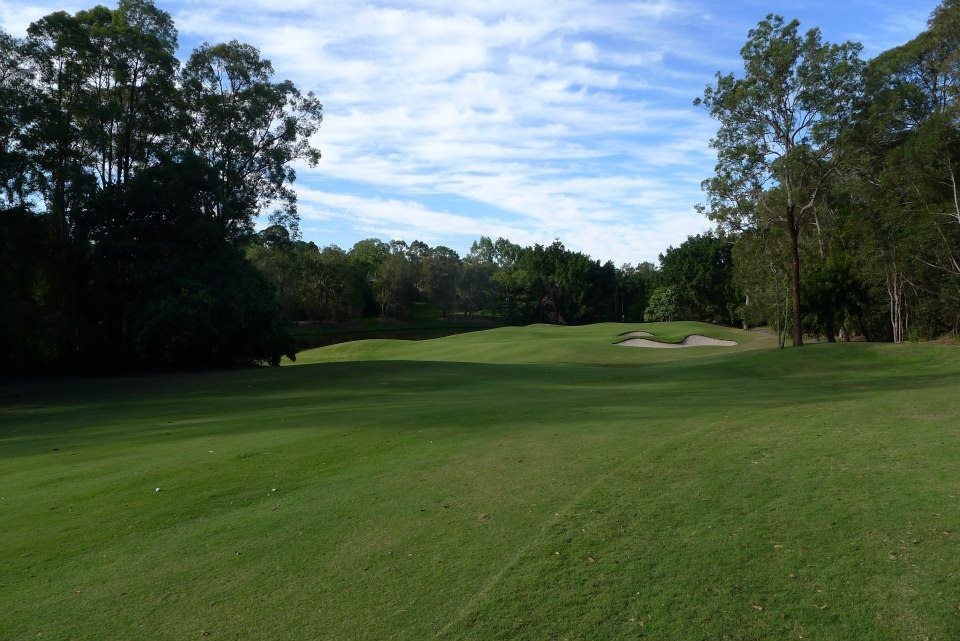 First thoughts
Two things come to mind when I stand at the tee in Number 1. "Gosh, it's a nice weather" and "Holy cow, it's so blardy narrow.". Granted, number 1 is one of the widest fairway you will find. But a stream meandered on the right, and the left is hole 18 approaching, so technically, the fairway strip is still narrow. To compound the matter further, the tall and mature trees offer little refuge for a wayward ball. It's definitely not one of those flat municipal golf courses that resembles a gigantic putt-putt course. Robina Woods is mature, narrow and from the onset, it looks like my RM100 for 12 balls cache is going to suffer heavy casualties. And boy was I right.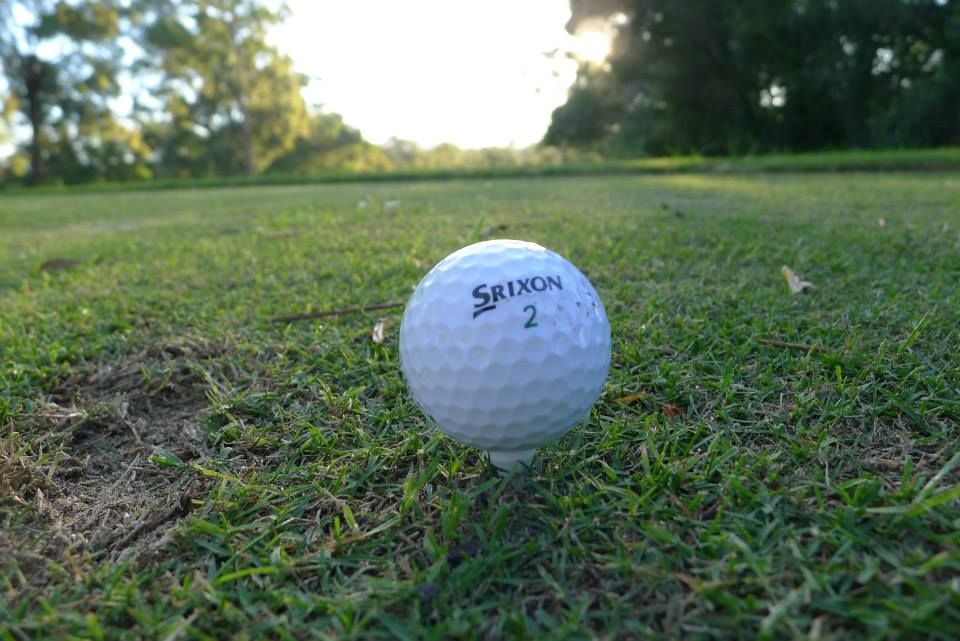 Service (4/5)
You really can't take away anything from aussie service. These guys have mastered the art of servicing, probably due to Gold Coast being a hub for tourism. The guy whom I arranged with was friendly, and importantly got me out to the course in like 5 minutes of registration. He gave me a reasonable set, the invincible Tourstage set, with a pretty good driver. However, it was an R-Flex, and God knows, I had such a difficult time with that stupid club that after blowing the first few holes I gave up on it and went with my 5-iron, hybrid and occasionally the 3 wood. Even with the 3 wood, my ball kept doing stuff that I never thought they'd do…like a freaking huge slice almost everytime I used those clubs.
No caddies here. I'll give it a 4 simply because Australia service is always good, and I just had a superb dinner the night before at a place called "Little Plate" run by a lady called Gainor.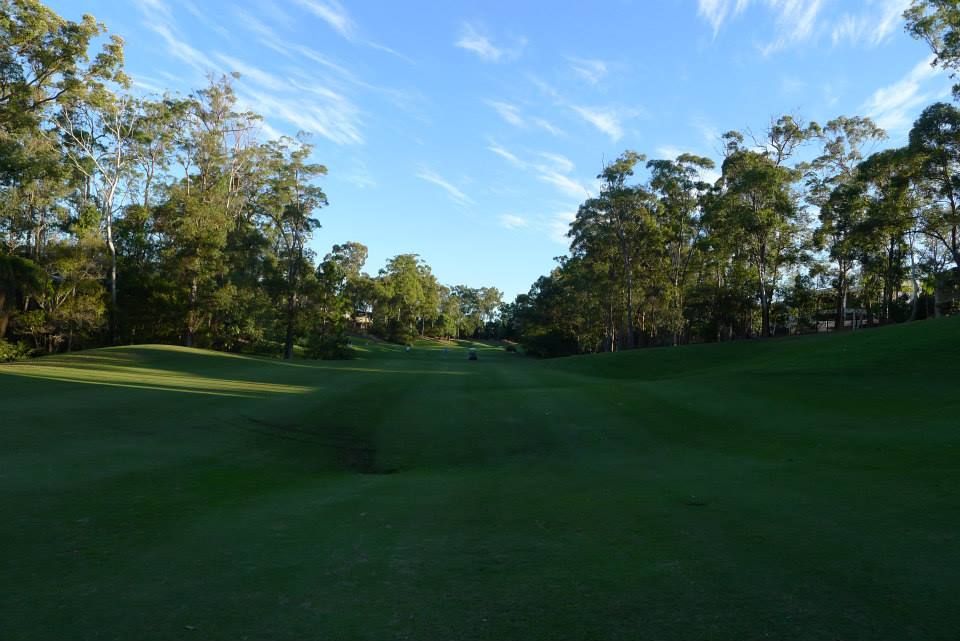 Fairways (2/5)
Things started going downhill a little. Aside from skinny fairways that made Kate Moss look like Queen Latifah, the condition wasn't great. There were tracks all over, and at one hole, 4th I think, I slamdunked my sand wedge to 3 feet from the hole but got showered by mud from my divot. The problem was, it didn't even rain! I can just imagine if it did. The course wouldn't be playable I think. You'd need a four wheel truck just to get me out of there. Irrigation is a problem I think, and also, the fairway had patches of grass, Bermuda and what not, growing in uneven patches all over the course, like a teenager with acne. The only interesting thing about the fairways was it's undulation. There are a few elevated positions, and some hilly fairways. I even blew at one hole where a lake fronting the green was well hidden from the tee box.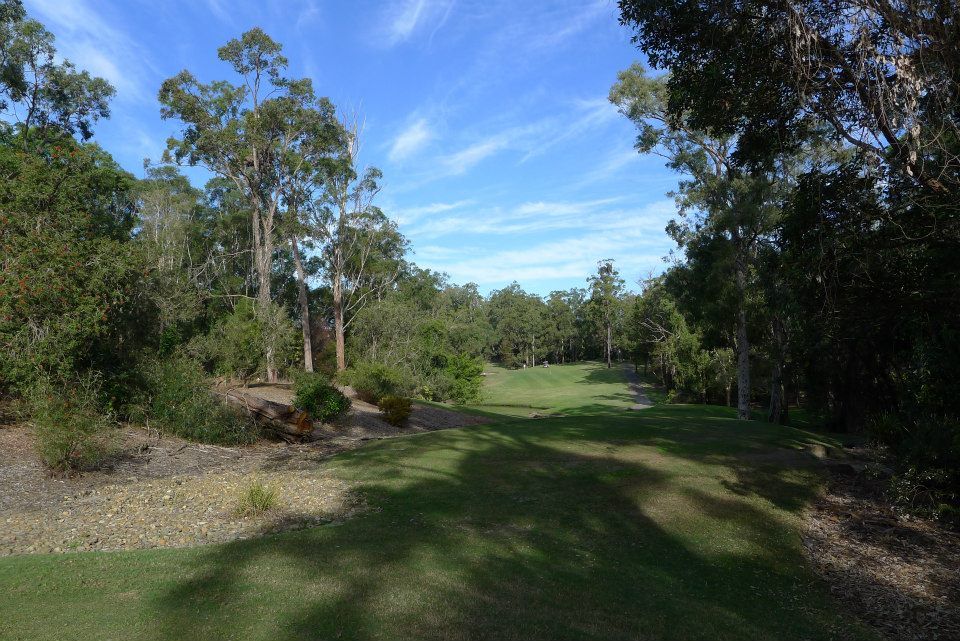 Greens (3/5)
I didn't like it at first, because it was patchy with bald spots all around. The grass itself was long, and wasn't press down the way you will see KGNS, Trops and even KRPM does. But I guess it's an Aussie thing. Maybe they want more communication with nature or something. But as the round progressed, I began to really like the greens. They play very fast, and with undulation much like KRPM, some holes I just had to molest the ball (for a want of better word) and off it went like a speed train down hill. The roll would never be true with the grass so long on the greens, but still, I am not sure how they made the greens so fast and firm.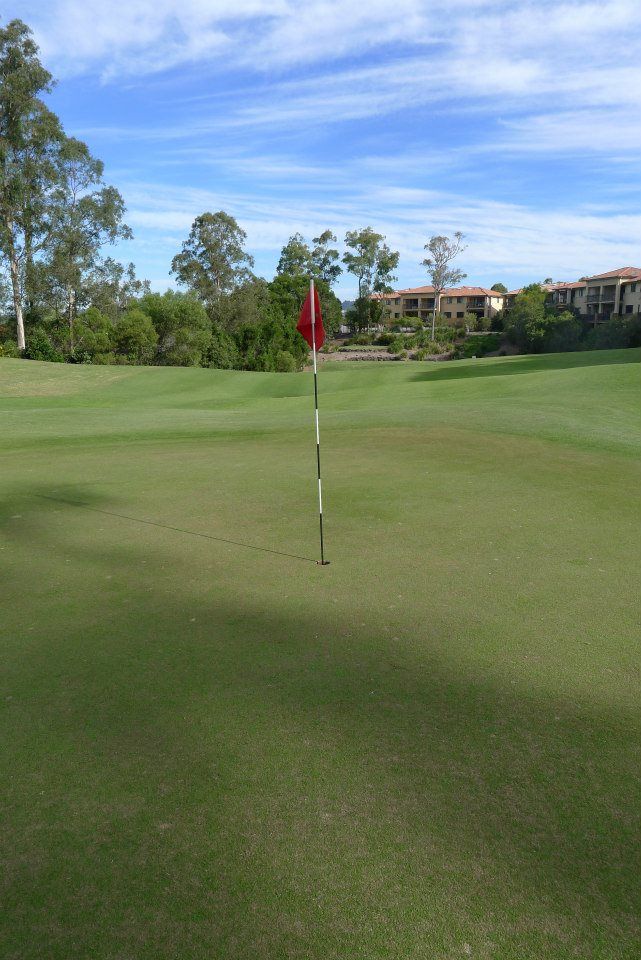 Rough (2/5)
After a reasonable experience with the green, we had another down hill for the rough. Firstly, most of their bunkers are GUR, so non-layable. Those without GUR, they resemble a crater and not exactly appealing…as in, they were not properly irrigated.The rough is similar to the ones you find in Saujana, where the ball sits deep into the rough and peeks out only jurst enough to get the clubhead to the ball. But I am not complaining about that, since it's a good challenge. Some parts of the course, the rough had kicked up so much mud and the irrigation so bad, I had mud all over my shoes by the time I was done. That's my biggest beef: The rough rightfully should be punishing you, but with conditions that are fair. I spent 90% of the time in the rough due to my wayward Tourstage driver, so I pretty know how hacked up it is over in regions where no Aussie has gone before.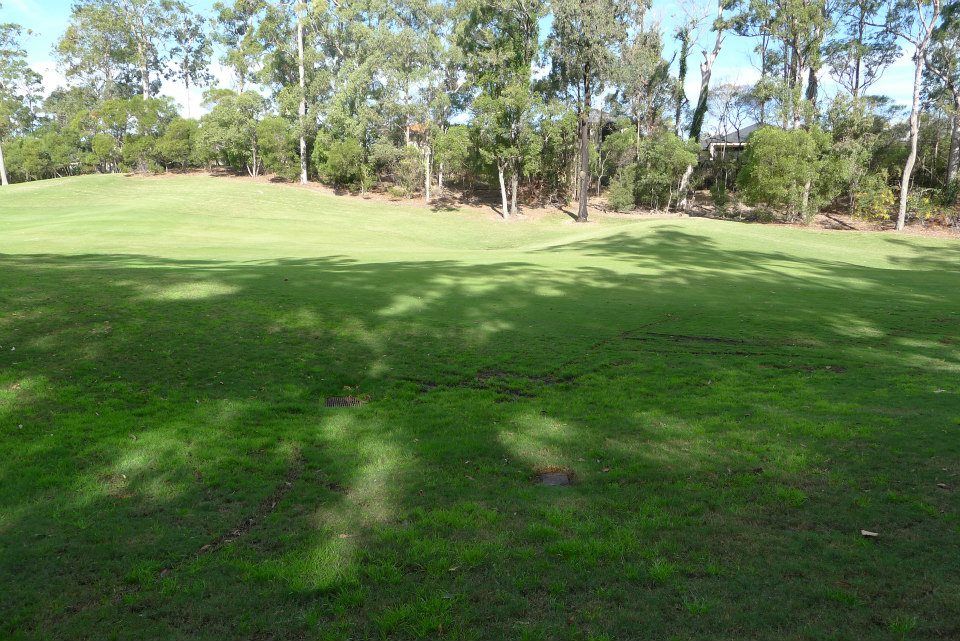 Aesthetics (3/5)
I really wanted to like the first course I play in Australia. I really do. But sadly, this course wouldn't make an even average grade back in Malaysia. Which really it wasn't saying much…Malaysia really have some lousy courses, so if you were to take Robina Woods to Malaysia, it would probably rate around Perangsang's standard. Which it did. More-ever, it seemed like Perangsang's cousin, even. The first nine plays narrowly, in heavily wooded area. The maturity of this course makes it quite beautiful, but the narrowness of the fairways just kills me. It does. And don't say because it's challenging and I suck and all that. I am a hacker, so for the pros out there, go visit Tiger woods golf blog which is updated only once every six years. The back nine opens up, like Perangsang, and plays more like a meadow feel…where you can see other holes, and play adjacent to them, allowing me to take out the big dog driver…and not improving at all. More on that later.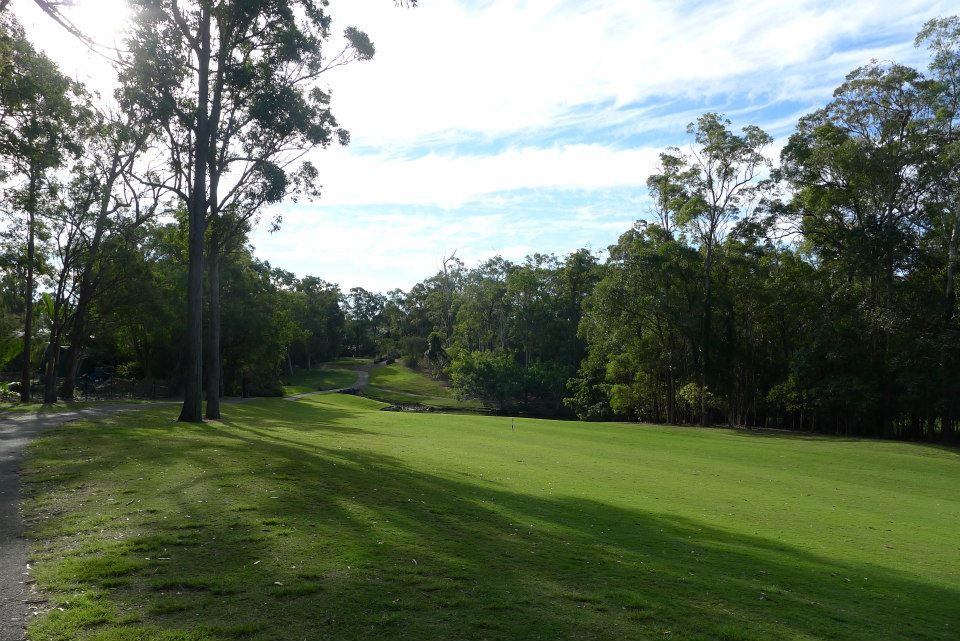 The final hole is an exception. It's a beauty par 5, with a narrow tee area but opening into a wide landing area, before challenging the golfer to hit a 3 wood across the pond to a nice green with landing at the back.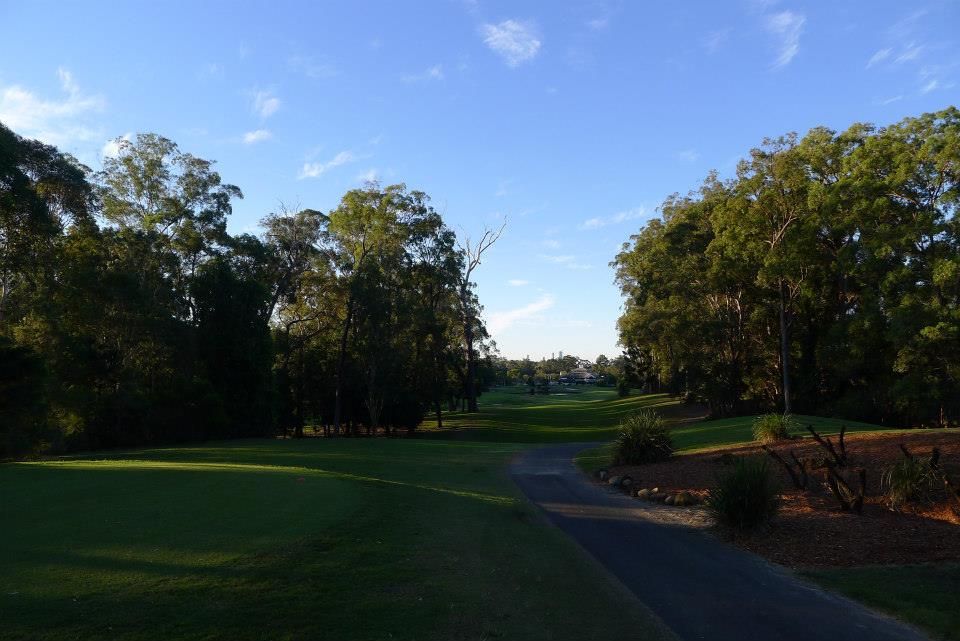 The par 3s are also very nice, with great elevation, especially the ones on the front nine. The 17th is another example, where extreme elevation is used, reminding us of the 7th hole in our own Bandar Utama course. It measure 170m, but a nice 7 iron would reach it easy, such was the elevation.
Hole 15th is also a very interesting par 4, with an almost 90 degrees dogleg. It sort of reminded me a lot of one of the holes in Saujana, as well as the stupid index hole in Perangsang, where the 90 degree is protected by a pool of treacherous water. In fact, if you compare Robina, you'd see a lot of design already implemented in Malaysian courses, so nothing seems to jump up.
The course also had a stream meandering around it, and tricky placement of water. Hole 12, there was no way in heck I would have known from my second shot there was water fronting the green. I hit a great 9 iron only to see it sink into oblivion.
I think the word "meander" can be used to describe the whole course, not just the stream, especially the front nine. It is as if the course builders were penalized for cutting too many trees down, so they just winded the course around the forest. And one thing great also, the wild life can get very noisy on the front nine. It felt like I was playing in a zoo at one point…plus having a swing resembling a baboon trying to hump a platypus. It truly reminded me of Perangsang or Air Keroh on the front.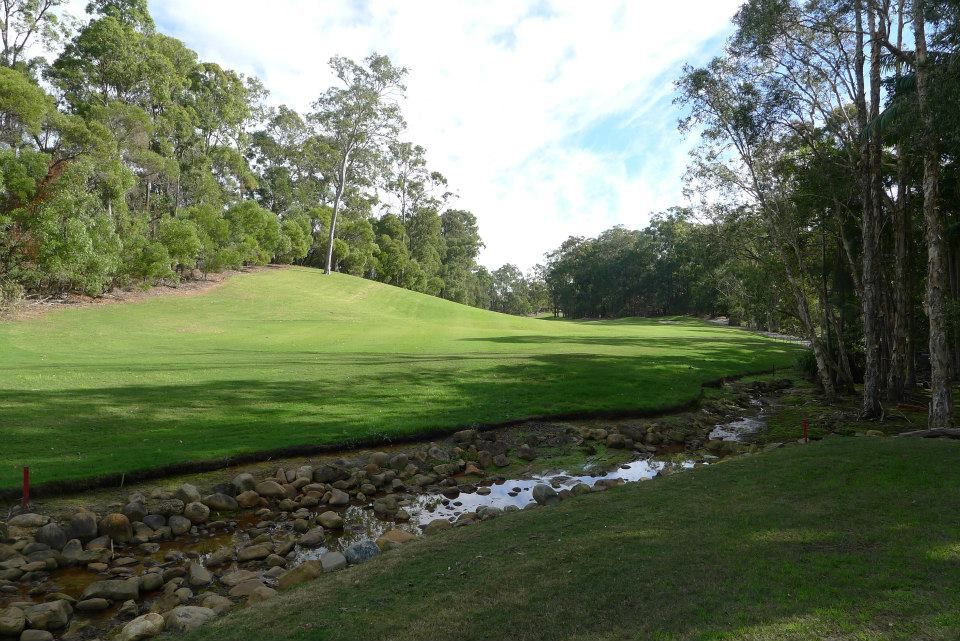 Finally, for a course that's premium, one of the tee off area was replaced by a driving range mat. I mean, it's not like it's bad or anything, but come on, a mat??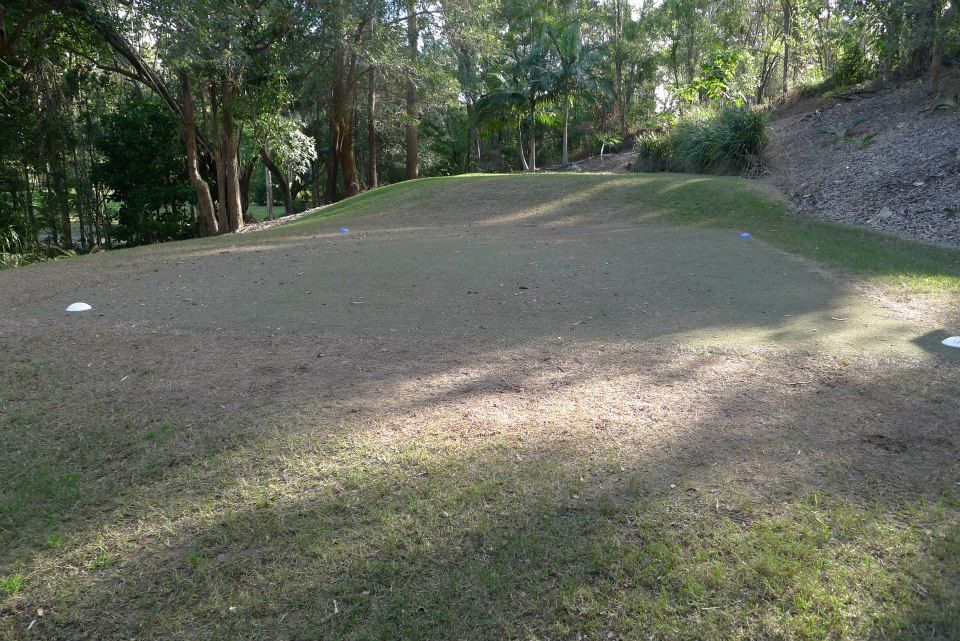 Fun Factor (2/5)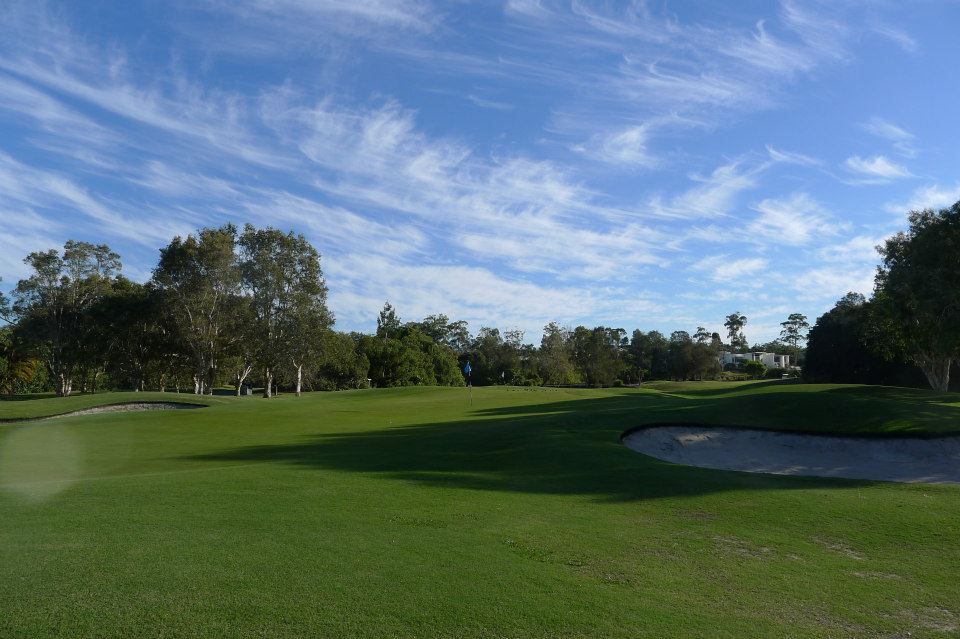 Let me explain the fun factor problem with this course, which mainly had nothing to do with the course itself.
a)      Time: I only had 3 hours to hurry through the 18 holes. I teed off around 2 pm, and in Australia, it gets dark by 5.
b)      Clubs: I didn't bring anything. Nada. They gave me a tourstage Invincible set. While I loved the irons, the driver and 3 wood and hybrid sucked a$$. For the first time in my life, I was slicing every single shot with those whippy, regular flex clubs. They were so flexed I think because 99% playing Robina Woods were retirees with swing speed as slow as crap coming out of a sloth. So the clubs were so whippy, I felt like the shaft was made of rubber at one point.
c)      Balls: Due to b), my slices in the first few holes landed me the next problem: not enough balls. Slice into the woods, slice into the water. I finally gave up after the 4th hole and teed off with my 5 iron from there on.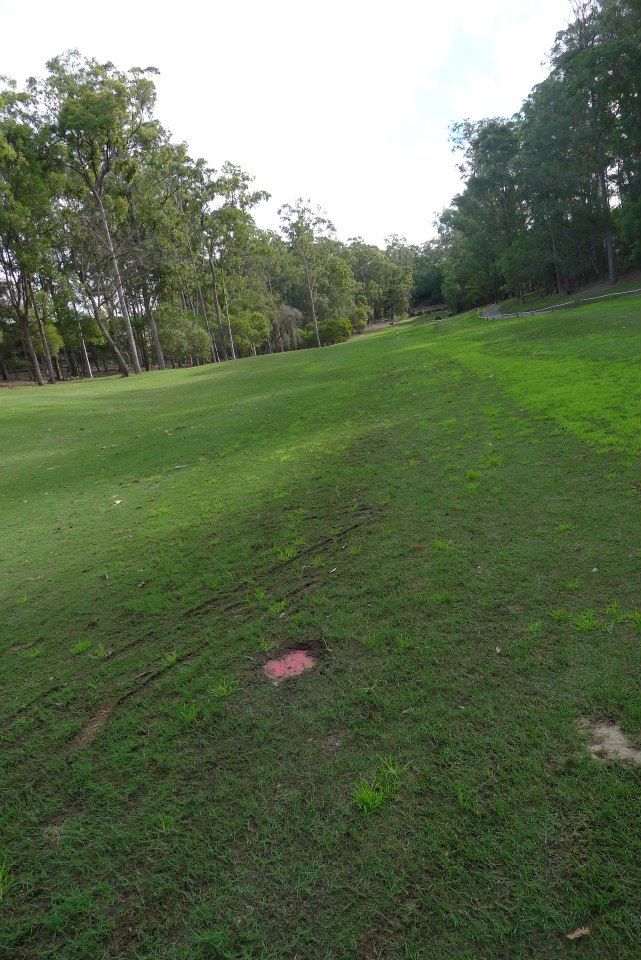 As you can see, there's nothing much the course was at fault for, except that when I hit the back stretch I ended up behind a group of 4 old people who played like …. 4 extremely old people. Who were probably on their final legs in life. I felt like I was in Inception, where each dream tier was half the time of the upper tier. They were so slow and awful, that I knew I would never make it before darkness fell and I got lost forever in the woods of Robina. Finally after 6 holes of intense suffering on the back nine, they let me fly through on the 16th, and on the 17th and 18th, I played like the devil to beat the darkness, which I just did, at 4:45, a little over 2 hours 45 minutes to run through 18 holes.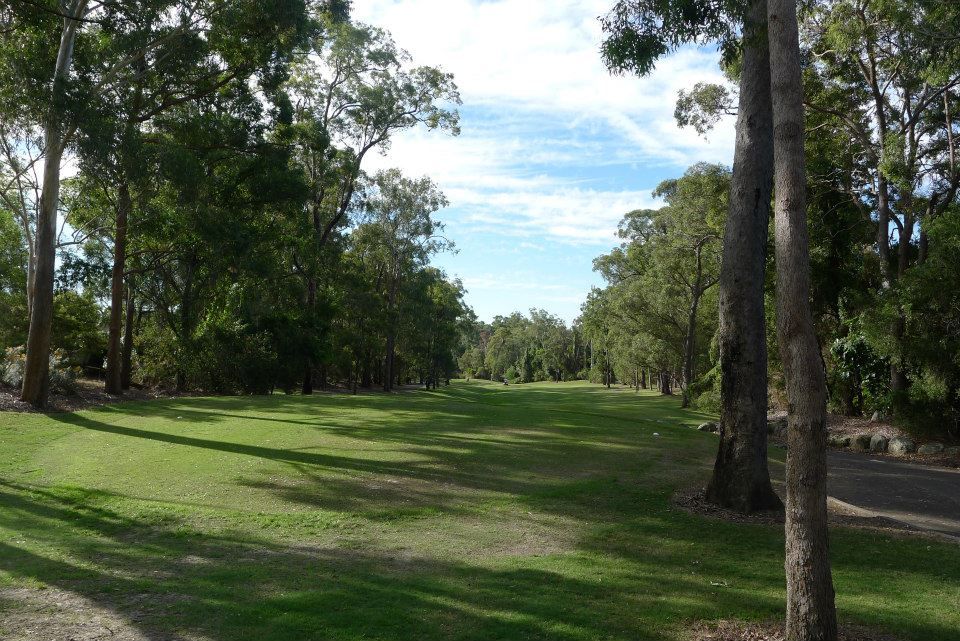 Awful experience, but what else could you expect when the course is built to cater to neighbourhood retirees, right.
Of course, it wasn't fun at all playing with a crap driver on an extremely narrow course, while fighting the sunset as well as having a limited amount of balls that costs RM8 per ball, and plugging behind a group of old flers who takes 20 minutes to finish one swing. The weather though was a huge +. I wish Malaysia was like that. I didn't even sweat a drop, so obviously my mood wasn't as foul as it would have been on normal circumstances.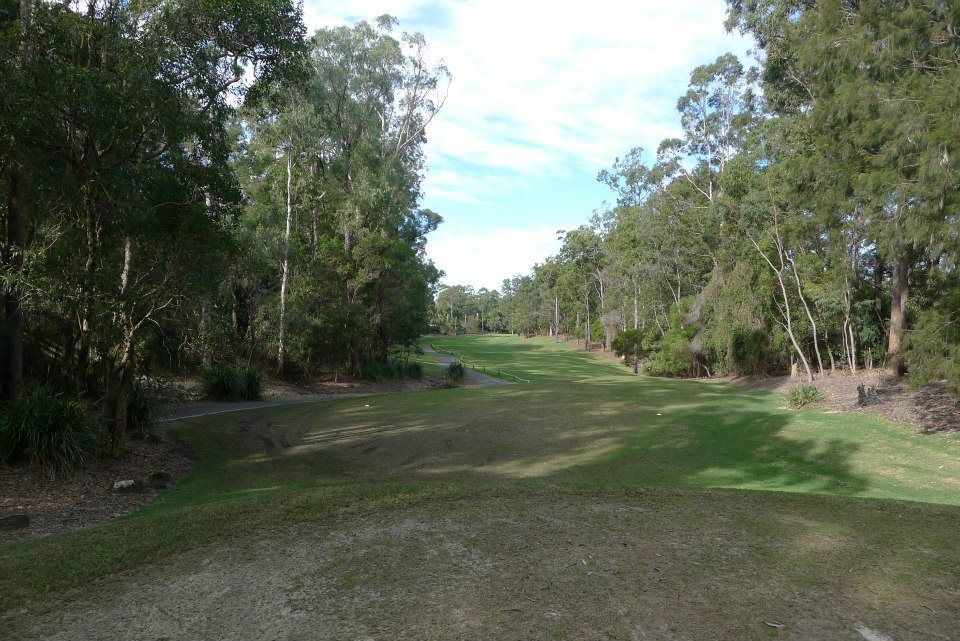 Conclusion
I think overall, I would say it's a go for Robina Woods simply because of it's vicinity to Robina Town Square Shopping Mall, where you can drop off the wife and kids and zoom off to play a round. But it's narrow. And it's unforgiving. And the maintenance is not so good. I mean, if you have all the time in the world, there would definitely be better courses out there in Gold Coast. Unless you love teeing up with an iron and play narrow courses, then maybe this is for you. Or you are a pro who can easily navigate such winding courses…in this case, you shouldn't be reading a 20 handicapper's yapping on this blog, unless you get intense pleasure from other people's sufferings. There is a term for it: schadenfreude. Our term in Gilagolf is You-Belong-In-a-Nuthouse.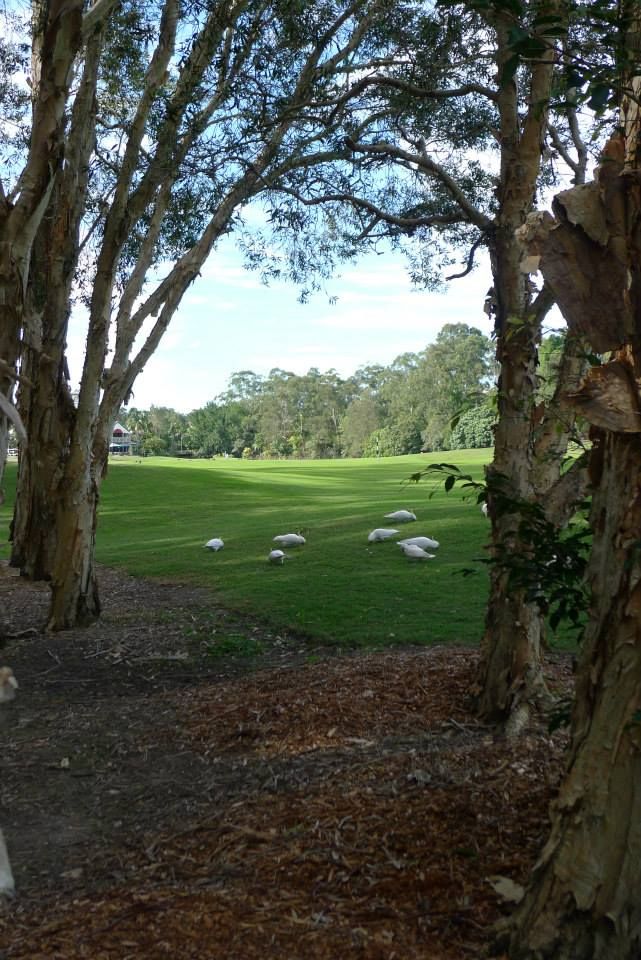 The good: Weather, nobody beats Aussie weather in August; close proximity to shopping malls for a strategic escape from wife and kids; deceiving greens; woodlands play is quite beautiful; the Australian sky someone is remarkably pretty, unlike the haze covered craphole that is Malaysian sky… vouchers for cheap golf comes free; great ending hole!
The bad: A bit underwhelming maintenance; fairways muddy and patchy; bunkers are under maintenance; aesthetic especially back nine is nothing to shout about; a bit of a muni golf course feel to it; if you are caught behind the old blokes, you will be 2 years older by the time you are done. Not fun at all. Also, try to bring your own balls and glove. You save around AUD50 that way and only pay around AUD65 for a rental—remember to grab the vouchers from the service apartments though, utilising the famed Malaysian cheapskate method mentioned above.
The skinny: 21 of 40 divots (52.5%).
Robina has a conditional Go. Condition is based on whether you are alone or with your family. If you are with a bunch of blokes, then other golf course might be better. I wouldn't know. But if this was one of the best course in Gold Coast, then Gold Coast consists of 50 golf courses that are pretty crap. If you decide to bring your family with you, then this provides a good escape…I mean, it ain't that bad. It's just not as good as advertised. Just tell them you need to crap a bit at the toilet or go for a relective walk. If you buy yourself 3 hours you can rush to the course, play 18, and not break a sweat and come back, without anyone knowing. Perfect.
Well, so much for my first golf course in the land of the late Steve Irwin.
Robina Woods Score Card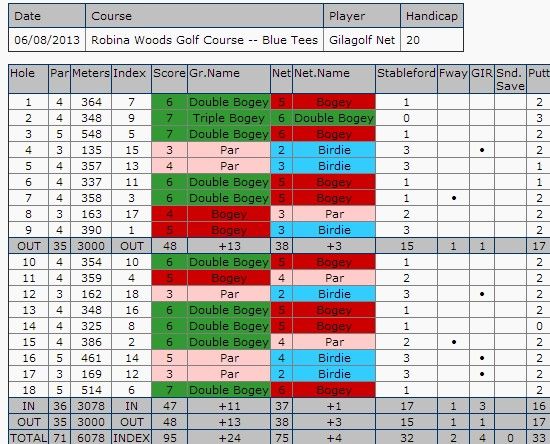 Robina Woods Information
Address: Ron Penhaligon Way, Robina, Gold Coast, Queensland, Australia.
Contact: +617 5593 1766
Fax: +617 5593 2200
Website: http://palmergolf.com.au/goldcoast/
Email: info@palmergolf.com.au