Introduction
Before there was Bangi, there was Kinrara.
Meaning, that as a golf beginner, after haunting Bukit Beruntung and finding that it was so far and so lousy and that I have improved reasonably and can play golf without embarrassing my family name, a course much nearer and easier to access was chosen. And here, we have Kinrara, the course where most beginners can learn, and while it is quite challenging, especially the back nine, it's still reasonably good to play on, without traveling to the ends of the earth.
We didn't know which course to select for the Saturday morning weekend, that would be at least reasonably in terms of pricing: Selesa, Beruntung or Kinrara. At the end, as we needed to get home in the afternoon, the closer one was chosen.
The night before, torrential rain flooded the Klang Valley. I've played Kinrara a few times and I know that the drainage there was super….lousy. I recall holes where if we were to free drop on casual water, we'll either be playing off the buggy track or the green. It was waterworld, Disney on ice, or whatever smart alecky term you want to think of.
So with much fear and trembling, we got up to a drenched morning and headed to Kinrara.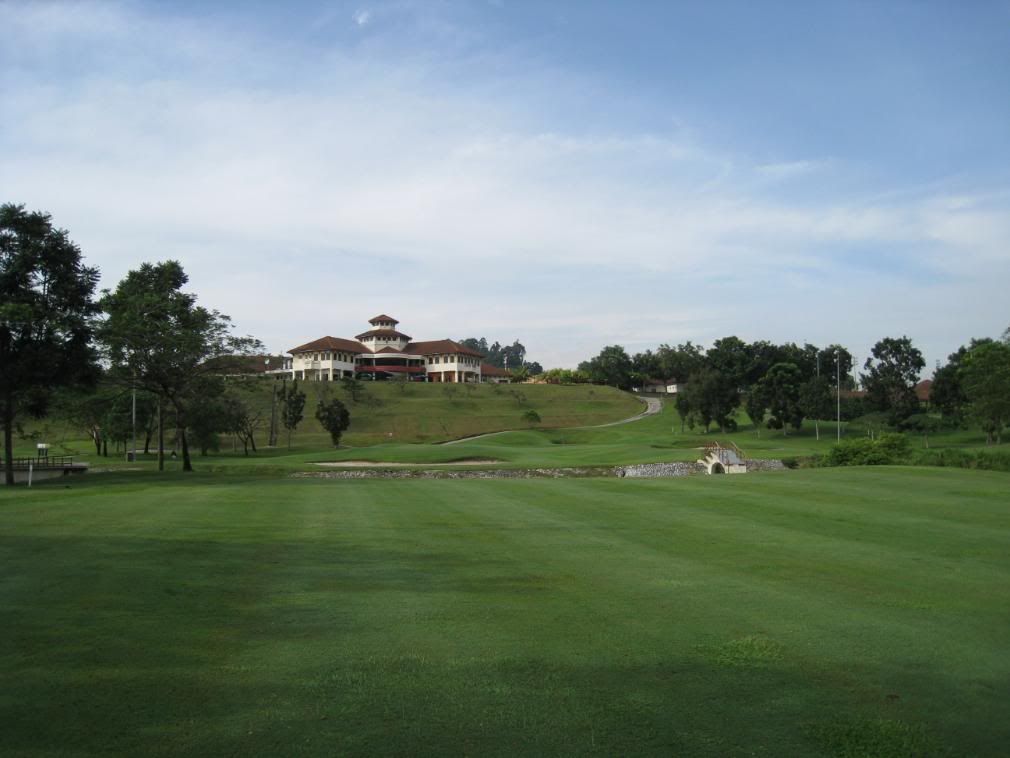 Travel (4/5)
One of the major plus point for Kinrara Golf Club is that travel is a breeze. Well, it depends on when you are going. If you took the day off on a working day, there might be a slight jam on the LDP, but most of the jam is going the other way. The best way from PJ is to head down the dreaded LDP to the Sunway toll. After the toll go straight all the way (don't follow the flyover to Puchong or you are chopped meat). You'll hit a trunk road and after a one km or so, you'll see a flyover to Kinrara township. Take that and at the first traffic lights, turn left. Follow the road to a T junction and you'll see the course in front of you. Turn right at the T junction and Kinrara Golf Club is going to be on your left.
To add more value for our limited readers; I'll try my hardest to put maps into subsequent reviews as well as phone numbers of the club. Instead of just bashing the course with our intense criticism or loving it with our intense passion, we also want to be slightly useful in terms of course location and getting their contact. You'll be amazed at how darn difficult it is to get information on Malaysian courses, like a simple map or number. Most of what we google are crappy golf sites that give only general and uninteresting information. Where's the map? How do we get there? And why is the number no longer working? We believe information is power and in Gilagolf, in order for us to achieve our incredible goal of having at least 10 people reading the crap we write, I think value added services is in order. If we get our readership up to 100, we will even start arranging golf games for you and upon request, dance YMCA on the bar of your choice. We are all men, by the way, so please don't expect too much from the dance.
Price (3/5)
Another strong point about Kinrara is that it's one of the most reasonably priced golf course that does not require you to go through horrible jams, or wake up so early that even the school bus aunty has not made her rounds yet. It charged us RM90 for weekend slot, prime time Saturday morning. On normal days, with AGN, we're paying around RM55 for a tee off, which is very reasonable. The non AGN rates are also reasonable and we are always able to get a tee time in Kinrara. I suppose the reputation of Kinrara as a course that doesn't have very good fairways deter people, since the traveling is pretty easy.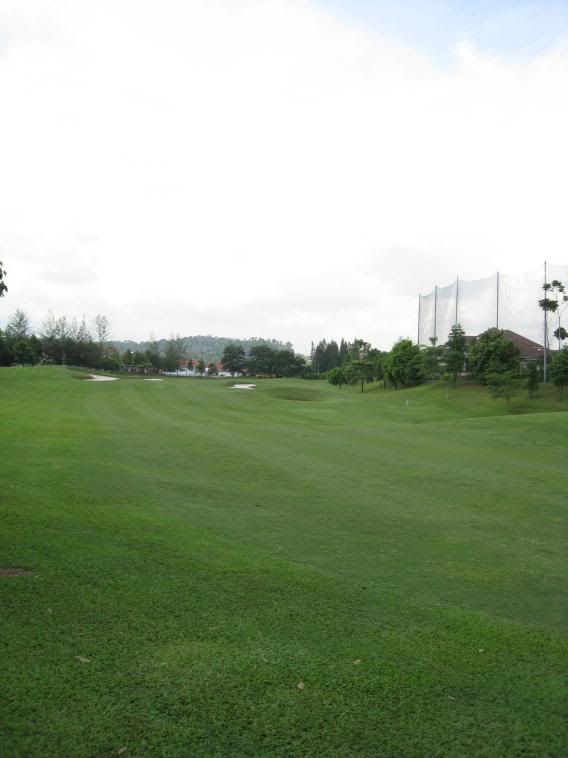 First thoughts
I've played Kinrara probably a dozen times in my short golfing career and it's a course where you score well at. It's by no means easy, as some of the par 5s play quite long and narrow, and the killer par 4 18th is a dramatic hole, representing one of the best ending hole I've played. Standing early morning in the back 9, faced with a par 5 tee off elevated; it's a course that initially looks normal to you but as you continue to play it, it grows on you. By no means it's a top tier course, as we shall soon find out; but due to the sentimental attachment to this course, we tend to be a little easier with it.
After all, after Bukit Beruntung turned into a pile of junk; this was the course I personally adopted when I was clubless.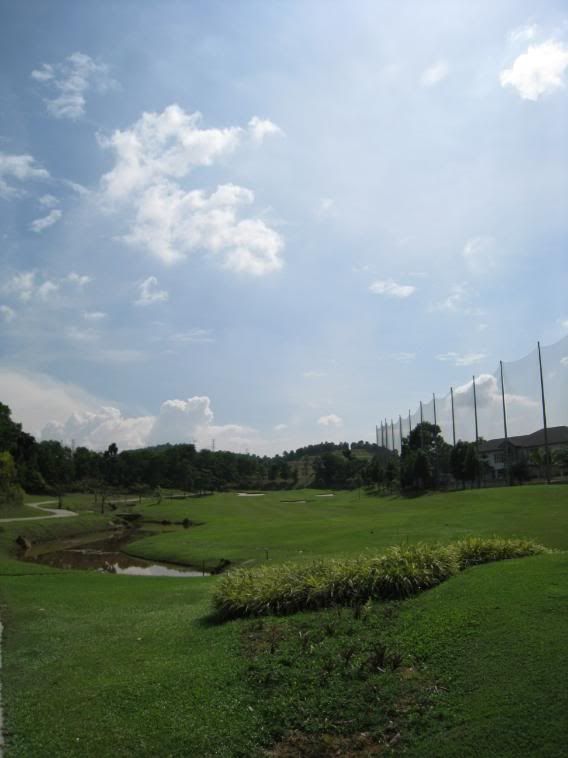 Service (1/5)
Kinrara was never really big on service. I remember that their F&B is totally crap, and until today remains so. Slow to the point of actually moving backwards, the waiter would saunter slowly up requesting for our orders and take a few years before bringing it. I don't know what is it with golf clubs and crappy F&B service. It's as if all the lousiest waiters and waitresses in the world will congregate in golf clubs and collectively make life a living hell for golfers in need of water.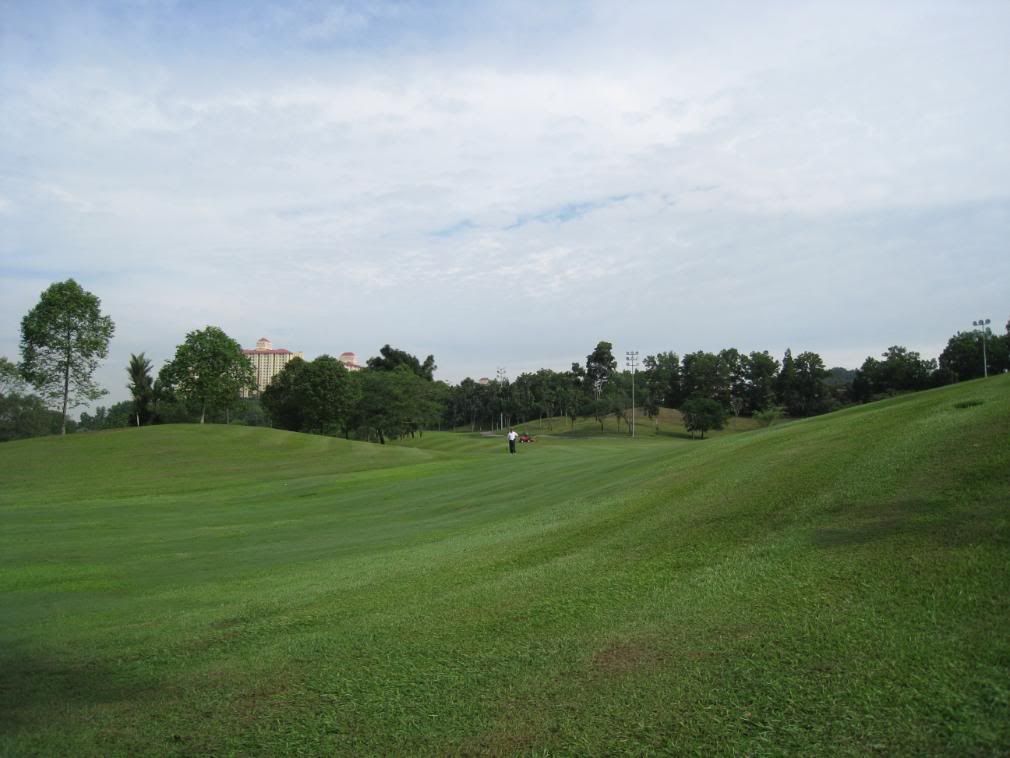 The thing I don't like about Kinrara is the stupid food vouchers. There's a fine print there that says vouchers not applicable for juices and coconut drinks, knowing full well that this, along with the soya bean cincau, is the staple drink for all golfers, much like zebra meat for lions. Unsuspecting idiots we were, we finished the round and asked how much for coconuts while putting down the vouchers on the table.
Now you as a waiter would be thinking: "They have a RM10 voucher on a table and asking for coconut drinks. Shall I inform them it is not valid or pretend to be a complete idiot and rub my hands in glee and let them fall into our trap?" No prize for guessing what he did.
Coconut drinks came and when we wanted to pay with the vouchers, he shook his head and said, "Not valid." That must have given him as much satisfaction as Donald Trump derives when he bellows "YOU'RE FIRED!". We looked at the fine print and cursed the day we thought coconuts were free and Kinrara was generous. We all paid, and to spite them, just to use up the vouchers, bought 6 cans of 100 plus (which we used in the next round in Tropicana).
We dislike being tricked (see our review of Tuanku Jaafar's locker room keys incident). But due to the sentimental attachment, we are willing to give Kinrara a 1 in this.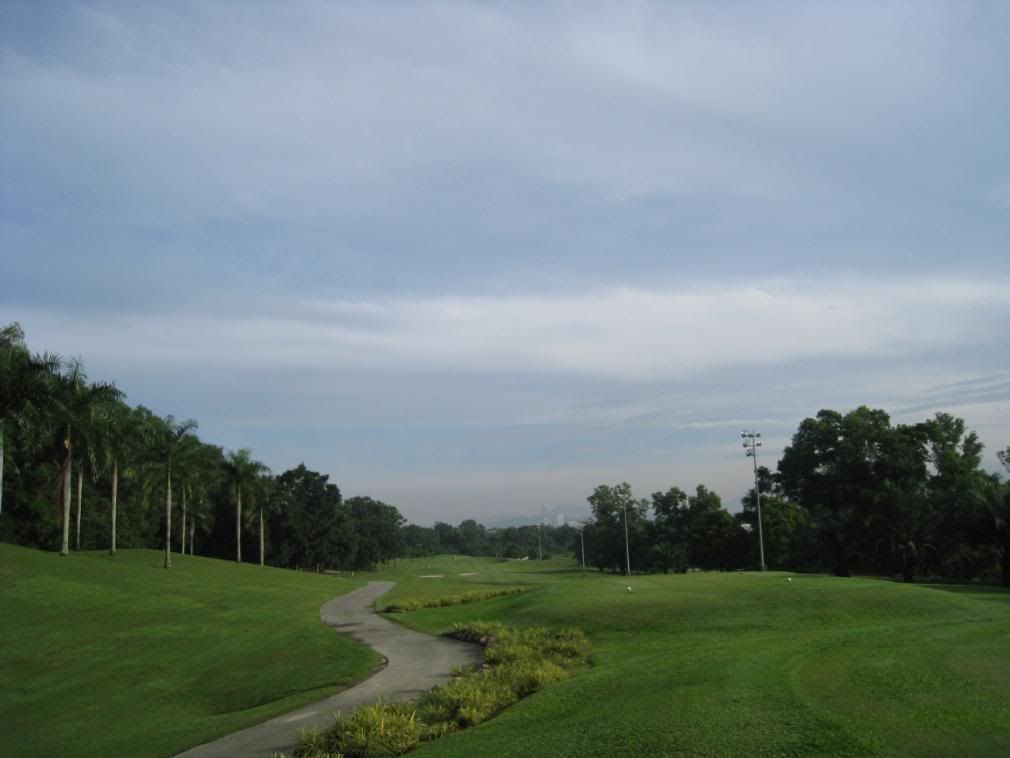 Fairways (3/5)
Imagine going into the cinema and watching a show like 'Enchanted' with zero expectations and coming out of it quite pleased with the result. I mean the show still sucked, but it wasn't as bad as you were prepared for. This is the opposite feeling of going into Star Wars Episode 1 thinking it was the greatest show on earth and coming out half dazed with its pure stupidity on every level. As well as renewed bloodlust to kill Jar Jar Binks and let him die a thousand deaths in the stomach of the Sarlac. Anyways, I quite liked the chipmunk in Enchanted, so I was reasonably surprised at how mildly entertaining it was. You gotta love that chipmunk.
The fairways of Kinrara was our chipmunk. You go there expecting the worst and suddenly, even with the downpour the night before, the fairway was in great condition. I mean, relative to our expectation. It deserves our applause, because we've seen Kinrara at its crapiest and you can't walk without wearing the Phua Chu Kang yellow boots as you wade through 18 holes. Right now, it's like a different creature. Not super, but unexpectedly good. No plug balls. Limited casual water.
One look and you see maintenance workers working their butts off draining the fairways. An indication was the par 5 14th where the entire hazard on the right side was being dug up, and we saw water being drained from the adjacent fairways. They are hacking up the course and now it looks like crap aesthetically but it's for the long run.
Greens (1/5)
As good as the fairways were, the greens totally blew away our happiness. I mean, it doesn't make sense to excel in one thing and once we reach the green, we are like, what on earth is this? And earth is the right word, because even on the 10th green, there was this huge crater in the middle of the green. Serious. It's as if a giant golfer with a golf ball the size of a bowling ball had teed up and left a gigantic pitch mark on the green. Who's gonna fix this? Hello??
Green speed, green roll is totally zero. I gave up after a while and simply putted straight and watch it gather sand so that by the time it reaches the hole, the ball is twice its original size. Wow. Great job, Kinrara.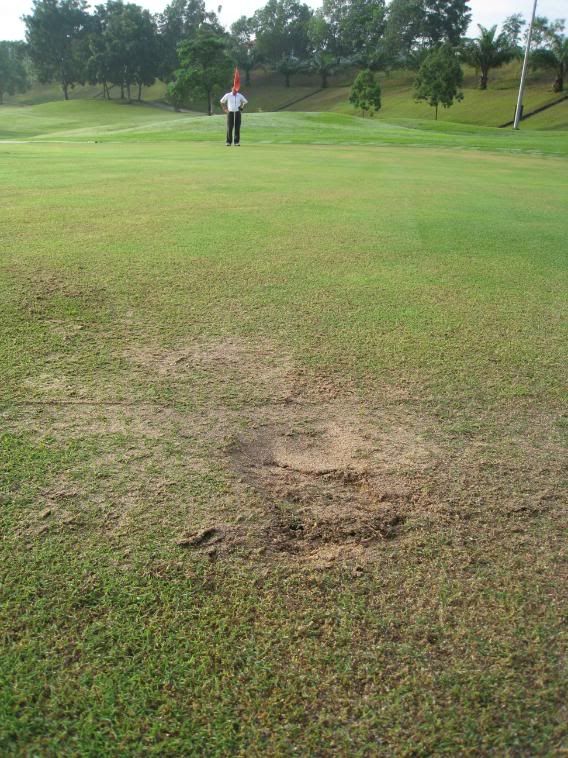 Rough (0/5)
And just when you think it can't get any worse, we get hit by memories of Bukit Unggul, where the bunkers resemble some of the pictures we see from the Voyager in Mars. Or whatever the name of that little robot that they sent to Mars and got killed by Transformers. You guys watched the trailer right? No? Ok, anyways, the bunkers are crap.
Primary rough reasonably playable, and don't forget the generous OB lines littering the course. However, it's not as bad as Monterez or Nilai Springs. It would have been a 3 but we're merciless if you have bunkers that scratches our precious clubs. Sorry, no sentimentality here. A big fat ZERO.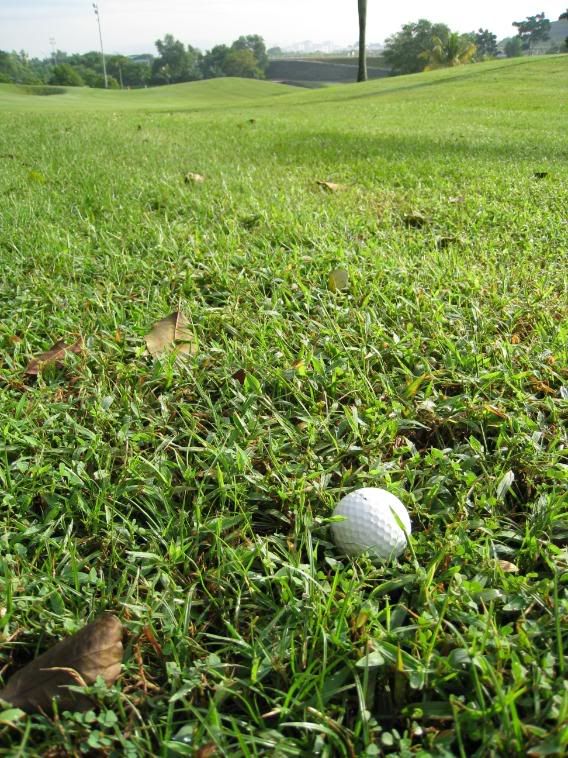 Aesthetics (2/5)
Kinrara is one of those courses where it's neither here nor there. It's good looking without being pretty, without being hideous. It's like that girl who's always been your friend, whom you never take a second look, but still find her inoffensive. It lacks the forest foliage that Bukit Unggul or Datai Bay has, it lacks the wide open fairways like Bukit Kemuning. It's a split down the middle. In fact, we're willing to overlook the hideous digs currently going on because of the drainage improvement it is causing.
However, points lost because of the workers. We've got workers walking all over the place. They are like the Augusta gallery. I'm sure they are there for the maintenance, but it's quite disconcerting to walk to the green and you see a pack of foreign workers walking down the buggy track with their pitchforks and stuff and stopping to look at you while discussing, possibly about us, in their native tongue.
"You think this weird Chinese guy gonna sink his putt?"
"He stands funny. He won't sink it."
"OK, I'll bet you for a pack of Marlboros."
"OK. Here he goes."
"Dammit! Stupid Chinese guy! May your ancestors curse you!"
At this point, I get a glare or a rude sign from them and they continue hiking onwards.
There are so many holes with workers. Don't they have something better to do than walk around? And stop looking at my putts! I'm good! The greens suck! It's not my fault!!
Fun Factor (4/5)
We usually have fun when we play well. In our flight, we are very very generous in our fun assessment. Even if I play like a pregnant cow drunk with alcohol, and our playing partner is doing well, we will all agree that the course is fun.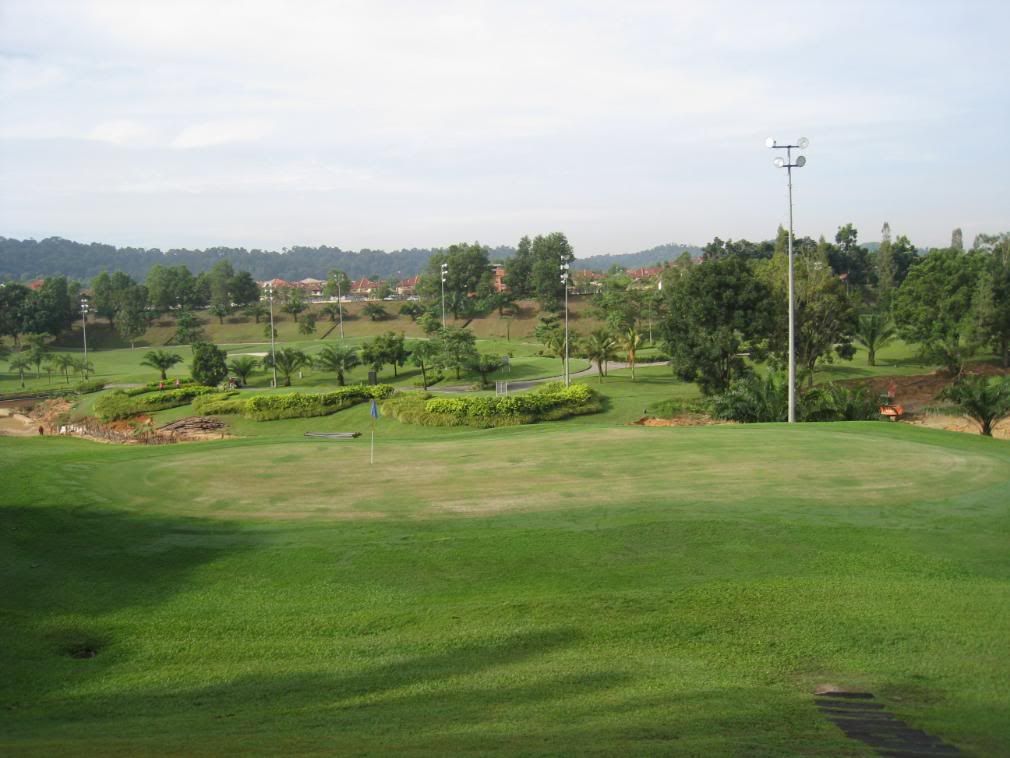 And boy did one of our guys do well.
It started with his back nine, going bogey on the first hole. And that too he missed a 3 footer for par. Then on the 2nd, he missed a 4 footer for birdie. On the 3rd, he stuffed his tee shot so close to the par 3 pin, we were willing to concede for birdie, but he wanted to hear the drop of the ball. Guess what, he pulled the 2 footer and settled for par. The fourth, he almost drove the green and curved a 7 footer in for his birdie. On the fifth, a superb downhill chip, and a tap in for par. On the 6th, he pulled his 5 footer for par and settled for bogey, ending his torrid 4 hole stretch. Next hole par 5, he recovered amazingly from a deep fairway bunker and one putted a 15 footer for birdie.
By this time, our little competition was over. I had 4 pars over 7 holes and still lost. He was even over 7, but could have been -4. Once the game was over, he lost it a bit and on the 8th hole, a perfect tee shot but he put his approach in the bunker. It was impossible to get it out because it was lying against the face with an overhanging lip that blocked the ball. Through some freak of luck, he pounded his ball and it came out. One chip, one putt for bogey and he is +1 over 8 holes.
He regulation on for the last hole and was probably doing a victory lap for the best round I've seen any of my playing partners play in 5 years of golf.
Unbelievably, he FOUR putted the last green for a double and a +3 39. Still a great score but it could have been -3. Pro golf standard.
He scored 53 on the first 9 by the way, so it was very much an average 92 score, but man, it was fun watching him beat the crap out of us.
Conclusion
It's definitely a course that you can make a run like what my playing partner did. It sets up easy on the front nine but gets progressively harder, culminating the signature ending hole, a monster 403 meters par 4 that forces you to tee off over the trees and severely cut the dogleg right to get a chance of an iron into the green, to cross pond. You play it safe, you've got a 180m carry over a large hazard. A must play hole for any golfer.
The good: Good fairway drainage; easy access if non working day, reasonable price; one of the best ending holes you'll ever get in Malaysia; course setup for a barrage of pars and birdies.
The bad: Greens and bunkers are extremely lousy, too many maintenance workers as gallery; bad F&B service that like to trick people, course lacks natural beauty and challenge, except for closing hole.
The skinny: 20 of 40 divots (50%). It's a course that every golfer in Klang valley should try, just for the great 18th hole. We recommend it but stick to sunny days and when the course is fully ready, and the maintenance workers have all gone back to their homeland.
Kinrara Score Card
Kinrara Information
Address:
Jalan Kinrara 6,
Bandar Kinrara,
47100 Puchong
Contact: +603-80762100
Fax: +603-80707822
Website: http://www.bandarkinrara.com.my/kgc/aboutus.htm