Introduction
Update: 5-August 2011: As most of my readers know, I don't generally revisit a golf course ratings and re-review the course, unless the following occurs:
1) Something so drastic happened that changed my mind on whether it's better or worse
2) The course I gave a good rating to now resembles the rear end of a llama
Actually they are the one and the same. And Staffield, always noted for its nice course and challenging layout with tough greens and undulating fairways, now has the distinction of being re-reviewed: because of customer service that is so bad, it makes cat shit smell like roses. I have NEVER experienced such atrocity in what Staffield term as 'customer service' unless they are the Yakuza prying away your finger nails one by one.
Read on, in the 'service' category.
End Note
Staffield Country Resort has always been on our mind since the last time we played there a few years ago. What I remembered was this: it was a pretty course, and I played pretty well there, scoring an 89. Plus, it has always been voted as one of the top courses in Malaysia in terms of it's design, maintenance and playability. Although we seriously doubt it would achieve the DAGTH status that courses like Datai, Palm Garden and Tropicana failed to achieve, we think it would give a good run, so away we went, merrily to Staffield.
Travel (1/5)
It's one of those places where it's like the mythical El Dorado. It's always over the next mountain. Always over the next hill. I don't recall much of my journey there the previous time, except that it wasn't so simple. We came from Seremban toll, I think and spent some years circling around the area looking for El Dorado. So, this time, we made sure we researched and concluded that the easiest way was to come from the Nilai turn off. I.e Get onto the north south highway and head over the Seremban. As you pass the Nilai Memorial park, make sure you fill up with your nasi lemak and go further to the Nilai turnoff. From there, it looks pretty straight forward, doesn't it?
Wrong.
Apparently, the person who created this map is either blind or an idiot. We forgive the former, but for the latter, we wish him a thousand golf balls heading straight at him like how the elves unleashed the arrows at the Orcs at the Siege of Helm's Deep. Because here's the actual map:
No I am not exaggerating. Two things that Malaysia do very well is map making and signs placing. In fact, when Staffield started, management gave the sign placers a total of six signs for directions to Staffield. You will see one sign at the Nilai toll. And for the next dozen miles or so, it's empty wasteland, devoid of any information of Staffield. Here's the actual direction:
After toll, take a left. Go along the road then take a right and another right at the lights. Look out for these rare signs, it's like a bonus if you see it. Take another left and there you will be on a long road where you are left wondering if you are on the right one. Refrain from asking anyone for directions, because soon you will come across another sigh and you need to turn right. Then long road. And then left near the flyover. At this point you are so utterly confused at how WRONG the maps given by Berjaya (yes, this is the same management as that crap course Berjaya Hills), you are willing to run down the next cow you see crossing the road.
Another way is to take the Kajang Silk and hit the Sungai Ramal Toll, then pass the Bukit Kajang Toll. You are heading to Semenyih. Take the exit 1804 (or 1805), whatever, the Semenyih exit. You'll hit a town that's a throwback of prehistoric ages where dinosaurs co existed with men and we had velociraptors as pets. Keep going straight all the way and you should soon come upon Staffield on your right. It seems a lot easier but when there is a jam, (which is almost always, unless you are going through there at 5 am in the morning), that whole stretch becomes the major cause of automobile suicide.
Either way, we're going to rate it a 1, since Berjaya map makers are obviously underpaid chimpanzees working frantically on typewriters.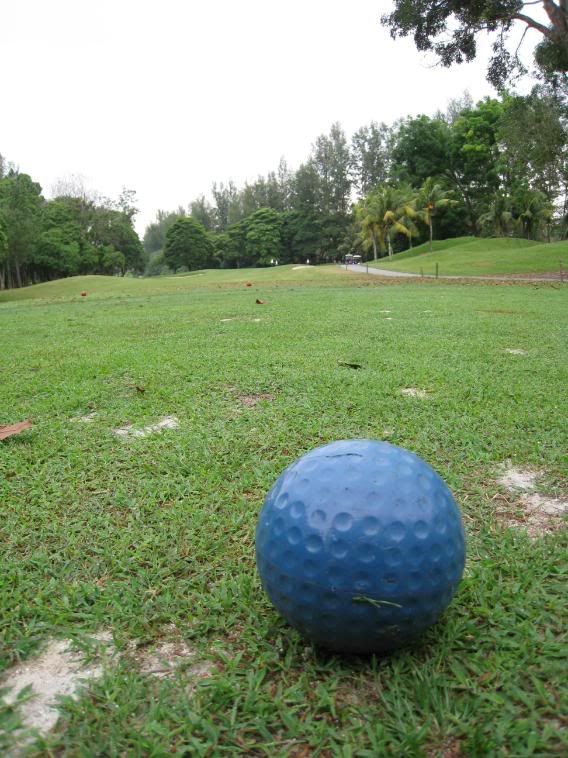 Price (4/5)
I like the price. At RM45 under AGN card membership, we get to play at a very good course that is usually voted as one of the country's top courses. We were lucky too because when we came, there was some kind of tournament and a caddy shortage caused us to tee up without the 'compulsory' caddie. Which saved us a fair bit of cash. Normal pricing for non AGN is RM72++ on weekdays, and RM170 peak price for Saturday/Sunday morning, RM150 for Saturday afternoon and RM120 for Sunday afternoon.
First thoughts
Staffield has 3 nines, which makes it difficult to choose from. Frankly I've only ever played on the North and South course. South because of Par 3 eight hole, which requires a 160 carry across a lake that has eaten up a million balls over the years. North because it's the longest and we always want to test our manhood by measuring who has the longest….drive. Yes. Of course.
I really can't recall how I fared the last time I played, but I was getting a lot better at my first tee jitters and I blasted my first shot down left of the fairway of hole 10th on the South. It has an elevated tee but it's a stupid design because on the left is the driving range. So if you draw it too much left, you not only have to avoid some king cobras in the rough, but you need to avoid the driving range balls as well as they rain around you. Another reason why we are so annoyed when we see websites like golf-asiapac.com saying:
"The signature hole at the Southern Nine is a majestic par 5, hole no.10, measuring 485 metres with a double dog leg."
Majestic my foot. It's like hailstones coming down on us as we search our balls on the left.
This is the same site that dares to say this on 'How to get there':
"From the North-South Expressway get off at Nilai Interchange (exitg 214) and follow the sign indicating Staffield Country Resort."
Do you have any idea how stupid this direction is?
Come on, play the course before writing any reviews. Gilagolf reviews are the best!!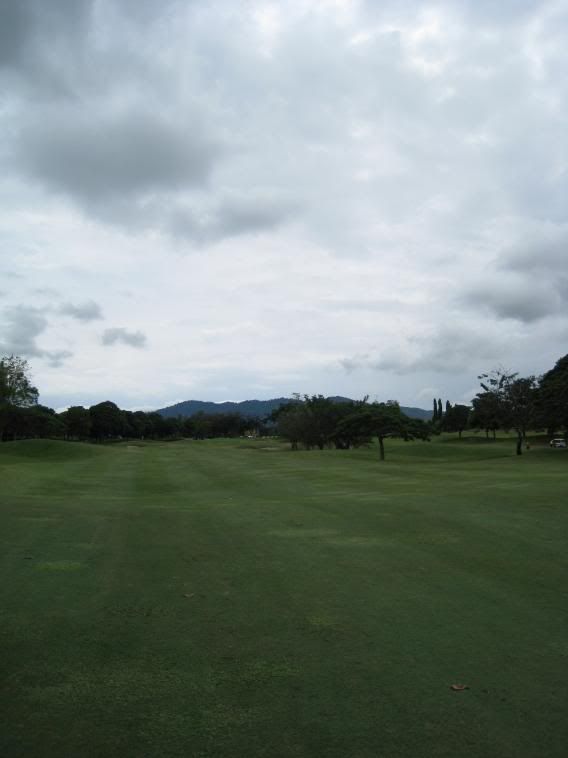 Service (0/5)
Update: The below review is deprecated. As of now, Staffield has officially the worst head of golf operations in the known world. It's this fat guy, I don't even remember his name. Basically there was a misunderstanding with a group of Koreans I arranged golf with. Due to a miscommunication and the high possibility that the entire group was drunk the night before and the morning of the game, the group went ahead first to Staffield while we waited for them at the resort. We finally managed to meet at Staffield itself but unfortunately, my Korean friends had registered separately: 6 of them, 2 flights, 4 buggies. As you can imagine, they were charged a penalty for the buggy with one person on each flight. Me and my friend also registered before we bumped into the Korean group in the changing room, so we technically had one buggy, making it 5 buggies.
Now, it's not so complicated if you know golf well. We tried to get the Staffield folks to cancel the extra buggy so we could use ours, but the guy at the counter said it was already in the system. Now, this is NOT the argument. We're all reasonable people. So, after a little discussion to which my friends said, "I just want to play golf", we decided to cancel our plan to play in Impian in the afternoon and have another round in Staffield, with the condition that either our buggy or caddy in the afternoon session is waived (due to the extra buggy we paid in the morning).
All agreed. Seems ok. We played the morning, had lunch and went to register for afternoon game. This is where the proverbial crap hits the fan. The guy that registered us in the morning was there, but so was this fat guy, the head of golf operations, as I later found out, hawking over the registration. When we asked about our game, and the agreement to waive a caddy fee for the extra money we paid, this operation head became very agitated and said, NO, no such thing can be done, and that it was OUR fault for the communication breakdown, OUR fault for registering the extra buggy in the morning and NOT any of his issue, if we wanted to play Golf in Staffield, we will just pay what is required, and no deals or agreements will be made. For a while, I thought we were all wearing swatikas as armbands, the way he acted.
Look, Staffield Head of Operations, we are not criminals or terrorists about to sabotage your bloody petunias growing on the 18th hole. It became almost embarrassing after a while, because now the Koreans will think we're all a bunch of inarticulate orang utans like this guy who can't seem to understand the meaning of customer service.
There are literally a hundred ways to tell us that we can't do what we thought we could. Explain it nicely. With a smile. Appease the customer a bit by saying, if its ok, I can give you a F&B voucher or something. Even the worse possible thing you can do is shrug and say, Sorry, we can't do much, but here's a free drink for the misunderstanding, please come and play in Staffield again. Hundreds upon hundreds of ways to come out well. And this guy just went to war with us.
It's a pity when you have such a great product like Staffield Golf Course, and we then see uneducated people placed in charge of the operations. This guy obviously has zero experience in customer handling, and probably settles all conflict the same way he would get rid of a rat, scorpion or cockroach: Hammer the customer relentlessly with a loud voice, agitated gestures and a shovel until everyone submits to your rule.
Staffield, get rid of this idiot please. He's smearing the good name of this golf course.
Other bad experience: Caddy loses the boss's headcover, denies it, then pokes me for tip money when she wasn't even helping me much. She also complained that RM30 was not good enough tip for her. Towel guy looked as if you are the cause of him being stuck in his career as the towel guy (maybe we are), starts barking at my Korean friends when they asked for plastic bag, like a rabid mongrel.
I really, honestly say Staffield is a very nice golf course. But the next time we think of a course for a corporate competition, or taking up membership, this will be the last place on earth I'd think of. Truly embodies the adage, "First world infrastructure, third world service."
End update
Any course that's flexible is good with us. Because they ran out of caddies (apparently, caddies are like any commodities in the market place), they allowed us to tee it up quickly so we can end quickly. We didn't have a lot of experience with the caddies or marshals, so the less bother the better. The only thing is that in the F&B, NEVER ORDER the Char Kueh Teow. Serious. It comes watery. For those who are thinking that this is a golf blog and not a food blog, well, you are obviously not Malaysian, so we forgive you. In Malaysia, all things concern food. Food is the backbone of society, of our culture and you cannot divorce food from any topic in discussion. Golf, politics, business, economics, religion, marriages are tied to food. In fact, there is a saying, "A Malaysian without food is like a sparrow without wings." I made it up actually. Sounds good, doesn't it??
So when the Char Kueh Teow comes WATERY, gilagolf is not happy. A mediocre 3!!
Fairways (3/5)
I was slightly surprised that the course condition wasn't as good as I expected it to be. Perhaps due to the rainy season. There were cart marks on the fairway, and the grass was inconsistent, with patches of cow grass over Bermuda, in the classic case of 'Fairway Acne', where cowgrass makes their way to the Bermuda turfs. I don't think we're good enough for the difference to really make a difference but we are just anal and want to pick on something.
Greens (4/5)
We found the greens in good condition. Of course, it's nothing like the remarkable Impian. Here, it doesn't really catch your ball so the safe bet is to roll it up to the flag. But the putts rolled fast. Even though a brief rain caught us on the 10th, 11th and 12th before clearing up, the greens were fast. Not crazy like Impian or Seri Selangor but still gave us a bit of challenge to stop 3 putting. Then again, by normal standards we are all putting as bad as a mongoose chasing its own tail, so 3 putting is pretty much the norm for us. Blast our limited skills!
Rough (3/5)
Staffield has got some challenging holes. Both courses have a different profile. The south being more scenic and offering more variation in terms of hole designs and OB framing the holes. The north is just long. And if you can drive it well, then you can negotiate pretty much the course. However, it's not a course for the wayward. More than once I found my fading ball on the right side of the fairway in the rough, embedded into thick grass with trees blocking. All I could do was punch out and from there hope for a long approach to hold the green. It's a tough rough. Surprisingly the bunkers weren't top notch as we expected but I would think the downpour had something to do with it.
Aesthetics (3/5)
Surprisingly, we always expected Staffield to have a prettier face than what we saw. Perhaps it was the classic case of Clearwater sanctuary, where the expectations were just not met. It's like we are all prepared to meet the prettiest girl in high school after several years of absence and when we do meet her, we are confronted with a girl who perhaps had her fair share of Pringles and perhaps too much of the sweet stuff. I mean, her features are still nice and all, but you wonder, how on earth did people ever think her the hottest babe in school??
It wasn't that Staffield was lousy or anything, after all that Par 3 8th was really something to shoot for; but we always expected something better and I think perhaps, that was the problem, of having the reputation preceding the course itself. I remember thinking as I walked up the 3rd hole Par 4, which I proceeded to lose the ball left and double bogeying it, 'I thought it was a lot better looking than this!'
Going out to the North Course, you are faced with a lot wider, though not necessarily prettier perspective. Honestly I can remember much of the holes we played, since heavy rain accosted us for the first 3 holes and we suffered mightily. Ironically when the rain stopped, I proceeded with four straight double bogeys like a whiskey filled baboon and only managed to end decent with a 12 footer sandy par at the end. That's what golf does to you; repeatedly whip and beat you up and then offers you a chocolate at the end so you'll idiotically come again and play, and the process of abuse and bribery is repeated.
Fun Factor (3/5)
We were slightly disappointed with Staffield. Not massively like Clearwater but I suppose the mood was really dampened by the ridiculous traveling time and the absolutely confounding maps and signs to this place. Once there, long golf courses are never really extremely fun for us because it's hard to recover. For instance, the par 5 12th, after a mediocre tee shot, my second shot hit a tree and dropped only 50 meters away. Now I am left with a 250 meter shot; my 3 wood never had a chance. A great wedge into 10 feet, missed putt and bogey. Most holes are like that as I only managed 4 GIRs and none on the back nine. No GIRs, no chances. Simple as that.
Staffield played 73.45 Course Rating, 3rd behind Clearwater and Kota Permai, and 130 slope rating. Again, we reiterate we're not going to analyse what these numbers pertain to us, since our understanding is that if it is high, it is harder for us. We're hackers, not mathematicians.
Also, the downpour kinda made the back nine experience miserable, as one of my golf mates was already sick, so we were all kind of listless except for the final hole, when we had to par to square the game, which I am proud to say I did, with a stroke of my putter, but moreso with a stroke of luck.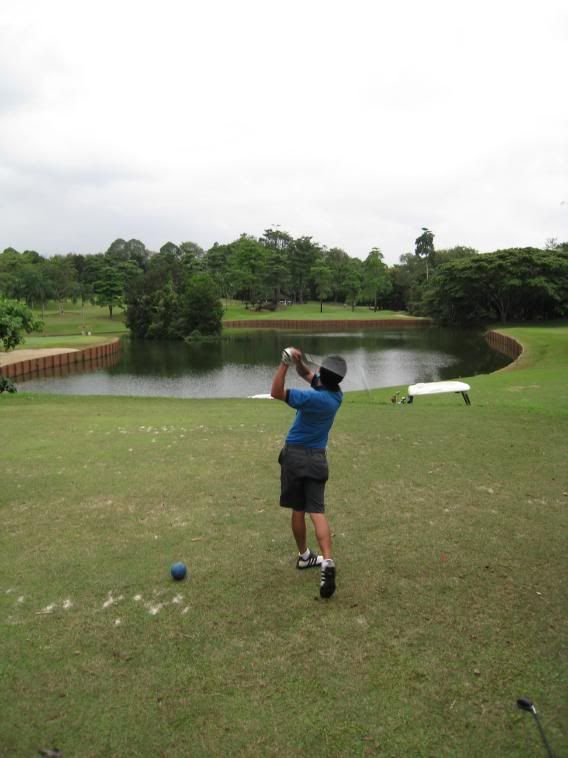 Conclusion
It's very difficult to say this, since we believe Staffield is a nice course, but given the traveling and the so-so course and aesthetics, you might want to think twice about this course. It's a high, middle tier course, much like Clearwater: it probably won't blow you out of your mind and give hackers a lot of fun, but unless they transport the whole darn course to PJ or at least somewhere accessible, we might give it a miss next time. For now, the best way to access is the same way to access most remote regions of the Amazon: by helicopter and landing on one of the greens on the North Course.
The good: Price is pretty much unbeatable on weekdays with AGN, the greens are well conditioned; rough is penalizing; considered one of the best course in Malaysia so it's a must play at least once, especially the intimidating par 3 8th on South
The bad: One of the worst traveling experience ever; fairways are slightly off mark; aesthetics are mediocre except for the must play par 3 8th on South; plays slightly long for hackers.
The skinny: 21 of 40 divots (52.5%). We're on the fence for this one. On one hand, I believe we'll likely return to have another go; on the other, the experience of getting there is like having a hundred bagpipes blasting into your ear at once. Or a Scottish dude flouncing his kilt in front of you. Either way, it's a terrible, horrible experience indeed.
Staffield Score Card
Staffield Information
Address:
13th Mile,
Seremban – Kuala Lumpur Country Road 71700 Mantin
N.Sembilan
Contact: +603-87666117
Fax: +603-87667173