Introduction
This is our first review of a golf course not in Malaysia. In fact, we have travelled far to the idyllic island of Koh Samui to bring you a review of a course that is both unique, challenging and ultimately, despite its flaws, will give you the kind of enjoyment courses like Bukit Unggul, KRTU and all those listed under WOTM and AAC category can only dream of.
We're talking about the new phenomenon, the integration of the game we love but suck at, with the game our country love but totally, incredibly suck at it as well.
Football.
Actually, it's a good idea. Make the holes a little bigger, and voila. That's it. You don't need to invest in any clubs, as long as you have a leg, you can probably get started already. It's simple. Kick using your leg (duh) and get the football into the hole. Have a couple of obstacles like coconut trees and coconut husks, and lure in unsuspecting tourists from Malaysia and charge them RM60, slice their throat and make a crazy profit margin. Maintenance is virtually nil, since you can attribute the long grass, holes, sands, nails and the itinerant cobra to all being 'part of the course'. Just sit and watch the moolahs flow in. In fact, I don't know why I didn't come up with this concept. I'm off to Ulu Yam to buy a land and make it into a footgolf course.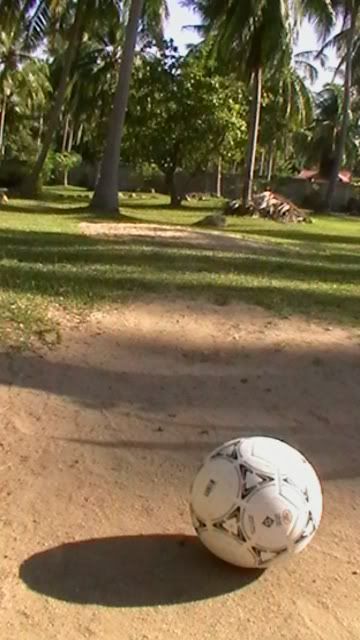 Travel (2/5)
Umm. Actually, once you get to Koh Samui, it's pretty straightforward. I mean, if you've been to Koh Samui, it's just basically turn left after you exit from the airport and keep going till you see the signs. I know, the direction really suck, but you need to be a seriously sucky driver to miss it. It's only one road.
We're giving it a 3, since the travel to Koh Samui, at best would be via Firefly, and once there, rent a car and it's a breeze getting to the course.
A note on Firefly. They suck. I mean, of course, if you pay for crap, you get crap, and Firefly is the absolute poster boy for CRAP SERVICE. If you think Air Asia is bad, Firefly takes toilet class to a whole new different level.
They changed my flight without informing. Of course, they claimed they sent me an sms, which I didn't get, and we had to cough out almost RM1000 extra just to get ourselves to Koh Samui via Bangkok and waste an entire day of our vacation. The Firefly Corporate comms lady, Alita, refused to offer us anything more than a refund, claiming that they 'followed procedures' and basically told me to Fly Uncle Charlie's Kite off.
I'm not sure if anyone else had such bad experience with this stupid airlines, but unfortunately they are the cheapest. The best advice I can give is to call two-three days earlier to confirm flight times.
I'm now so pissed again with the recollection of Firefly that I'm downgrading this to 2. DANG YOU FIREFLY, YOU SUCK! And don't get me started on MAS, because they suck as well. Crap begets crap I guess.
Price (1/5)
Being in Koh Samui means you're on vacation. For the locals, that means, a lot of waterfish lying around. Waterfish = Sui Yee = SUCKERS.
You just need to resign to the fact that as long as you don't speak thai, or look Chinese, or carry a camera around, or drive a rented car, or basically don't go shirtless and have wakeboard abs, or don't have unpronounceable names…you're a Sui Yee. You'll always be charged more than the locals, so live with it. Don't fight it.
We were charged RM60 per person to play 18 holes. Yes, you go: WHAT??! But come on, if you want cheaper rates, either marry Thai, or speak their language or get that belly of yours toned down. Or you could just change your name to Thamnatiwa Pornatigerwoodsik.
First thoughts
You can probably take one sweep at the course and see every thing. It's in a pretty small acre of land, with coconut trees and some pathetically made obstacles to scare you off.
You can either wear your shoes or take them off…I recommend you to wear something at least, because the balls are not exactly made of soft stuff either. Footballs, that is. Also, where you will be most likely kicking balls, it will be in places where the sun doesn't shine….under the trees, not sure what thoughts came into your depraved mind.
Service(4/5)
Despite the obvious meat cleaver they held in their hands to chop us into RM60 for this kind of course, you gotta hand it to the Thais. They are top class in service. I only wish our Malaysian service industry, especially those buffoons in MAS and Firefly can learn something from Thailand.
As soon as we parked the car, the owners of this course came out to welcome us. There were these two elderly ladies, smiling, laughing, genuinely caring for us while they slowly carved our necks with the meat cleavers.
After 9 hole, and no doubt, feeling somewhat bad for making a 10,000% margin on us, they gave us each a free bottle of coke to quench our thirst. I wish other clubs would do it. Then again, very few clubs have their clubhouse and bar 10 feet away from where you are teeing up.
One more note is that their website http://www.samuifootballgolf.com is a WHOLE LOT BETTER than a lot of our local golf courses. I mean, at least they take themselves seriously. Nicely done, Mr Golf Football dude, whoever you are.
Fairways, Greens and Rough
Obviously these 'fairways' were somewhat limited. I'm not sure where the fairways start and the rough begins. Sometimes, the fairway is lined up with rocks and such, but I think it would be a pretty unfair assessment to grade their fairways, rough and greens, so we're just going to skip those for now.
Aesthetics (2/5)
The novelty factor wears thin after probably the 12th to 13th hole. The fact is most holes looks the same. I'm not sure what you could have done to make it better, given the size of the land and the flatness of it. At times, even putting the ball down at the 'tee off' was considerably difficult due to it keep rolling back.
Some of the holes are definitely a little more fun, like the 1st, where you need to kick the ball through coconut trees. Or the long 17th uphill, where you can likely hit the par 5 in one kick. Which I did. Then proceed to 4 'putt'. Putting with your feet is definitely not as easy as it looks.
Many of the holes you can probably drop for hole in one,  or eagle it, that is the fun of the game I guess. Sometimes I wish playing on the real course would be this easy.
Fun Factor (4/5)
This is a course you shouldn't play alone in, because it will seem like you're the loneliest guy in the world. Everyone that comes should be in a group or at least with a partner. And no, they don't have caddies, so don't think about hiring one and letting her coddle you. And no, they don't have buggies where the caddies sit on your lap either. What do you think this is, Tasik Puteri??
The fun is still there if you play with that in mind. My very first kick, thanks to my close relative Lionel Messi teaching me before, was so great it rebounded off three coconut trees and entered into the hole 9 hole. HOLE IN ONE!! Woohoo! The course marshal (I.e the fat lady owner sitting at the bar stool counting her money and sharpening her meat cleaver for the next victim) immediately hopped up and down and shouted "FAULT FAULT!". Yeah we hear you, enough already before the whole clubhouse falls on you.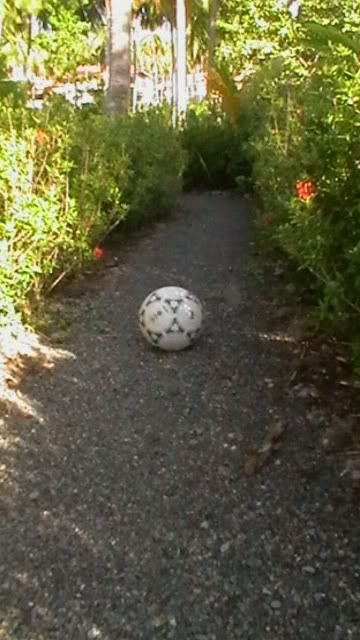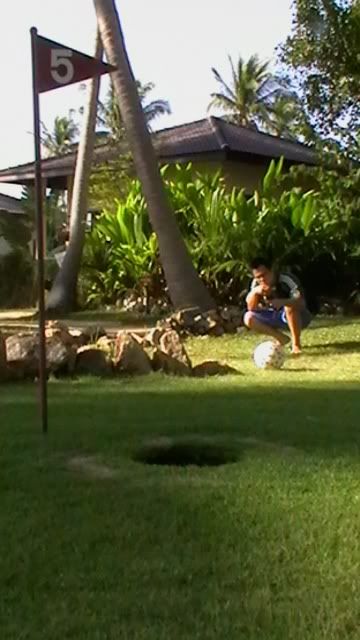 It gets thin fast if you don't have a fun group or a fun person playing with you. At one point, I think hole 16, I decided to give it the good ol' goalie kick, where you use your hands and drop the ball and kick it. I duffed it and it scooted into the trees and got stuck in the branches. You know, play as it lies I guess. I used my head (and a hand of God) to knock the ball down and proceeded to chip out of the jungle.
Heck, I still shot 60! I thought I won the prize with a 6 under score, but then I saw the high scores posted were like 45, 46, with several hole in ones. DANG, my dream to being a professional football golfer has ended!
It's fun in a group but don't do this if you're alone.
Conclusion
So much for our first foray overseas. The Koh Samui football club should be recommended only if:
1)      You got time to burn
2)      You got a companion, not a caddy but an actual one
3)      You don't mind being a Sui Yee
If these conditions are met, you can actually spend 3 hours there just fooling around. I prefer this than all those interminable hikes available in Koh Samui.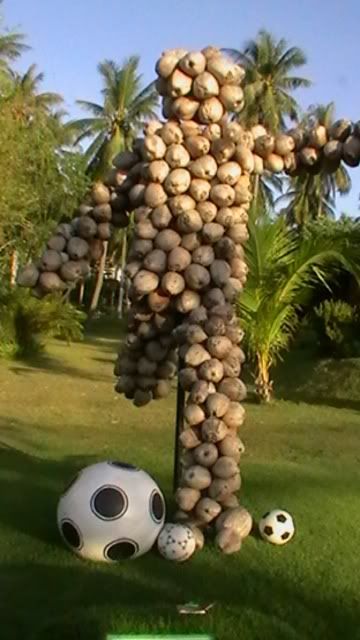 The good: Good time waster in vacation; improve your football; get very good scores; good service with coke in between nines.
The bad: Price is meant to kill you; fairways, rough and greens non existence; no maintenance; flat and boring terrain
The skinny: 11 of 20 divots (55%). 99% of the time you're in Koh Samui you're on a vacation. There's pretty nothing much to do there, so if you're there with some mates or your wife, or someone special, this is a good way to blow your afternoon away…it might end up being cheaper than going to the shopping district.
Koh Samui Football Golf Scorecard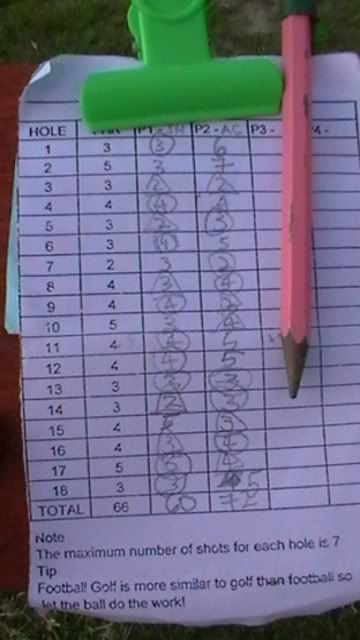 Koh Samui Football Golf Information
Address: Koh Samui Island
Contact: 0897717498
Website: http://www.samuifootballgolf.com