Introduction
Datai Bay. We've been hearing people telling us different things about Datai. It's a beautiful course. It's a links course. It's next to the ocean. It's in the jungle. It's in the mountains. It's like Pebble Beach. It's crap. It's overrated, so on and so on and so on. We know it will cost us a lot, but since we are irresponsible, unaccountable gentlemen of this prestigious, money sucking game called golf, we were ready for the damage.
Travel (3/5)
Like Gunung Raya, once you get to Langkawi, everything is pretty much accessible. Datai is a bit out of the way though, but the trip there is through some of the most scenic parts of Langkawi. It's a nice drive, just watch out for the darn cows.
Price (1/5)
I know it sounds crazy to rate 3/5 for a course that cost RM340 just to tee up a ball, but the fact is, we felt it was money well spent, as later it will show. It wasn't going to be cheap, but was it worth it? Lets put it this way, I rather put 340 RM in Datai than to pay RM140 for Gunung Raya. It's not the best deal in the world, but quality has a price so for once, stop being so cheapskate in your golf!!
First thoughts
You feel as if you are part of royalty when you get into the club. They really treat you well, from registration till the time you tee it up.
Standing on the first tee (we teed up from back 9), one thought comes:
I'm gonna lose a lot of balls.
It's a jungle course. Don't let the 'Bay' in the name fool you. The only Bay we get to see is on the 19th signature hole. Other than that, it's trees, jungles, monkeys and baboons as your fans.
Not to say it's like KGPA quality jungle. Somehow, even the jungle has an air of class. I half expect a baboon to be sitting on a branch smoking a cigar and saying, "Jolly good shot, old fellow," on the first tee. The course is deceivingly long. It's doesn't look long on paper, but perhaps the air is heavier, or simply because of the jungle framing the sides, and the fact that 5-wood comes in the tee off, makes my approach with 7-irons or 4w a lot more difficult. It's quite intimidating to have trees all around you. There were a few holes where a tantalizingly super shot was on its merry way to the green only to have one rogue branch deflecting it into oblivion.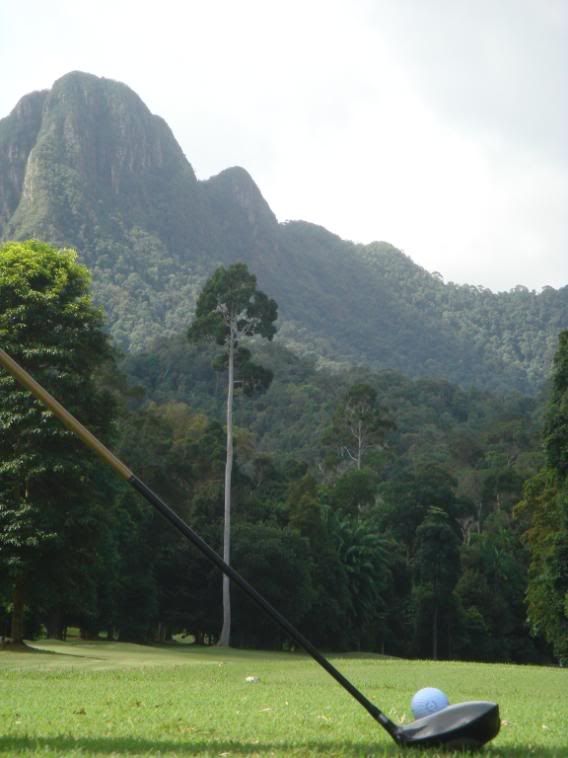 Interaction with wild life was great. I felt like I was part of the Animal Planet series. There was a hole where 5 feet long lizard was ambling its way about 3-4 feet from my ball. Play as it lies? It might think I was going to 9-iron his egg and start attacking me. A few holes we had to chase away monkeys from invading our buggy. We would be lining up to putt when suddenly one of us would be whooping and screaming and running towards the buggy flailing our putter like a mace while the monkey scampers away chattering. The smaller ones are fine. It's those big black monkeys with white tipped arses, sitting ominously and staring at us silently that scares the dickens out of me. Ever watched the show Congo?
Never bring food in a plastic and leave it in the buggy. Most monkeys will go for that, and some might even collaborate and drive away leaving you to walk back to the clubhouse alone. It's considered very embarrassing to lose your buggy to monkeys, so be careful!! Either plant a plastic explosive in a bag or purchase a putter that can be changed into a 12 gauge shotgun, to blow these mammals back to Monkey Heaven.
Above all, if you're terrified of lizards, it's best you stay out of the rough and be prepared to start screaming.
Service (5/5)
From the time they took our bags, the service was top class. Registration was a breeze.They gave us drinks , bright smiles and sent us off to the first tee, like seeing their children off the first day of school. We didn't have time to check out the changing room but I'm sure there's an OSIM chair for us and a masseur at hand. It's a 5 of 5 also because we have staff/marshals driving around the course, looking for things left behind. My camera case and cap was retrieved like 4 holes after I lost it by one of the marshals. When we finished, they would clean our clubs and shoes and not beg for tips, (unlike those hooligans at Bangi), and they would send us off by breaking into the song, "So Long, Farewell" a'la the von Trapp family. You don't get any better than this.
Fairways (4/5)
This gets 4/5 divots. The turf here is even and a delight to hit from. Diggers like me tend to struggle a bit, but it sits up and there's a premium hitting from the fairway. The toughest part is actually finding the blasted fairway! It's narrow, challenging and really gives you the go for broke-easier approach or play it safe-long approach tradeoff. I tried the latter approach but when your 5 wood is hooking, you might as well gun with the Big Dog. Pars are not as easy as it looks, and its imperative that you are playing fairways on this course. The drainage is generally good, but the natural undulation makes it really challenging to play your approaches.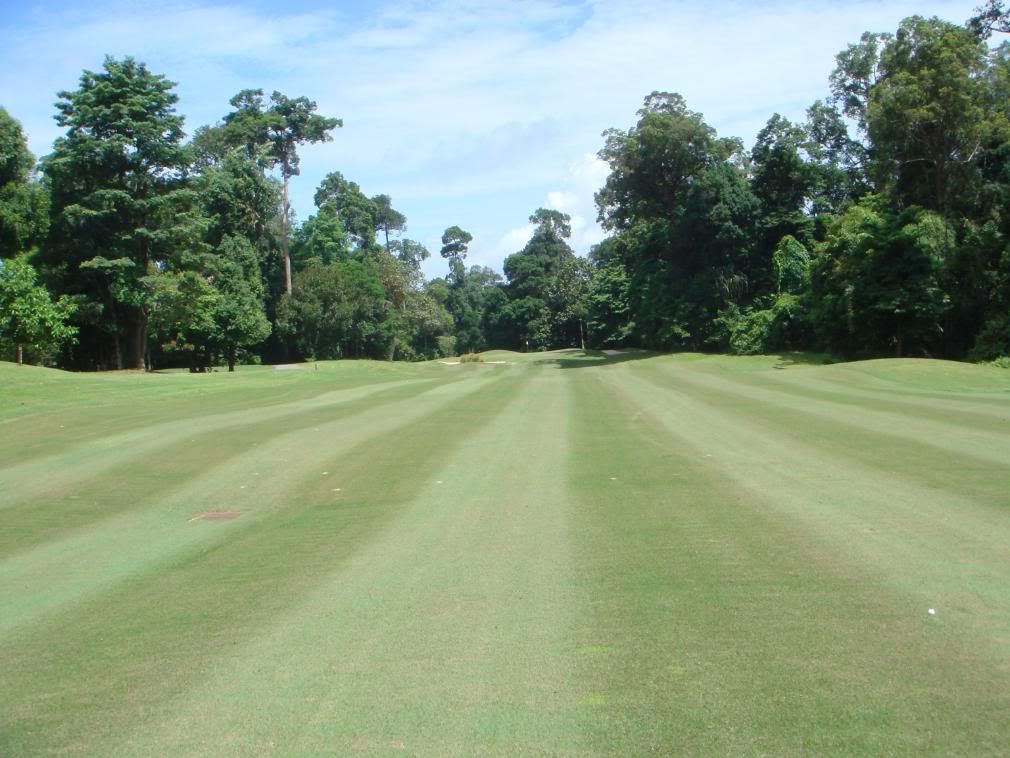 Course management is also essential. Because it's a jungle course, a good tee off too far might have one of those blasted trees blocking your approach. Plot your landing areas, as there are many blind spots that you'll need to hook or slice your way around.
Greens (3/5)
Perhaps the only poor quality of Datai are the greens. I would have liked the greens to be smoother and more spinnable. Perhaps it's the salt air or the soil that makes it harder to have closely compacted greens but it was generally not pristine. It wasn't bad or anything but because we paid so much to play, the measurement standards are always higher, and in that respect, the greens in Datai were a little disappointing.
Rough (5/5)
The rough was an adventure to be in. There's a meandering stream that snakes its way through the course that gobbles up your shots when you think you've hit it flush. The rough snatches your ball, even on the first cut, and be prepared to hit hooks out of the rough. The grass really catches your club so grip it hard to open it and not turn over. It adds a lot of good elements in the game and severely punishes wayward drives. It also adds the danger of a monitor lizard chomping off your leg or a hoard of monkeys holding you hostage with your shotgun putter.
Aesthetics (5/5)
What can I say? The scenery is absolutely fantastic. But it's the par 3s of Datai that really take your breath away. One of the holes I liked was the par 3 15th, an elevated tee shot through jungle foliage to a small green 140 m down, fronted by still lakes and framed by jungle. Most of the holes are crafted around the contours of the jungle, so you hardly get parallel greens running together, and each hole seemed to have its own personality, its distinct character. You don't get the feeling you're in a golf course, because every hole is self contained, in its own drama, in its own adventure, its own story to tell. There are holes that dares you to gun for it like the 18th with a fairway so broad you can land a Boeing 777 on it, and which I proceeded to triple bogeyed it. There are holes with narrow fairways but rewards high risks drives, like the 9th, which I also proceeded to triple bogey it.
Of course, the famous hole 19th is not part of the course (well, you can play it as 17th) but most of us KL people would play both 17th and 19th. When you finish 17th, track back across the road to the 19th hole BEFORE you tee up for 18th. Be prepared to lose your flight spot but you won't regret the 19th.
It's to a small green, carrying about 170 m of the Andaman Sea. To your right, the waves lap the base of the tee box, and in the distance, mountain peaks from the other islands stands as your gallery, bearing testimonies of horrendous golfers all over the world. The scenery can't be explained, but it just blows you away, I guarantee it. Standing there, you feel that this could be the most exhilarating golfing moment of your life.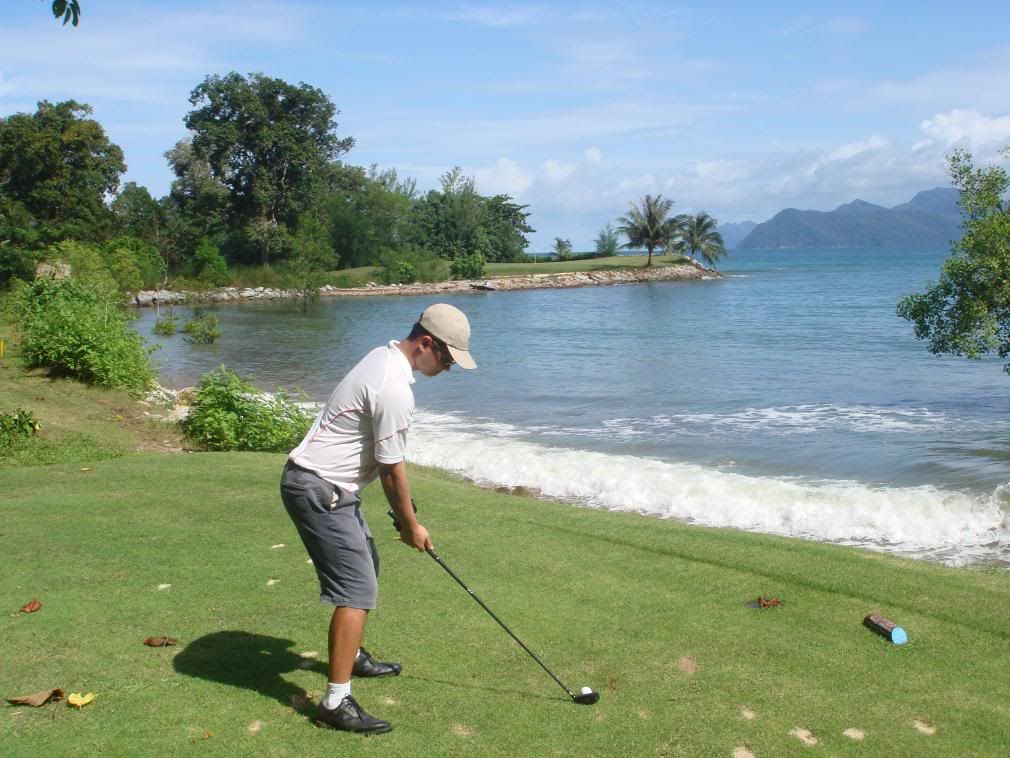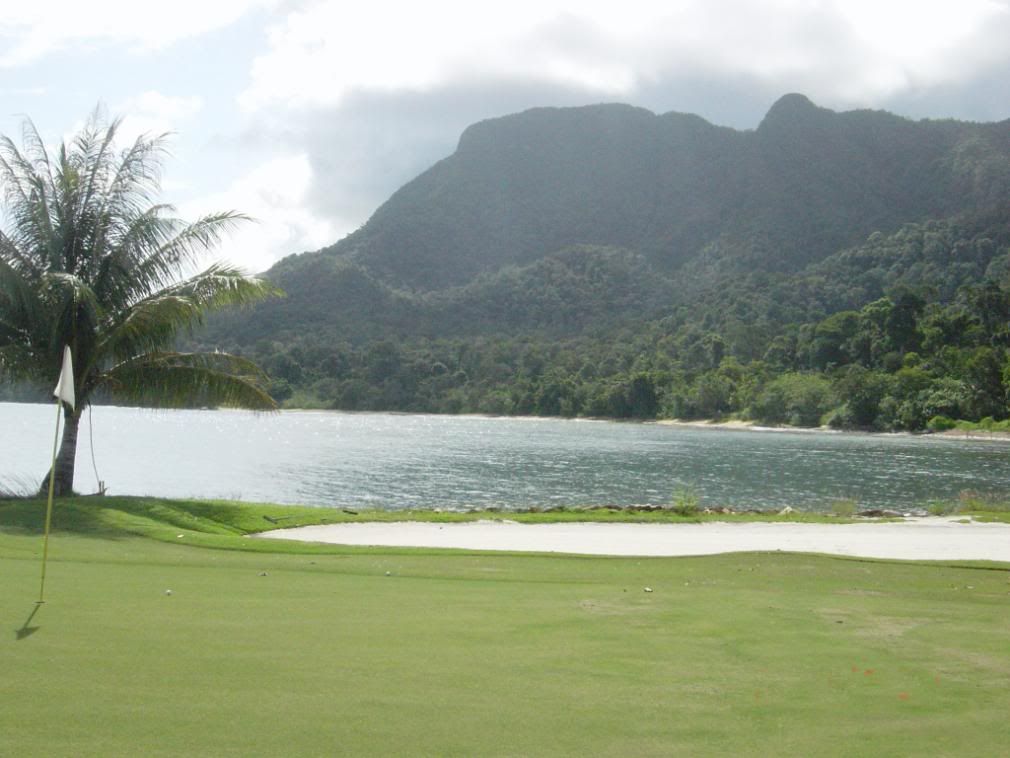 Fun Factor (5/5)
A course that gives you 19 holes instead of 18? Hey you cant beat that. We were running around like kids in a candy store, every hole was greeted with "Wow", "Super!" or "Oh, I am so screwed". The wow factor was off the charts. The fact was we played at Gunung Raya the day before and almost passed out dehydrated. In Datai, the jungle is so cooling, you think you're playing somewhere in England or something. We were shooting pictures everywhere, and it was a little disappointing as we came to the last hole and had to finish our round there.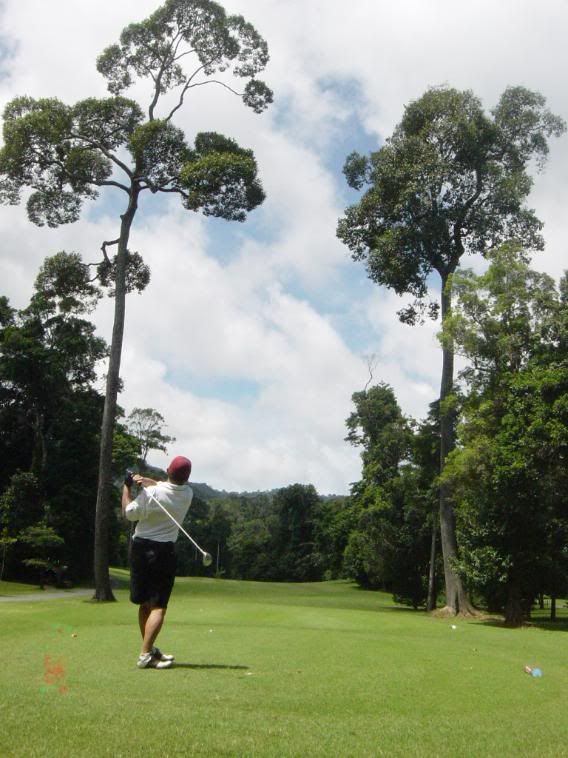 Conclusion
Datai Bay is the best course I've ever played on. Of course I haven't played yet in a lot of courses but in terms of challenge, hole design, scenery, overall fun factor. Everything is excellent, except the exorbitant price. I would think it caters towards tourists who earns in US and who looks at us with impunity. It's cooling, it's challenging and it's not short like resort courses. The 19th hole is a must play. It's like Pebble Beach 17th, one of the most famous holes in the world. We can't get Pebble Beach (as a note, there IS a Pebble Beach in Langkawi, but it's a beach filled with…yep, pebbles, literally), so Datai 19th is as good as it can get. If no one pressures you from the back, feel free to whack 3 – 4 balls in there. We spent almost 20 minutes around the 19th hole just fooling around, hitting multiple shots and donating balls to the Andaman. After all, when would be the next time we come back?
The good: Super scenery and hole design, challenging layout, well cared for and undulating, natural fairway, cooling jungle environment, interaction with Wildlife, signature 19th is a must play, and staffs that really treats you like family.
The bad: Greens are disappointing for a premier course, price sets you back to eat Maggi noodles for a month, watch out for snakes in the rough, Monkeys are aggressive and intimidating, especially the ones with the white tipped arse.
The skinny: 31 of 40 divots (77.5%). One of the best course out there. Dig into your pockets and spend on it if you call yourself a golfer.
Datai Bay Scorecard