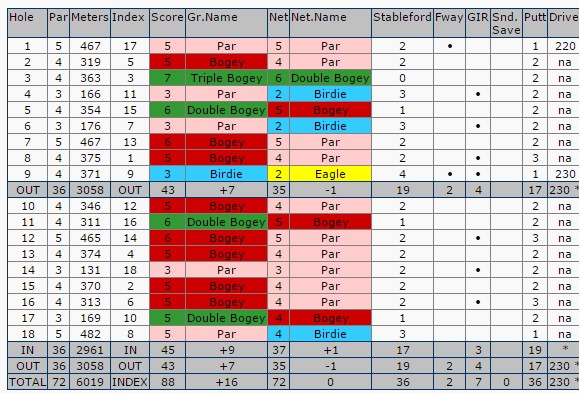 A few posts back, I made a noise about how golf is so strange – that even hitting like 10 GIR, I can still manage to 3-putt 6 of these greens in regulation, and I threw away my putter – literally up in the air. Because I am so cheap, I had to go collect it back.
Kota Permai is a really nice course to play in. The holes are challenging, the par 3s are memorable and the course setup is tricky and the two ending holes are worthy adversaries. However, breaking 90 hasn't been easy for me there. I played 89-94-90 in my previous 3 outings there and it didn't really start that great for me this round, after hooking my first drive into the woods and the second one as well. My first par came on the 14th, my favourite par 3, which is elevated, and usually require a strong pitching wedge to clear the front greens. I hit my shot to around 6 feet. Unfortunately, two of the other players we were teaming up against both slamdunked their shots – one of them to about 3 feet, and another actually hit the flagpole before bouncing 5 feet off. Both of them birdied.
From there, I sort of struggled abit until the last par 5 where I putted in a 15 footer, followed by the next par 5 on the front 9, where I putted in another 10 footer.
I was actually hitting my irons excellent but my drives kept blocking right, causing triple and doubles to start appearing on my card. I three putted 3 of my greens in regulation, so my scores should have been a lot better, but nothing beats the final. I hit my only second fairway with a good drive (my second good drive only actually), and then with a seven iron, completely top the crap out of my ball, causing it to launch low and skim over the fairway and luckily onto the green. When I approached the uphill green, someone from the practice green said, "WAH, that's  damn good shot!"
I looked and saw my ball nestling 4 inches from the hole – from arguably my worst iron approach shot of the day.
Golf is a funny game indeed – sometimes, the good is not rewarded, and the bad goes unpunished. Kind of like our country, I think!