Introduction
Wow, it's been some time since we reviewed a course, and even longer that we've gone out of KL! So the opportunity came to play at Damai Laut GCC in Lumut, Perak, we snapped it up. Being the city brats we are, we have absolutely no idea where on earth is this Damai Laut located, but being the gila golfers, we readily took the challenge to go and hack it. Also, the hole 15, their signature hole. We like to play at courses that people talk about, and in this case, the course had quite a lot of prestigious sounding awards:
3rd most scenic course by Golf Malaysia 2005/2006.
Hole #15 – second most scenic hole in Malaysia
Hole #13 – third in Par Golf

Super 18 Malysia Award.
With pedigree like that, you can't go wrong can you? Damai Laut we go!!
Travel (2/5)
Now, let's make this clear. Traveling to Damai Laut is SHEER TORTURE. But this is really a difficult category to judge because it's very subjective how we view traveling individually. How did we give Datai Bay 3, when we had to take a bloody flight and drive halfway across the island? We measured it from where we were staying. Likewise, we'll need to be fair in this. Nobody in their right mind will travel all the way to Damai Laut, play golf, and come back. We need to measure it from where we stayed, at Swiss Garden. In this case, it was right next door, but we'll refrain from giving it a 5 because the resort is so ridiculously out of the way, it's as if the hotel management wanted to start their own little country at the edge of Perak.
In fact the instructions to get to this forsaken place is so darn long, it warrants its own page for you to get through , and hopefully without falling asleep.
Driving from South Malaysia: http://www.damailaut.com/driving01.html
Driving from North Malaysia: http://www.damailaut.com/driving02.html
Crazy. Here's the map.
We took the Bidor exit, but there are several ways to get there. The stupid thing is that there's a place called Damar Laut. I think it's a fake copy of the real Damai Laut. It's unbelievable that there would be people out there that think this is a great idea. It's like calling your son Tiger Wooks and get him to pose in red shirt and Nike Cap, and paint his face black. What's the idea? If you ain't Woods, you ain't him! Damar Laut folks, what's the deal??!
Unless you are a crazy person, refrain from driving there, play golf and coming back. From PJ, it took us 5 hours to get there. Umm, ok, we stopped and ate. A lot. Who cares? It's a freaking long trip!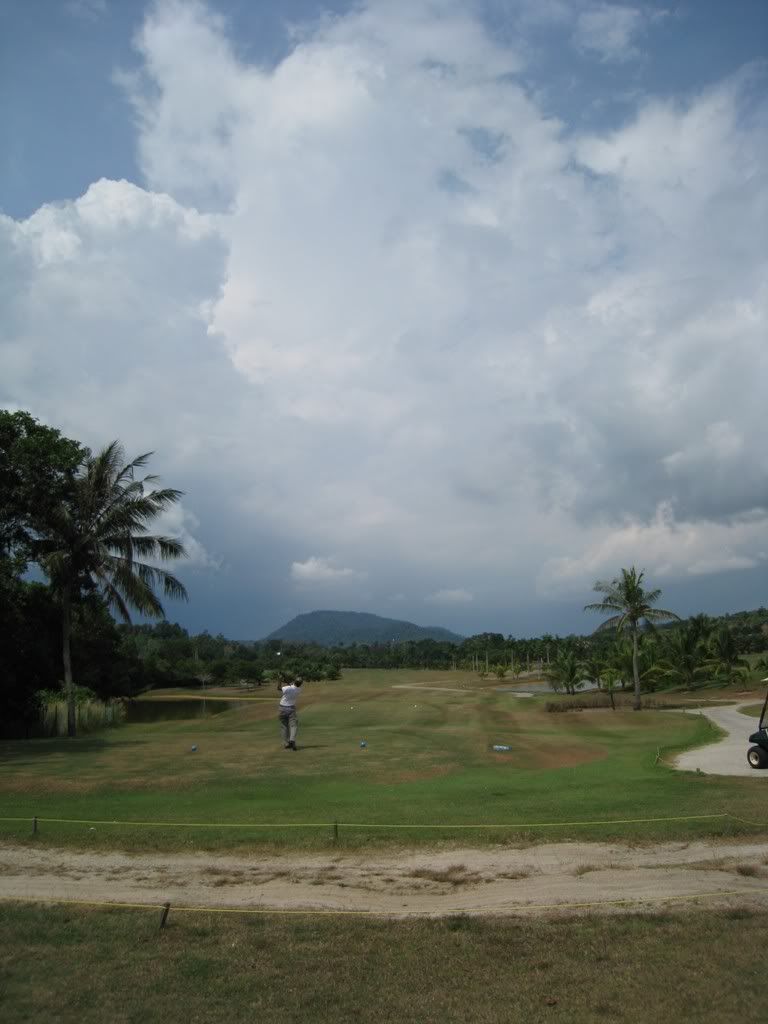 Price (3/5)
Unlike the published rates on the website, they gave us RM150 for all in, because we were guests at the Swiss Garden Resort, and because (we suspect), they have only gerbils to entertain the staff for the past 6 months. The course was like walking into a post apocalyptic world, like "I am Legend". Beautiful, yet hauntingly empty.
We like the fact that even though it was quite a lot to pay for the weekday, at least they refrained from cutting our throats. They could have charged RM200 and we would have been forced to play, having traveled so far.
First thoughts
We packed 4 flights and zoomed off for an afternoon tee off, under the blazing hot sun. But being at the coast, a nice wind came up and it was certainly very, very refreshing to stand on the first tee, a blind hole that drops to the green, and even more so, when my first ball carved into a nice draw and rolled 250 meters down the fairway.
Damai Laut is HOT, not in the wow, she's hot HOT, but the darn, I think I am gonna die, HOT. We played the first 9 as dry as dry can be and that's why we were blasting our tee shots prodigiously. The turn, rain set in, and the wind whipped up so it was quite a good experience, to play Damai Laut dry, and then in British Open condition.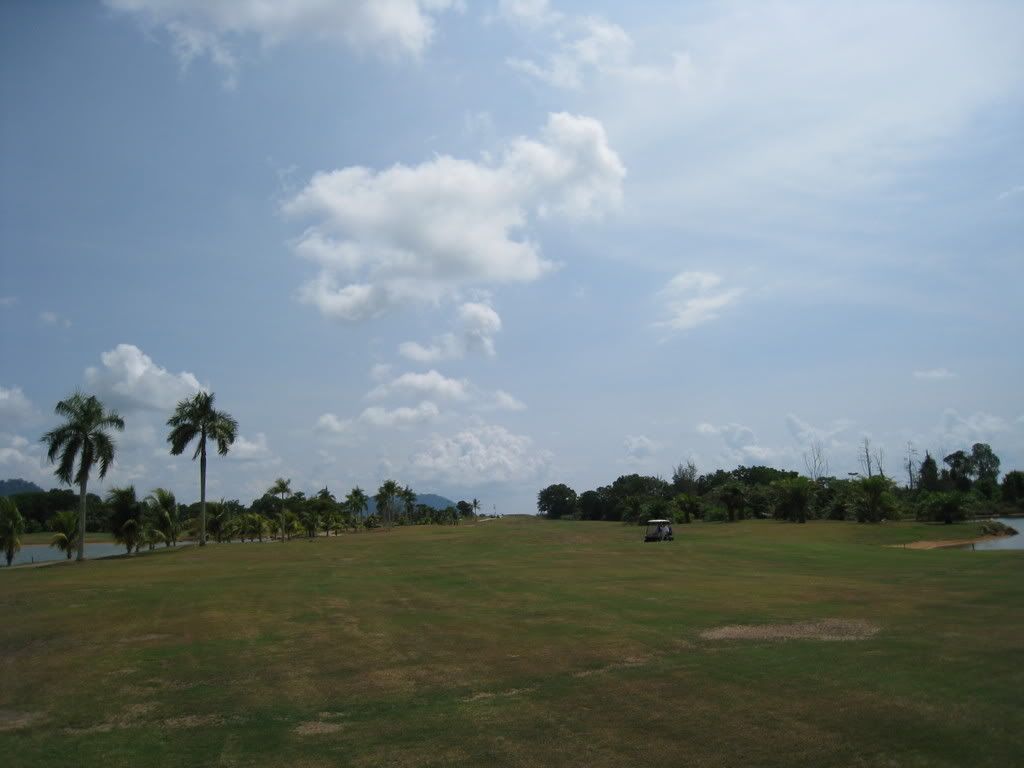 Service (1/5)
Now, I know they don't really have a lot of guest that will come all the way to play the course, which makes it even more important to service us! We arrived at the club house, we had to take our bags from the car, and after waiting a while at the front and it became evident no living thing will greet us and take our bags in for us, we lugged our stuff all the way in. Come on, Damai Laut, you can do better than this. If you advertised your great service, how about giving us some respect and helping us out? At least in Datai, they really made you feel as if you are the king of the world (or the king of stupidity to pay RM350 for a game), but hey, at least. This gets a stingy 1 from gilagolf, because of their stingy service.
Fairways (4/5)
Like we mentioned earlier, we had a chance to test the course on both conditions: extremely dry and windy wet. I obviously preferred playing it dry because the ball runs and never stops. In my first 9, for those shots that caught the fairway, I never had a drive under 250 meters. It was highly entertaining. The fairways were a little patchy in some parts, but overall it played very very well. And even when wet, drainage was good, and it held up very well. Again, it's a little short of perfect because the maintenance wasn't as pristine as say Datai or Tropicana, but it's among the best we played.
Greens (2/5)
Unfortunately the good feeling didn't last, and we watched in dismay as Damai Laut's greens fell hopelessly short of the condition expected in a premium course. Even on the first hole, one of my partners remarked with obvious distaste, "Why so sandy one?!?!". It wasn't as bad as Selesa (which to us is not a golf course, but a pile of junk that makes us prefer to eat live cockroaches than to play there again), but as one of the premier courses in Malaysia, we expect at least a little consistency in its greens. Nope what we had was sandy greens and in one hole, the par 5 5th, I had to almost chip with my putter to coax the ball uphill across the green with the amount of sand. A very disappointing 2.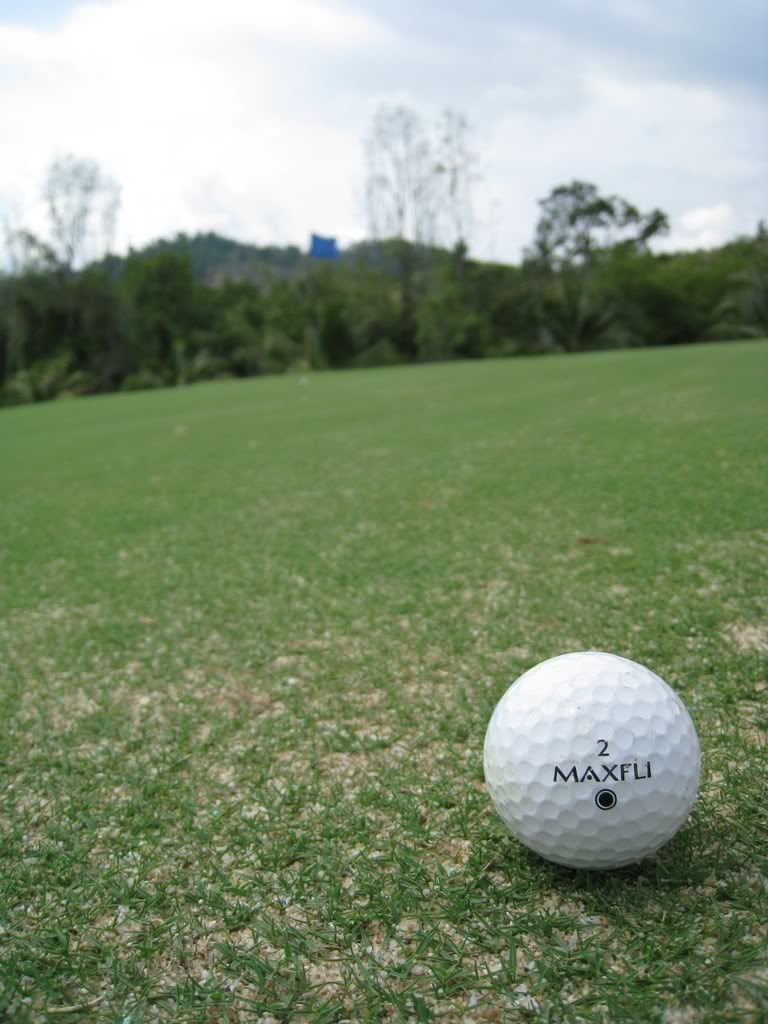 Rough (3/5)
The rough wasn't that much better. Several times I went into the rough and it's not difficult enough to hit it out. Instead, a few times, the rough was so forgiving, it sat up like on a tee, allowing me to scramble for par the 2 times I missed the fairway on my front nine. We're a strange breed. We complain that the rough is too tough and the rough is not too enough. The second 9 played slightly harder because as the rain came, our ball settled easier into the rough and boy, we struggled a bit.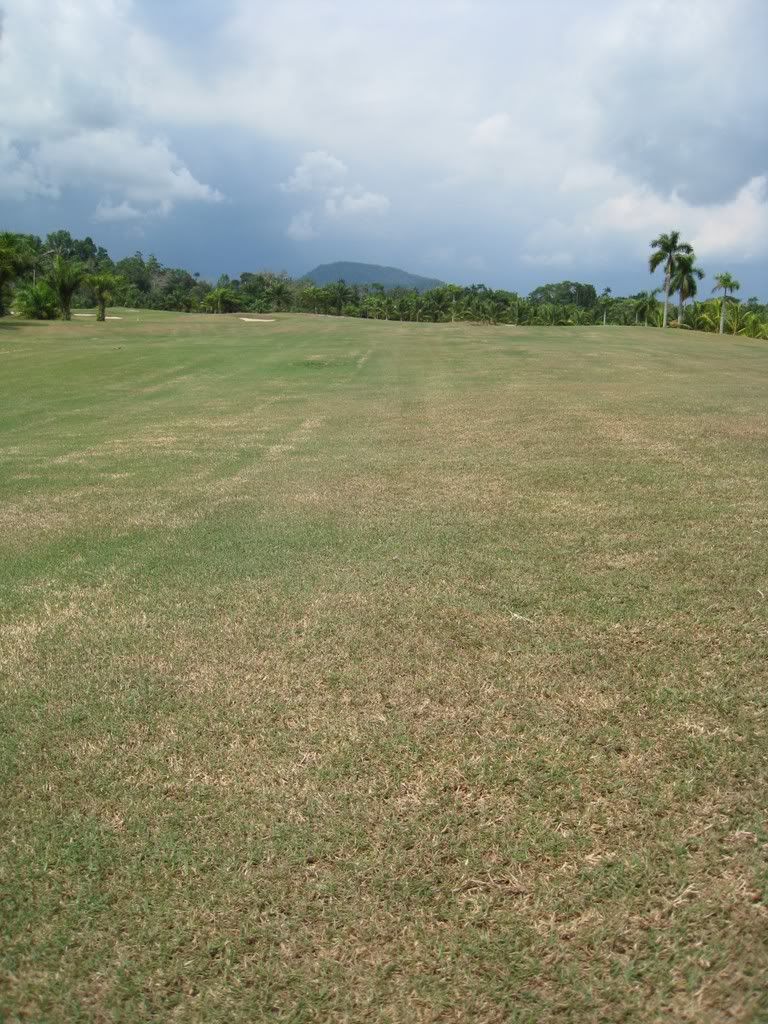 Aesthetics (3/5)
OK, this is where we have the MOST gripe about. For the 3rd most scenic course in Malaysia, we'll have to conclude that whoever did the poll was either secretly blind, or he was treated to 10 years free massage in Swiss Garden Resort. Because it's nowhere near as pretty as Datai, or even Impiana or Meru. It's probably thereabouts with Tiara Melaka or something, but there was just no wow factor, that made us go, well, WOW! We all expected the next hole to be better, and then the next hole, and then the next hole. But as we went along, it was evident, this was no Pebble Beach or Pinehurst. Being a coastal golf course, we expected a lot more. Even the darn scorecard promised a beautiful scenery and we all thought, ok, Hole #15 is simply going to blow our minds away.
We finally reached hole #15 and I went, "This can't be right." The tee box was next to the lake, which is green like milk tea, and all I saw was a dogleg right and some kids playing. That's right. Kids. They just popped up from no where and played this signature hole and disappeared later. So we waited and mulled, "Is this the legendary 2nd most scenic hole in Malaysia?" "Are we too stupid to appreciate it?" From there, a hooked drive caused my ball to jump into the left rough and as we drove nearer, the beauty slowly unfolded.
It's no big deal.
One, the picture on the scorecard is fake. The ocean is photoshopped into the card. The real hole #15 is nothing like it. The hole drops drastically to the green, but it's not something we've never seen before. The sea is behind the green, but it's not the open sea, it has Pangkor island listlessly sitting in the background. A ship was docked near the bay, blocking whatever beauty that was left, and adding to the disappointment of it all.
Golf Malaysia really screwed up on this one. I think they didn't even come here to play. I think they were just sent a photoshopped picture, or the scorecard and in the letter told, "Nice hole, free massage for good reviews.". In fact, we preferred the Hole #13 par 3, surrounded by bunkers.
We were so disappointed with this mythical 2nd most scenic hole, we played 4-5 balls each from the top of the hill into the green, like a driving range.
Fun Factor (4/5)
Despite Damai Laut's fading into mediocrity, and the obvious disappointment of us all, that we drove all the way to play a course that resembles Nilai Springs or something, we still managed to have fun. One playing partner birdied the 2nd and did a jig that must be censored for the innocence of our sight. Perhaps we were all in a relaxed holiday mood and the weather was nice for the first 9. Whatever the reason, I went into a hot streak parring my first 6 holes, before dropping one at the 7th. On the 8th, I hit one of my best drive ever that hit the hill and rolled to about 30 meters away from the green, a 320 meter drive. Being so full of myself, I stupidly duffed my pitch, hit an embrassing chip and humiliated myself by missing my par putt.
On the very next hole, the 9th, it's a drivable par 4 at 280 meters. You had to carry about 200 meters of water uphill, and on top of that, navigate your shot over the trees. The bail out was on the left, but already boiling over my previous hole, I hit another cracker that missed the trees by a few millimeters and flew long and straight to the fringe of the green. Again, full of myself, I proceeded to run my eagle putt 6-7 feet by and miss the come back putt. At that time, I was ready to dunk my whole head into the ball cleaner in the buggy. It's a cool thing, it cleans your dirty balls. Golf balls, that is.
I scored a 38, that could have been a 36. Could have, would have should have. I've hit all except 2 fairways, 4 greens in regulations, drove the green at number nine and playing superbly. This was my day to break 80 and celebrate the milestone.
Back 9, I started with a par, and then it all unraveled. I started hooking, I started dunking my balls in the water, I started to three putt. As good as my front 9 was, I played like a cow on the back 9. At 42, it's actually a good score, but here was my stats: 3 3-putts that could have got me pars, 0 fairways hit. Bogey after bogey, until I needed a birdie to break 80 on the index 2 last hole, a snaky par 5 at 520 meters. My drive borrowed fairway of the next hole, but I recovered to have a 10 foot try for birdie.
It turned at the last moment agonizingly and I settled for an 80, my best score ever, but like all golf scores, a story of missed opportunities. Every dog will have its day, and my day will come.
Conclusion
Damai Laut is really a nice course. That's it. It's not supposed to be a nice course. With so many awards, we were expecting this baby to break into the DAGTH category but instead, watched its stock fall lower and lower to a disappointing 60%. Will we play it again? Sure, if they transport the whole dang course to somewhere more accessible! For now, the staff will be stuck with their gerbils until the next batch of tourist golfers come by the resort.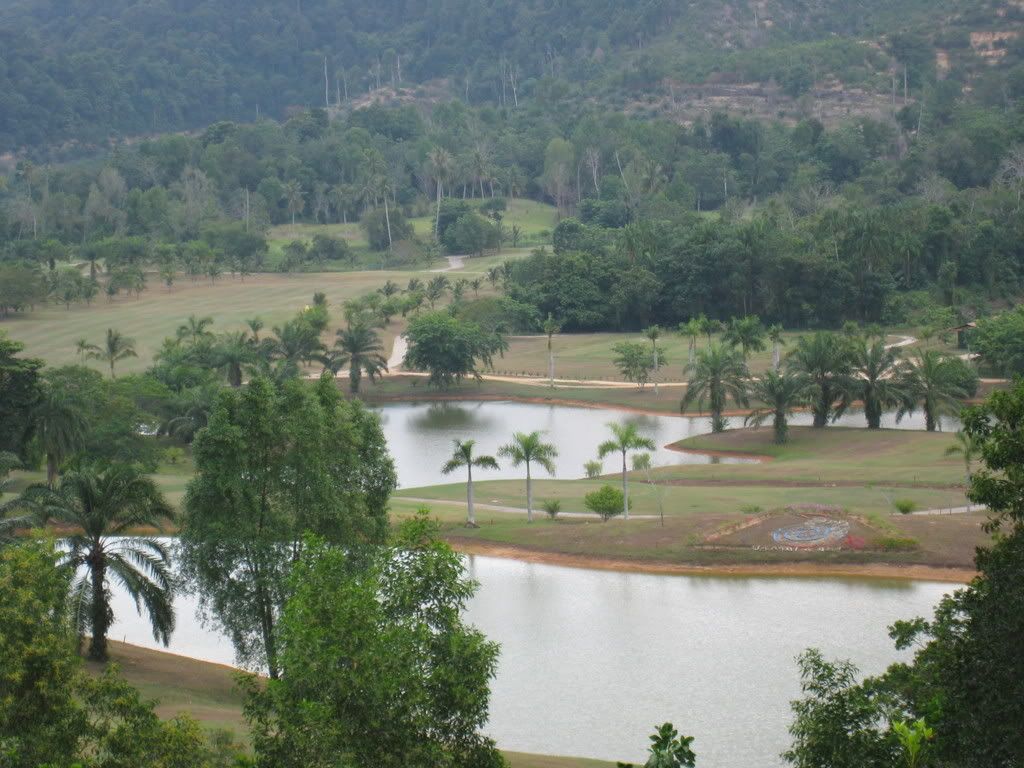 The good: Easy drive from the resort; well conditioned fairways; interesting holes (9th, 13th); reachable par 5s and par 4s for one ons; able to get a crack at your best scores here due to forgiveness.
The bad: Hellish drive from anywhere else; service non existent, unless you are a gerbil; disappointing greens and rough; by far, the hole #15 is more disappointing than seeing the most beautiful girl in your high school turn into a pimply dumpling at the reunion.
The skinny: 24 of 40 divots (60%). We will definitely play again if we ever end up in Swiss Garden Resort, which is as much a certainty as seeing a pack of hyenas do a cha-cha with a herd of winged zebras that has a single horn on their head (why do they call it unicorn and not uniHorn?). Recommended only for resort folks on a holiday.
Damai Laut Scorecard
Damai Laut GCC Information
Address:
Damai Laut Golf & Country Club
Hala Damai 2, Jalan Damai Laut, Off Jalan Teluk Senangin,
32200 Lumut,
Perak Darul Ridzuan, Malaysia.
Contact: +605-6859330
Fax: +605-6181018
Email: cm_dlgcc@swissgarden.com
Website: http://www.swissgarden.com/hotels/dlgcc/