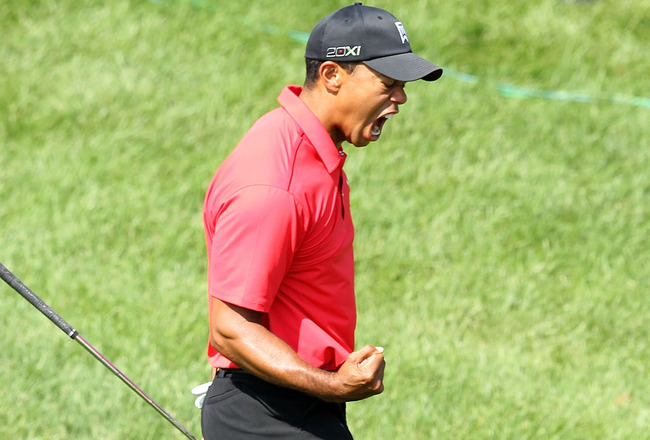 Finally, golf is interesting again.
Instead of waxing lyrical about Tiger's 73rd win at the age of 36 (Jack Nicklaus, arguably golf's Greatest Of All Time – GOAT – was 10 years older when he nipped his 73rd win), let's talk about how Tiger won it.
1) Rory – No, not our McIlroy, who has gone home to Wozniaki and cry together over their failures. Rory as in Sabbatini, the guy that likes to tweak Tiger's ears and run off. Here's the fact with Rory: he talks a big game but he doesn't deliver. He talks. That's it. He has never beaten Tiger in a true sense of the word…when they are head to head, mano e mano, because he can't. He's just not good enough. And Tiger gets super-powered when he knows a punk like Rory is ahead of him, winning one of his favourite tournaments with Jack Nicklaus watching. Watch out, Tiger Time is here.
2) The Young Guns – The young guns refer to a bunch of upstarts who are supposed to be the next Tiger Woods, in much the same way as there is supposed to be a next Michael Jordan. For both cases, it has been a demeaningly non-contest. Rory McIlroy was the next Tiger…but would Tiger fail to make a cut 3 times in a row at his Prime at number 1? Or play like a hack? Next up, Rickie Fowler, brother of Justin Bieber, I think. Staring down at this young gun, Tiger went on to shoot 67 to win the Memorial. His flight mate, Rickie, shot 84, which is worse than one of my Saturday flight mate, who earns approximately 7,800 times less than Rickie. And looks like Rickie's carpet. And then you have a whole bunch of has-beens like Anthony Kim, Sergio Garcia, Ty Tyron and God knows who else. Tiger needs the motivation. He just needs to play with one of these punks and he gets Super-Powered.
3) Jack and Arnie – Jack's tournament, Arnie's tournament. Eversince his father passed on, the Gilagolf theory is that Tiger is always out to impress someone older and that he respected. Hence he always plays his best when the two best players in golf are hosting their tournaments. Plus it looks great on his CV. Can you imagine which introduction is better: Tiger Woods, winner of Jack Nicklaus and Arnold Palmer's tournament, or winner of Waste Management, Fries Open and Green Beer open? Super Powered.
Bring it on, US OPEN!