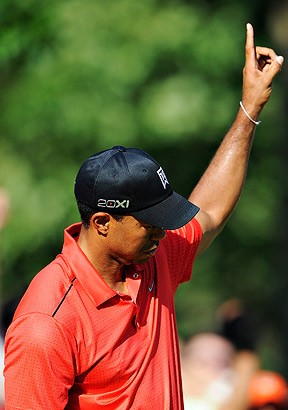 When the world caved in and gave up on the only good, black golfer out there, Gilagolf stuck to him. When sunny weather fans like the god awful Accenture threw him on the wayside, and Tag Heuer crapped him, and Gillette and Gatorade shunned him like a leper and ironically AT&T threw him under the bus…Gilagolf stuck by him. Too bad the Gilagolf brand is worth slightly more than a discarded banana peel, but hey, at least we're loyal, right.
Every post written has been how Tiger is going to come back and make these fair weather friends regret the day they rejected him. How he's going to take back the number one spot from musical chairs clowns like Lee "Fatty" Westwood, Luke "Help me I can't win a major" Donald, Rory "Help me I can't make a cut" McIlroy and Martin "Help me I can't hit a blardy Draw" Kaymer. I mean, it's ridiculous. How can anyone in their right mind every write off a guy who has won more than anyone in this world?
Or even better here's the statistics for the idiots who dropped Tiger:
Current Top 9 players in the world (minus Tiger) TOTAL WINS – 97
Tiger Woods Total Wins – 101
Tiger Woods have amassed more victories as a single person than Luke, Rory, Lee, Matt Kuchar, Webb Simpson, Bubba, Jason Dufner, Justin Rose and Hunter Mahan COMBINED. Are we on crazy pills?
Winning AT&T is just another step to getting back number 1 and stopping all these sorry excuse of golfers from playing pretend. Next up, winning back a major and getting back as the alpha dog.
This time, hopefully he stays away from the pornstars, and convert properly from Bootyism to Budhism.