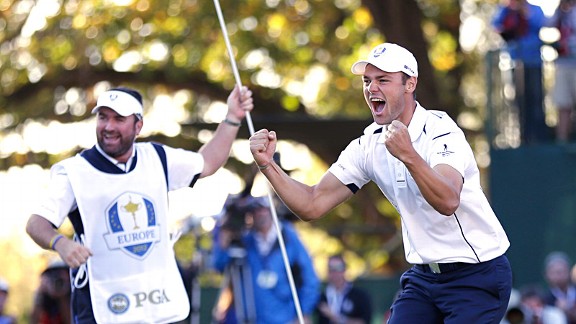 At the beginning we predicted Euro to beat US. – Correct
Then we predicted US to win Euro at the last day – Wrong
Then we predicted that Love sucked and put Tiger in the inconsequential last match, which was exactly correct.
So what went wrong for the US, who in golf terms, just suffered a shocking Adam Scott collapse in the final day?
Steve Stricker is absolutely useless. Furyk didn't get it going and his monkey swing wasn't going to hold up under pressure, hence a bogey-bogey finish to cost the US the win.
And of course, Davis Love, who would go down as the biggest idiot of the century to put Tiger at the back of the pack when it did not matter at all.
So many stupid people in the US team, they deserved to lose. But who could have predicted Bubba Watson getting bamboozled so early by Luke Donald? Luke Donald's drive is about half the length of Bubba and yet he managed to steamroll Bubba. It's simple. Davis Love never used his brains. Never put Bubba up front. His mental strength is as strong as a retarded duck. I mean, he's the same guy that said The US Open course was "too tough for him". He gives up so easily and gets discouraged quickly.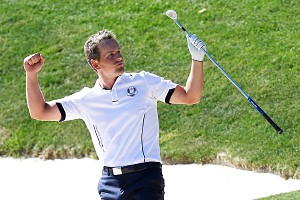 The rest like Webb Simpson and Keegan Bradley did what they could, they had a good campaign. Phil had a so-so campaign but with Justin Rose bombing putts from every where, what else can you do? Snedeker, the 11.4 million dollar man was worthless as well as far as effort was concerned.
Was Woods also culpable? Yes of course. He played like a twit. But he should have gone first and gave US some breathing space. Why the crap would you put Bubba in the first flight??! And then followed by two Ryder Cup Rookies? If any fault should be laid, it should be on Davis Love the III, the absolute worse Ryder cup captain in history. His captain picks were crap, and discriminatory (choosing the old fashioned Stricker and Furyk over the more flamboyant Hunter Mahan and Rickie Fowler), and throughout the week, he demonstrated leadership as strong as a potato chip drench in urine. Davis Love absolutely should be sacked and deported to Puerto Rico and have his citizenship stripped forever.
So ends the golf season. And probably won't be posting for some time, unless I get to play a course I never played before.
Hope you enjoyed the Gila Ryder coverage!